Exhausted from using the Spinbot tool for rewriting your content, that too with a 10,000-character limit? Surprisingly you are not the only one dealing with this concern.


Below we have listed ten paid and free websites like Spinbot that can enhance your rewriting process.
We have tested & compared the list of alternatives based on the following criteria which include.
Price of the tool
Quality of the spun text
Ease of using the tool
Text accuracy
Free trial duration
Reasons to switch from Spinbot (Disadvantages of using Spinbot)
 Despite being a free text spinner, Spinbot software still lacks advanced features as compared to other websites similar to it.  
Note that we have drafted these drawbacks based on our own experience. We totally understand if you have a different experience than us. In short, we don't want to be biased on anything.
Spinbot free mode will only let you Spin 1000 words per spin, for additional word count you need to divide the text into smaller chunks for rewriting. 

Spinbot premium version does not come with any extra valuable features. The premium plan will only remove ads, and captcha and increase the rewriting word limit. 

Unlike other rewriting software, Spinbot is not compatible with Artificial Intelligence, Natural Language Processing, and

ENL

technology. 

The rewritten text does not  support different Spintex styles thus manual editing is required to refine the readability

At times the rephrased text is not able to pass the

Copyscape test

, which might cause duplicity issues while using the content for organic visibility. 

The rephrased text sometimes loses its contextual meaning which might send a different message to the reader.
1. WordAI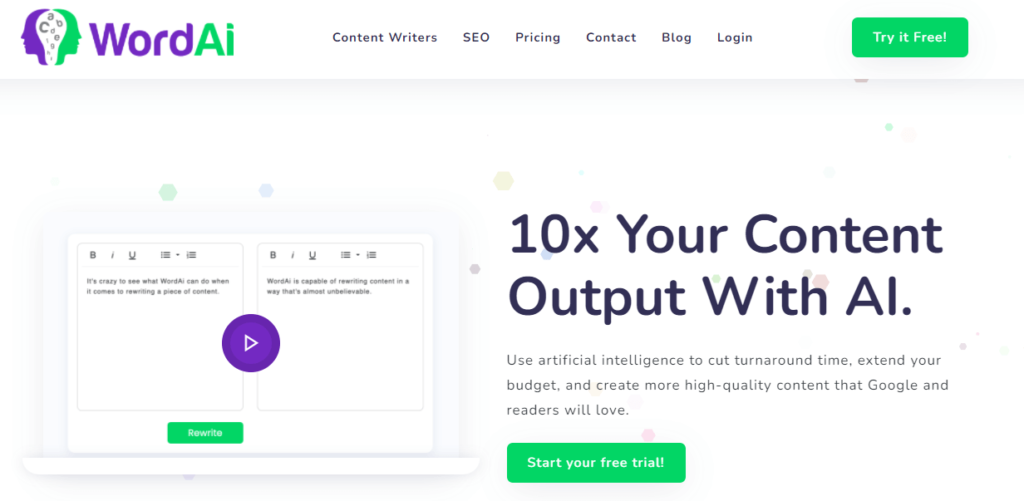 If you're looking for an advanced content generation tool, WordAi is a great option for you. It uses artificial intelligence to create high-quality written content, which can be incredibly helpful for streamlining your content creation processes. 
One of the best parts of the WordAi tool is its ability to understand context, allowing it to generate consistent and contextually relevant text that appears to be written by a human. 
You can customize WordAi to meet your specific requirements, including word count, tone, style, and subject matter. The feature for customization enables you to adjust the content based on your requirements.
Features of Word AI
:
WordAI c

an automatically correct spelling and grammatical mistakes while rewriting your original content.
The

tool can generate up to 1,000 rephrased variations of your original text, which gives you more options to choose the best variation that matches your writing style.
Bulk rewrite

and export features streamline your content creation process with great speed. You can upload content in bulk and get faster rewritten content.
WordAI has

a direct integration with

Article Forge,

through which you can compose human-written content for your target keywords. The new content is produced through Artificial intelligence and machine learning technology.
The rewritten

text is compatible with passing the Copyscape test, avoiding duplicity.
Another uniq

ue feature of WordAI is, that it supports HTML format content as well. You can simply copy-paste your content HTML from your CMS and rewrite the original content.
Pricing for Word AI: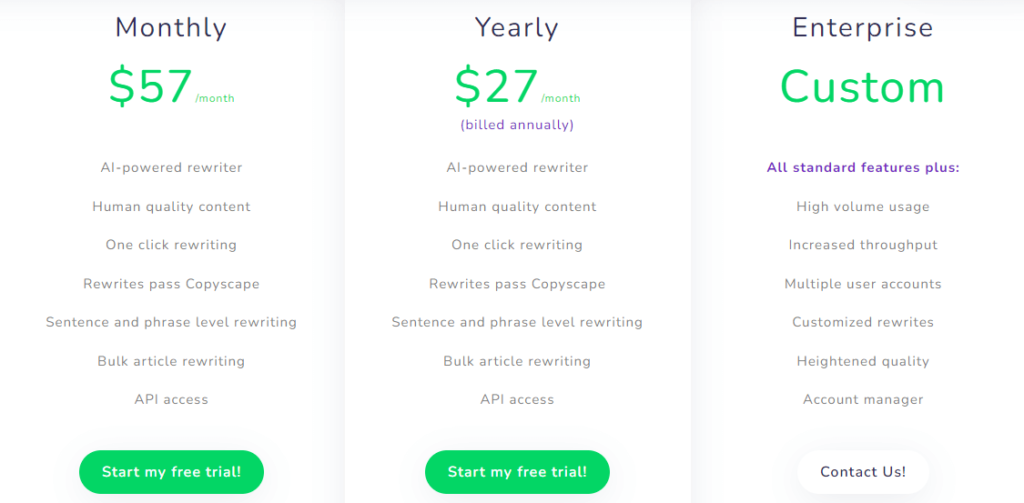 Word AI offers a 3-day free trial plan, introducing you to a limited number of features available. To avail more and all features, paid plans are in place. 
Monthly Plan: $57 per month to be paid monthly.
Yearly Plan: $324 per year ($27/month) to be paid yearly.
Enterprise Plan: Offers multiple user accounts and higher volume usage like advanced features.
All the plans have a 30-day money-back guarantee so the customer is not at risk.
Related Reading: 5 Best WordAI Alternatives & Competitors For 2022 (Free & Paid)
Online reviews for Word AI:
Word correction: We can rely on word correction with great use of AI/ML technologies.

Sentence level rewriting: It is fast-working and can spin at sentence level too.

Paraphrasing tool: The readability is great and is even better than the original text.
2. Spin Rewriter: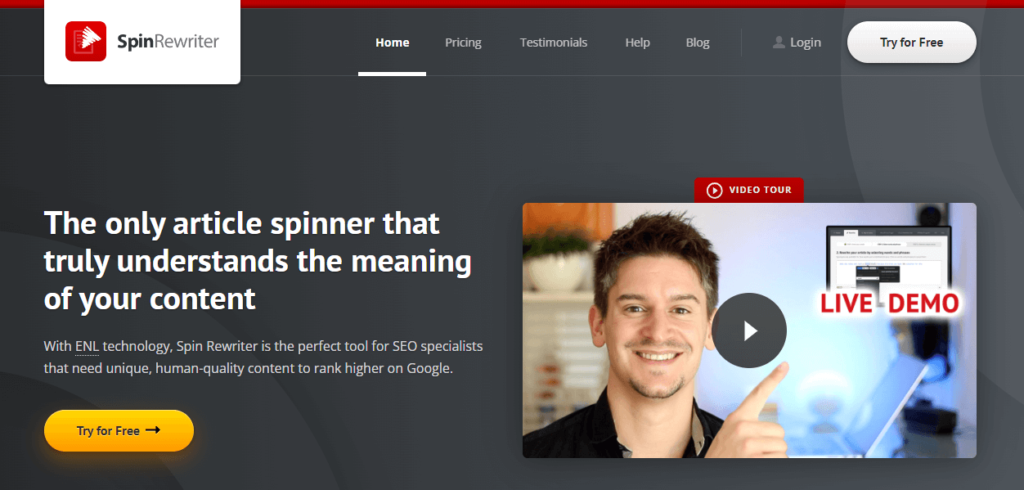 Spin Rewriter is a powerful content generation tool that is specifically designed for text spinning and rewriting. It provides you with the capability to take existing content and transform it into entirely new, unique versions. This is particularly useful to avoid the common problem of duplicate content while ensuring that the content remains original.
Spin Rewriter offers a high degree of customization and control over the spinning process. You can tailor the level of rewriting according to your specific needs, whether you prefer a minor revision or a more comprehensive transformation of the text. This level of customization ensures that the spun content aligns perfectly with your particular requirements.
Additionally, for those handling extensive projects with a volume of content, Spin Rewriter allows the processing of multiple articles and content simultaneously.
On 6th October Spin Rewriter came up with its most updated version Spin Rewriter 12 with valuable upgraded features. 
Features of Spin Rewriter:
The t

ool allows you to insert free images within your content. Just choose the image you want from the wide range available and the tool will add the relevant images to your rewritten content.
Allows a

side-by-side comparison of the original content with new rewritten versions. This will help you to evaluate the quality and accuracy of the rephrased text.
Spin

rewriter AI tech can create up to 1,000 variations of your original text. Gives you options to choose the best-spun content that matches the tone and style of your writing. 
You can a

lways refer to the detailed guides and video tutorials for learning and improving your work with Spin Rewriter. This will help you to further streamline your article rewriting process.
Spin

Rewriter is compatible to work with multiple devices including Desktops, laptops, tablets, and phones. This gives you easy access to rewrite your text from any device.
The

tool is also capable of adding entirely new content with the help of the paragraph creation feature

. This will further add value to your write-up. The new content is added by the tool by scanning the web and the data available.
You c

an also rewrite multiple articles at once with the bulk rewrite feature. Scaling your content creation at a much quicker pace.
Supports five different Spintex styles.
The new Spinbot Rewriter 12 has come up with new updated features, you can click here to know more.
Pricing for Spin Rewriter: 

You can explore the tool with a subscription plan, that comes with a 30-day money-back guarantee for its users. You also get 5 days free which is excluded from the 30-day money-back guarantee. 
Monthly Plan: $47/month. 
Yearly Plan: $77/year.
Lifetime plan: Single payment of $497.
Online reviews for Spin Rewriter
Rewriter Tool: It is a kind of rewriting tool that can produce great quality content in an easy and fast way.

Inexpensive and Easy: Reasonable cost of the features provided makes it popular among all categories of writers and marketers.

SEO compatible: The choice of words is SEO friendly.
3. Quillbot

With Quillbot, you can benefit from its advanced text rephrasing capabilities. It can help you reword sentences, paragraphs, or entire articles, making the content more concise without modifying the original meaning. This is particularly useful when you need to simplify complex ideas or improve the flow of your writing.
The tool is designed to enhance the overall readability and coherence of your content. It offers various modes, such as Standard, Fluency, Creative, and Concision, each meeting different writing styles and needs. You can choose the mode that best aligns with your writing goals, ensuring that your text maintains the desired tone and style.
Apart from the above-mentioned functionality, Quillbot also offers Chrome and doc extensions for making your article rewriting process even more convenient. 
Features of Quillbot:
The fr

ee version offers 2 quill modes (Standard and Fluency) through which you can change the tone of your rewritten text. The upgraded plan adds 5 more text spinner modes.
Quillb

ot offers an inbuilt grammar checker that enhances the quality of the content by eradicating spelling and grammatical mistakes.
Easy u

se of Chrome extension and integration with writing tools such as  Microsoft Word, Google Chrome and Google Docs that makes your rewriting process smooth and convenient.
Retention of words and sentences from the original content is possible with the freeze word feature.
The Syno

nym adjuster lets you adjust the frequency of synonyms used in your rewritten text. You can adjust it by dragging the adjuster from right to left. However the more synonyms are used, it can hamper the accuracy of your rewritten text.
Throu

gh the Quillbot summarizer feature, you can grab the essential information from the long forms of content for better understanding.
Quillbot, Co-

rewrite is a unique feature that lets you rewrite your own write-up with accuracy and with web support. You can access any information by directly searching it through the Quillbot web search option.
Pricing for Quillbot: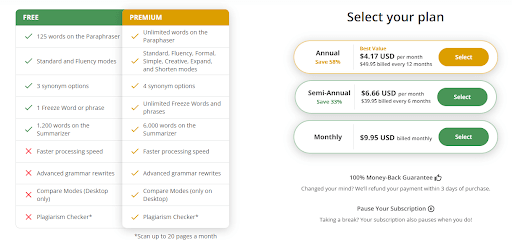 Free Plan: Offers 400-word text spinner with 3 quill modes.
Monthly Plan: $7.95 per month.
Half-yearly Plan: $29.95 bi-annually to be paid every 6 months. $4.99 per month if paid on a monthly basis.
Yearly Plan: $39.95 bi-annually to be paid yearly. $3.33 per month if paid on a monthly basis.
Related Reading: Best Quillbot alternatives & Similar Sites Like Quillbot
Online Reviews for Quillbot:
Good quality content: It gives satisfactory results in new version content.

Cheap yet worthy: Popular among all sorts of individuals even the less resourceful people like students.
4. Wordtune:

Wordtune is a user-friendly option, designed to provide real-time writing suggestions to improve sentence structure and overall readability. This feature makes your writing more compelling, whether you're crafting an essay, business documents, or creative content.
In addition to basic spelling and grammar checks, Wordtune offers intelligent word choice suggestions, helping you select more precise and effective vocabulary. This enriches your writing and ensures that your content is clear and impactful.
Moreover, the tool also offers a user-friendly interface that's easy to navigate. It seamlessly integrates with your other writing tools, providing suggestions and improvements in real time as you type.
Features of Wordtune:
For easy

convenient working Wordtune offers integration with social media platforms like ( Facebook, WhatsApp, Twitter, and Slack) and with writing tools such as Word doc, and Google Docs, you can also download the Chrome extension for continuous workflow.
Unlike

Spinbot, Wordtune also offers its own editor platform that will improve your writing immensely. With its auto-suggest recommendations, you improve your sentence structure, grammatical errors, punctuation errors, etc.
For sha

ping the tone of your writing you can use the 5 different spinning styles: Rewrite, causal, formal, expand, and shorten. The access to these modes will depend on the plan you choose. The free mode only lets you use the Rewrite option. 
It is a multilinguistic text spinner, supporting languages like Russian, Mandarin, Korean, Spanish, Hindi, Hebrew, Italian, German, Arabic, and English.
Wordtu

ne Read is one of the latest features added that can help you out in summarizing long forms of content and documents in a concise and brief manner. This feature can save an ample amount of time while understanding lengthy articles.
One of

the unique and useful features offered is Translate and Rewrite. You can translate and rephrase any foreign language into English. The tool will offer you multiple rewrite options to choose from. According to the new feature guide by Wordtune,

this tool is useful for Non-native English speakers

.
Pricing for Wordtune:

Premium Monthly: $24.99/month
Premium Yearly: $9.99/month ($119.88 to be paid annually)
A team Plan with five or more user accounts can be discussed with Wordtune sales
Online Review for Wordtune:
Text spinner works with a great speed cutting on the time.
5. Paraphrasingtool.ai

Paraphrasingtool.ai is an advanced online tool designed to assist users in generating high-quality paraphrases of text. It utilizes an advanced paraphrasing algorithm that aims to produce natural-sounding and contextually appropriate results while maintaining the original meaning of the input.  
This tool stands out as a better alternative to Spinbot for several reasons.
Firstly, Paraphrasingtool.ai incorporates contextual understanding, taking into account the surrounding context, sentence structure, grammar, and meaning. This contextual approach helps produce more accurate and contextually appropriate paraphrases compared to Spinbot.
Another significant improvement is the reduced risk of unintentional plagiarism. Paraphrasingtool.ai ensures to provide paraphrases that are substantially different from the original text while still capturing the core meaning. This minimizes the chances of inadvertently using content that could be considered plagiarized.
Furthermore, the tool provides a user-friendly interface that is intuitive and easy to navigate. Users can input text seamlessly and receive prompt paraphrased results. Additionally, the interface may offer additional features such as formatting options and the ability to review and edit the generated paraphrases, enhancing the overall user experience.
Features of Paraphrasingtool.ai:
Paraphrasingtool.ai provides three free modes – Free Rewriter, Text Improver, and Near Human – allowing unlimited paraphrasing with no cost involved. You have the freedom to select the desired tone of your paraphrased output, whether it's casual, formal, professional, or witty.
The tool offers a convenient side-by-side comparison feature, allowing you to compare the input text with the paraphrased text. This provides a clear overview of the quality difference between the two.
With the synonym-changing feature, finding suitable synonyms for words or phrases becomes effortless. This adds versatility and variety to your writing by offering multiple word choices.
By clicking on a sentence in the paraphrased text, you can easily replace it with multiple options and improve sentence structures.
To ensure content uniqueness, the tool includes a built-in plagiarism checker as part of its package.
A handy web browser is integrated into the paraphraser, allowing for quick research without needing to switch tabs.
The tool also includes an AI-powered text summarizer that generates both an original word summary and an AI-generated summary.
For further refinement, an AI editor is available to polish and edit the text, enabling tasks like editing, simplifying, adding examples, and expanding the content.
Paraphrasingtool.ai goes beyond text and can also handle paraphrasing from audio and images, accommodating diverse content formats. With an impressive character limit of 20,000 per paraphrase, the tool supports substantial content pieces.
Pricing for Paraphrasingtool.ai:

Paraphrasingtool.ai premium plan gets you access to all the features and eight paraphrasing modes with a 48-hour money-back guarantee. 
Free plan: Offers 3 paraphrasing modes, 20,000 characters per paraphrase, and unlimited paraphrasing 
Monthly Plan: $7/month. 
Yearly Plan: the yearly plan costs $60 billed annually. It comes at $5 per month.
6. The Best Spinner:

The Best Spinner is highly efficient at generating multiple unique versions of a single piece of content. It provides various spinning options that allow you to create different variations of your original text, which is particularly useful for avoiding duplicate content issues and ensuring your content remains fresh and engaging.
This tool places a strong emphasis on maintaining the quality and readability of the spun content. It focuses on producing coherent and well-structured text, making it a valuable asset for content creators and marketers looking to generate high-quality, unique content for their websites or projects.
The best spinner comes with a four-spinner version 
Spinner 1 

Spinner 2

Spinner 3

Spinner 4
All four versions will give you different rewriting results for your original text. You can easily select and change it by using the drop-down option given.  
Features of The Best Spinner:
Best Spin

ner offers 4 exclusive spinners (1,2,3,4) that can generate different rewriting content for the same original text.
The re

written text can be easily copied by clicking on the

"Copy to clipboard"

button.
Best Spi

nner can be accessed in three different languages this include, English, Hindi, and Indonesian
The too

l allows easy side-by-side comparison of the original text and the rewritten text. This can help in evaluating the quality of the rephrased content.
Pricing for Best Spinner:
The Best Spinner doesn't have any free trial but offers very reasonable pricing plans with a 30-day money-returning policy. All the plan has somewhat similar features to offer, only the limit to using audio conversion and translation tools varies.
Basic Plan: $67 per year.
Standard Plan: $127 per year.
PRO Plan: $247 per year.
Online Reviews for Best Spinner
The paraphrasing tool is good and fast.
7. Plagiarism Detector paraphrasing tool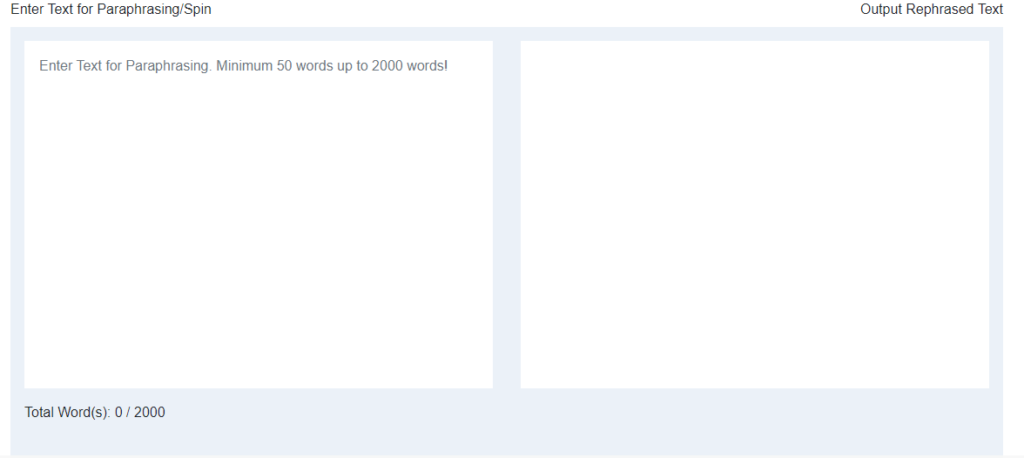 Plagiarism Detector Paraphrasing Tool is a web-based rewording tool that can generate plagiarism-free, human-friendly content. 
The tool's advanced algorithms can understand the meaning of your original content and paraphrase the text by using synonyms. Unlike Spinbot the tool offers the option to include your own alternative rephrased word if you are not satisfied with spin content. 
Another benefit of using the Plagiarism Detector paraphrasing tool is that it can also create SEO-friendly content which will help you to rank better on search engines like google. That can ultimately bring more traffic to your website thus increasing your revenue. 
In addition, the tool also offers Grammer checker and a Plagiarism checker that would help create accurate content that is 100% unique to use. 
Similar to Spinbot Plagiarism Detector Paraphrasing tool also works on the Freemium model. You can rewrite up to 2000 words with the free mode which can be increased to 540000 depending on the premium plan you chose. 
Another best part about the premium plan is that you can customize it according to your needs which can give you flexible pricing options to choose from.
Features of Plagiarism Detector paraphrasing tool:
The plagiarism detector paraphrasing tool can be accessed in 13 languages, this also includes Portuguese, Italiano, Malay, Hindi etc. 
For removing duplicate content, the tool also offers a Plagiarism checker, that can check up to 1000 words in the free version and 25000 words in the paid version. You can also upload your URL to check the copy score of the content. 
The tool recently came up with a new feature called Reverse Image search, which lets you find similar images and their sources on the web. 
Drak and Night mode keeps your workflow smooth and gives you flexibility in rewriting your content. 
The rewritten content can be cross-checked through the free Grammer checker, ensuring grammatically corrected content without any errors. 
Pricing plan for Plagiarism Detector paraphrasing tool:

The Plagiarism Detector paraphrasing tool offers a customizable pricing plan apart from the three plans offered which very unique if you compare the pricing pan of other Spinbot alternative websites mentioned in our list.
The custom pricing is based on the number of words selected for rewriting. The customized words start from 30000 and can go up to 540000.
Online Reviews for Plagiarism Detector paraphrasing tool

8. Ref-n-write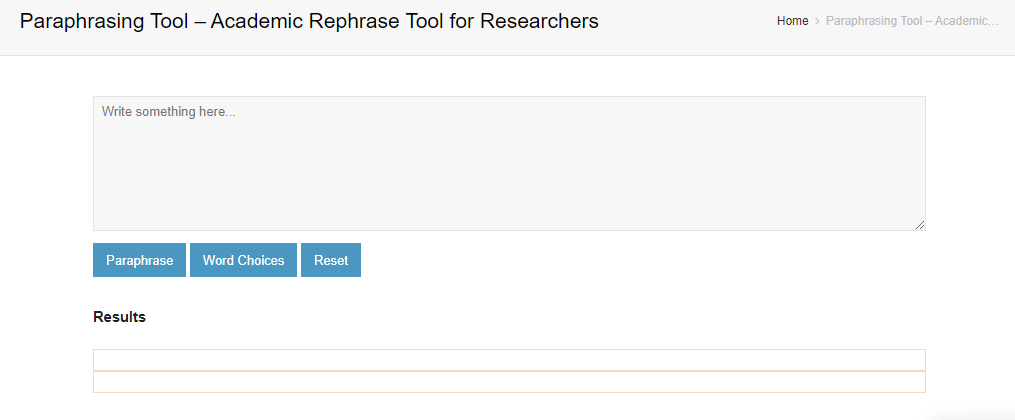 If you're in search of a tool to enhance your academic or research writing, the Ref-n-write tool is a valuable resource. It's designed to assist you in improving the quality and accuracy of your writing, particularly in the academic and scientific domains.
The Ref-n-write tool is highly specialized in providing support for academic and research writing. It offers a vast collection of academic phrases, sentence templates, and vocabulary suggestions that can significantly enhance the quality of your writing. This is particularly useful when crafting research papers, essays, or reports.
Additionally, It allows you to search for relevant sentence templates that match your specific writing needs, streamlining the process of creating well-structured and academically sound content.
Features of Ref-n-write:
While rewriting the content the tool offers a

Word choice feature

that gives you alternative synonyms to choose from before rewriting your content. It helps you to pick the best synonyms based on your writing style. 
The reset option provides you to restart your rewriting process, by just clicking on the reset button. 
 The tool can be directly integrated with your writing tool such as a Word document, for rephrasing the content. All you need to do is select the paragraph or a sentence and the text will get rephrased automatically. 
The built-in grammatical checker provides corrections for grammatical fixes within your content. It will highlight the suggestions for manual checks before making edits to the content.  
Online reviews for Ref-n-write

9. Prepostseo Paraphrasing Tool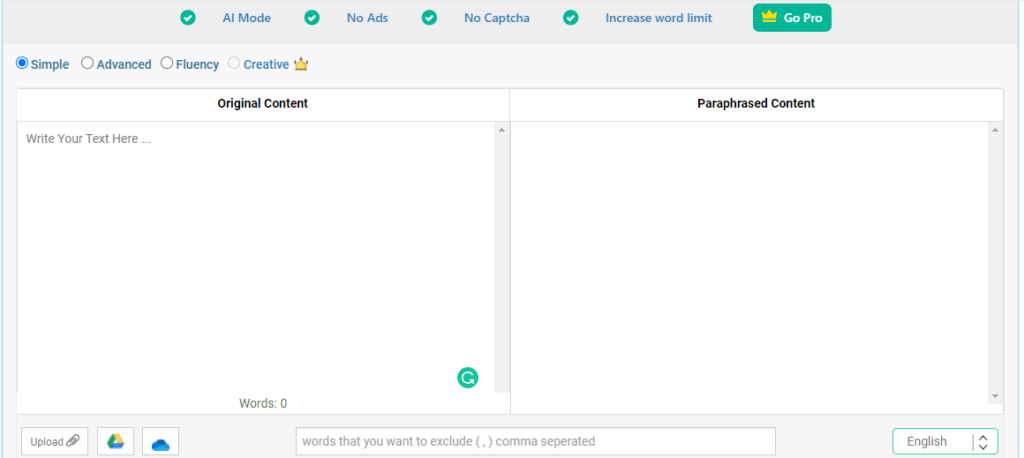 Prepostseo is another Spinbot alternative software that uses state-of-the-art AI technology to paraphrase your content. The tool rewrites your article by adding or replacing the words with synonyms and makes it plagiarism free. The content gets spun on the sentence level (by altering the phrase) and on the word level.
With the support of AI tech, the Prepostseo tool can generate SEO-optimized content keeping check of keyword density and keyword structure while rewriting your original content. You can also shape your content according to your tone of writing by using different modes available.
The tool offers 4 different types of modes to shape the tone of your rewritten text. These include
Simple: The simple mode rewords your content by adding synonyms within your original text. You can spin unlimited text in simple mode. 
Advance: Through the advanced mode you can add your own words to rephrase your content. It will also feature the substitute option generated by the tool side by side. 
Fluency: The fluency mode will rephrase your content yet check the grammatical error, within your content. You can paraphrase up to 5000 characters within fluency mode. 
Creative: The creative mode enhances the quality of your content, and generates unique plagiarism-free content, with up to 5000 characters count. 
(Note that the creative mode is available on the premium plan offered.)
You can simply switch over to all the different modes by selecting them from the rewriting dashboard. In Prepostseo you also get the option to upload your content files for paraphrasing rather than manually copy-pasting the content (the Google Drive option is also available). 
In addition to the above Prepostseo also offers a free plagiarism checker to remove duplicity from your content. 
Just like Spinbot Preposrtseo also works on the freemium model, the upgraded plan will let you get rid of display ads and Captcha, and extend your word count to 2500 words. 
Features of Prepostseo Paraphrasing Tool:
The AI mode can create SEO-friendly rewritten content by keeping a check for keyword density. This type of content can help you rank for organic search on search engines. 
The tool offers a file upload feature instead of copy-pasting the original text into the rewriting box. You can also upload your file directly from your Google Drive. 
The exclude word feature will retain the words from your original content before spinning your text. You can trigger this command by giving a comma-separated instruction for the words you want to retain. 
Prepostseo supports 17 languages apart from English which includes Spanish, German, Dutch, Russian, Japanese, etc. 
You can also validate your rewritten content with a plagiarism checker that you can use for Free. Just upload your file and the tool will scan the content for duplicity. With the premium version, you check up to 1500 words 
The free grammar checker will enhance the quality of your write-up by eliminating grammatical and punctuation errors from the rewritten text. 
Pricing Plan for Prepostseo Paraphrasing Tool: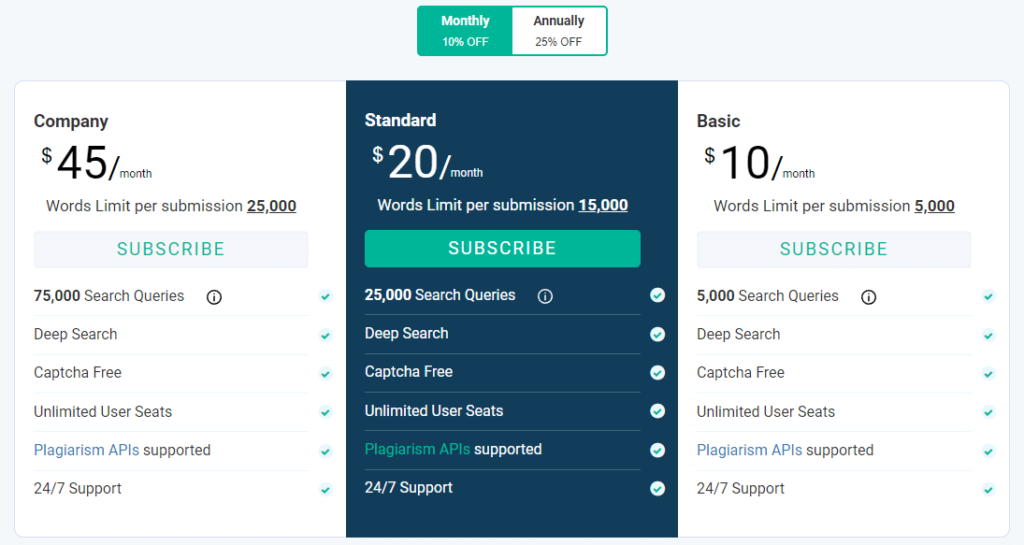 There are three plans offered under paid subscription which include:
Company: $45/ month

Standard: $20/ month

Basic: $10/ month
Subscribing to the paid plans will also remove ads and Captcha from the rewriting dashboard which will further enhance your rewriting experience.
Online reviews for Prepostseo Paraphrasing Tool

10. Paraphraser Article rewriter 


Paraphraser is an online content marketing tool that can rewrite your website content, social media copy, and academic essays and make them unique. The tool works by scanning your original content and rephrasing it by adding synonyms plus improving its accuracy. 
While rewriting the content the tool maintains the contextual meaning and concept of your original text, so that you can use the content directly for your organic ranking. 
The user experience of Paraphraser article rewriter is similar to Spinbot, all you need to do is upload the content file or copy-paste your original text into the rewriting dashboard and click on "Rewrite now". Within a second you will have your plagiarism-free, unique content under the rewritten section. 
The tool works on a freemium model that lets you access the creative mode for shaping the tone of your rewritten copy. You also get an increased word limit for rewriting content and checking its plagiarism. You can check plagiarism for up to 5000 words. 
In addition to the above, Paraphraser.io also offer a grammar checker, plagiarism checker, text summarizer and citation generator. 
The AI state grammar checker will help you avoid grammatical, spelling and punctuation mistakes which makes your content error-free. The plagiarism checker can detect the copy score of your content and help you avoid using copied content for your online presence. 
If you are a beginner or a professional writer, Praphraser.io can be one of the best free Spinbot alternatives to start your rewriting process. 
Features of Paraphraser Article Rewriter:
Grammar checker 

Plagiarism checker

Text Summarizer 

Citation generator 

Support multiple languages 
Pricing Plan for Paraphraser Article Rewriter: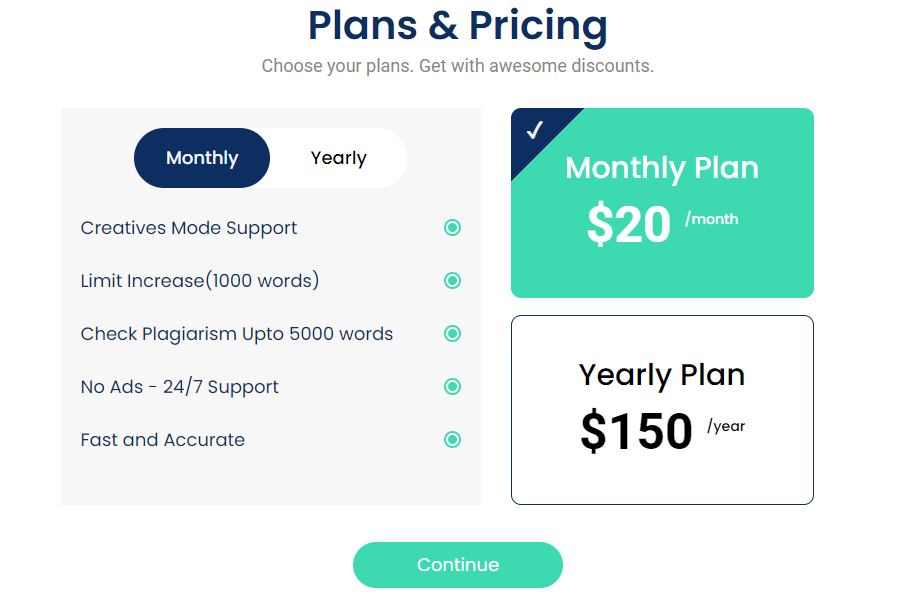 The tool offers two plans Monthly and Yearly, both plans can get you access to all the features available.
Which Spinbot alternative should you go for? 
Rewriting an article with a tool is not an easy task, by using the alternative of Spinbot mentioned in this article will produce completely different results for you than expected. This is why selecting the right tool based on requirements is necessary.
If you are a beginner and never used a rewriting tool before, then starting with a tool that offers free mode just like Quillbot and Wordtune can be a good fit for you. Note that we have also mentioned many other free Spinbot alternatives in our list above, so you can try them out too.
But if your goal is to produce quality content that can be used for organic ranking, and dominate your web presence. Then using premium tools like Spin Rewrite and WordAI can definitely help you achieve your goal.
Frequent Asking Questions:
Q1. Which one is better: Quillbot or Spinbot?
Ans. Spinbot is a free article-spinning tool with a limited amount of features and add-ons. Whereas Quillbot is an advanced rephrasing tool with multiple rewriting modes. Quillbot also offers valuable extra add-ons such as a Text summarizer, Plagiarism checker, etc.
Hence, Quillbot is better than Spinbot in terms of features and functionalities offered for rewriting. However, we have our details guide on comparing Spinbot with Quillbot. 
Q2. What is Spinbot used for?
Ans. Spinbot is used for rewriting original content with the help of simple and better synonyms. The number of characters you can spin in one go is up to 10,000 which is quite a big number for an average website to spin and rewrite. 
Q3. Can Spinbot be detected?
Ans. Spinbot tool can create human-readable text by rewriting the original content by substituting words with better synonyms. The tool does not create duplicate content and hence can not be detected by any plagiarism checker. 
Q4. Are Spinbot alternatives free?
Ans. Yes, there are various alternatives to Spinbot that have free plans. Paid tools are also offering a few days of free trials or a 30-day money-back guarantee. Though the features to work on will be limited, yet are worth a try.
Q5. Which is the best article rewriter?
Ans. Spin Rewriter is the best article rewriter offering a 5-day free trial. In the options of free versions, Quillbot is the best article spinner which offers a free version with a 400-word text spin at once.
Q6. Is article spinning good for SEO?
Ans. Search engines like Google reward unique and quality content. Article spinning tool can understand the contextual meaning of your original text and spin it by making it 100% unique. This rewritten content can be used for organic ranking and hence good for SEO as well. 
Q7. What are the Best paraphrasing tools available online? 
Ans. There are many paraphrasing tools available that you can find online. All the tools are designed to perform the core function of rewriting sentences. Although many of them vary by the features they provide. We have drafted the 11 best paraphrasing tools that we find most useful.
Quillbot
Prepost SEO
SEO magnifier
Content professor
Paraphraser
Ref-n-write
Smallseotools
Wordai
Plagiarismdetector
Editpad
Chimp rewriter
Related Readigns:

Automated Article Writing & Content Generator Software To Create (Instant Article)