Comparison table for WordAi Alternatives
Why Look for WordAi Alternatives?
Wordai, like any software, has its limitations and drawbacks that users should be aware of. Understanding these limitations can help users make informed decisions about whether Wordai is the right tool for their content generation needs. Here are some of the key limitations and drawbacks of Wordai:
Content Quality

: You should be aware that Wordai's content quality may vary. While it can generate content quickly, it might not consistently meet your quality standards. You might find it necessary to review and edit the generated content to ensure it matches your expectations.
Lack of Creativity

: It's important to note that Wordai relies on algorithms and patterns, which means it may struggle with highly creative or truly unique content. If you're looking to generate creative writing or content for highly specialized topics, Wordai might not be the ideal choice.
Dependency on Source Content

: Wordai's output quality is highly dependent on the quality of the initial content or input you provide. If your starting content is of low quality, the generated content may also suffer in terms of quality. 
Subscription Cost

: Keep in mind that Wordai is not a free tool; it comes with a subscription cost. If you have budget constraints and need to generate content regularly, this cost could be a drawback for you.
The 30-day money-back guarantee comes with usage terms and conditions:

You will get a refund if you rewrite less than 10 articles after purchasing the plan. 
Criteria for Choosing Wordai Alternatives
1/ Cost: We've considered the pricing structure of each alternative tool to ensure it aligns with various budget ranges.
2/ Quality of Output: The quality of content generated by each of the alternatives has been assessed before selection.
3/ User-Friendly Interface: We gave preference to the tools with intuitive and easy-to-use interfaces
4/ Features and Customization: The chosen alternatives were assessed for their diverse features and customization options. 
5/ Integration Capability: Lastly, we examined the integration capabilities of these alternatives to ensure they fit into existing content creation workflows and tools.
Best WordAI Alternatives & Competitors 
1) Spinrewriter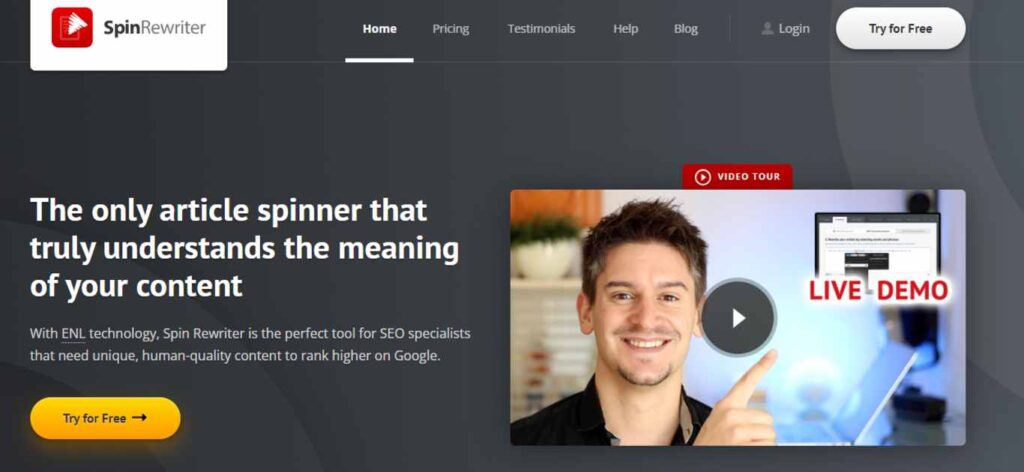 If you're on the lookout for a reliable alternative and rewriting tool, "Spin Rewriter" is a solution you should consider. This tool is customized to assist you in the content spinning of your existing content into fresh, unique variations with ease.
Spin Rewriter stands out with its automated article-spinning capability. It takes your original content and effortlessly generates multiple versions while ensuring readability and uniqueness.
Therefore, you won't end up with poorly constructed articles, but rather well-structured content that your audience will find engaging and informative.
It offers options for optimizing your spun content for search engines. This means you can strategically insert keywords, ensuring that your SEO strategy remains intact.
In terms of usability, Spin Rewriter is designed with a user-friendly interface. Even if you're new to content spinning, you'll find it relatively easy to use. 
Spin Rewriter also gives you control over the spinning process. You can choose how much uniqueness you want, whether you want to rewrite entire sentences or just specific words, and more. This level of customization ensures that the spun content matches your specific requirements and maintains the desired level of uniqueness.
New added features & improvements in Spinrewriter 12 edition 
Upgraded ENL tech:

Spin rewriter 12 has given more emphasis on phrase-level spinning through its semantic spinning technology. This generates purely unique results, with the human quality writing style and provides better readability to text. 
Including mass synonyms option:

Spin Rewriter 12 is now embedded with a more comprehensive list of synonyms to further simplify the content and its quality.

You can choose to spin content based on your

tone of writing

and requirements. 
Step-by-step guiding material:

Even if you are a complete beginner and have no experience with content spinning. The 12th edition of Spin Rewriter consists of guide material to inform you and start your first article rewriting process. 
Update video tutorials:

This edition comes with an updated version of 16 tool assistant videos that can streamline your content creation process with a spin rewriter. You must watch them all to get better output from the tool. 
Enhancing mobile usability:

With Spin Rewriter 12 edition you can now use all the desktop version features on your mobile phone. This gives you full control over all the features you want to use while spinning your content. 
Extending images and video options:

12 Edition comes with further addition of images and video visuals. Which can be incorporated into your articles easily with one click.

 
Easy categorization option:

You can now better segment and categorize all your spun articles with in-place categorization. This process will further help you with sorting articles and making your findings available at the right time.

 
3 format export option: 

The spun content can easily be exported in all three formats including, PDF, .text, and word doc

. 
Error fixing option:

One of the most interesting features of Spin Rewriter 12 is that it can detect errors within the original text inputted by the user. The tool can also offer a manual correction option to make the content accurate before rewriting. 
Pricing plans of Spinrewriter

Monthly billing with free trial: $47/ Month
Yearly Billing with free trial: $77/ Yearly
Lifetime subscription for a single payment of $497
Pros and cons of the Spinrewriter
Pros of using Spinrewriter: 
Embedded with ENL spinning algorithm for 100% unique content.

Can use free copyrighted images and videos within the content for a better user experience. 

Offers a 30-day risk-free guarantee for exploring the tool. 

Side by side original and spun content comparison. 

Can easily be integrated with a top-notch SEO tool with API.

Compatible with all the devices. 
Cons of using Spinrewriter: 
No free trial is available monthly which means you need to pay for using the tool. 

Unlike other rewriter tools, spin rewriter can be expensive since its starting plan starts at $47 a month. Which is quite expensive if you are a beginner. 

Even after using ENL and machine learning algorithms, there is no guarantee that the spun content will be of high quality. A manual check is still required. 
Customer feedback for Spinrewriter





2) Spinbot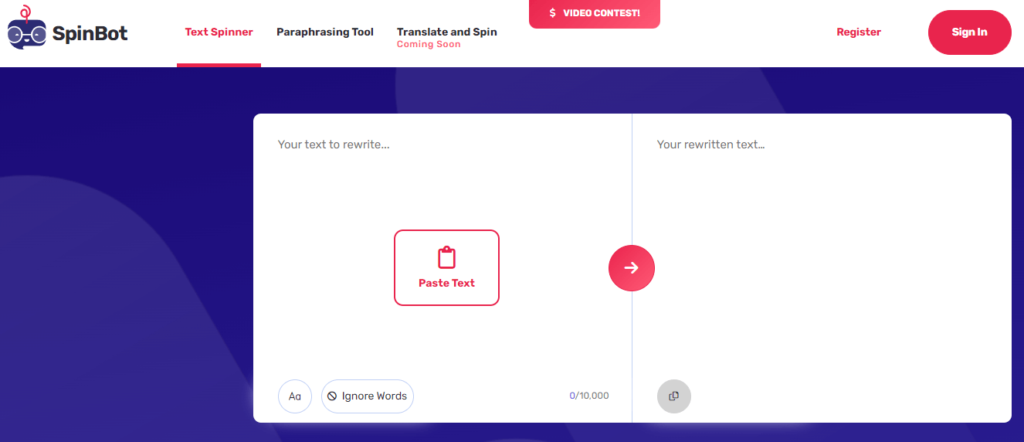 When you use Spinbot, you can take any piece of written content and have it rewritten to create unique variations of the original text. It's a particularly useful tool if you want to avoid plagiarism or need multiple versions of the same content.
Here's how Spinbot works for you: You input the text you want to rephrase into the tool, and with a click of a button, Spinbot processes the text and generates a rephrased version. 
It does this by substituting words and phrases with synonyms or alternative terms, all while maintaining the original meaning and giving you new content.
One of the key benefits of Spinbot is its simplicity. It's user-friendly and doesn't require any special technical skills to use. This makes it accessible to a wide range of people, from students looking to avoid plagiarism in their essays to content creators seeking unique variations of their work.
Features of Spinbot
API integration:

Spinbot API integration gives you an opportunity to connect the tool with your website, and any web-based application. This integration makes it easy for users to use the tool, especially on your website, and streamlines the content-spinning process. Moreover, SEO tools can also be integrated for better organic analysis. 
Ignore words feature:

This feature gives you an opportunity to restrict words and phrases from getting rephrased. All you need to do is click on the ignore section and type in the words you want the tool to skip while rewriting and it will follow the command.
Clipboard copy-paste:

You can easily copy, and paste the content for spinning while using this feature. But you need to take care of your word limit as Spinbot can only rewrite 1000 words per spin. 
Paraphrase mood:

This feature allows you to paraphrase the content based on your desired length. You can choose from two given options or let the tool decide which one is best for your type of content. 
Translate and spin (coming soon):

This feature gives you the ability to spin text from any language. It is still incoming soon mode but would be really helpful for people looking for a multilingual rewriter. 
Pros and cons of Spinbot
Pros of using Spinbot: 
API integration makes it even easier for you to use Spinbot by directly connecting it with your website and other platforms. 

Spinbot allows you to make priority commands by letting the tool know which word to skip. You won't find this feature in many free rewriting tools.  

Easy to use user interface, making it easier for any beginner to rewrite articles. All you need to do is copy the original text and paste it into the rewrite section. 
Cons of using Spinbot: 
One of the biggest drawbacks we found using Spinbotis there are grammatical errors and readability issues in the rewritten version of the text. 

Filling a captcha every time can be irritating and impacts the flow of work. 

Spinbot does not offer any grammar checker to let you check the grammar of the spun text. 

The tool does not use advanced tech such as ENL or

NLP

for performing article spin. 
Related reading: 6 Best Spinbot Alternatives & Similar Site To Overcome Plagiarism
Customer feedback for Spinbot




3) Quillbot


Quillbot is a handy tool designed to improve your writing and fix grammar. It works well for both experienced and new writers by suggesting ways to make your content more engaging and clear. Besides enhancing your writing, it's good at finding and correcting errors in your text, which is especially helpful for fixing grammar and typos.
Additionally, Quillbot has a big database of synonyms, so it helps you discover better words for your content, avoiding repetition. If you need to create different versions of your content while keeping the original meaning, Quillbot makes it easy to rewrite sentences and paragraphs. It's also user-friendly, making it easy to use, with clear suggestions that you can easily apply.
There are 5 modes that are offered by Quillbot for rephrasing your content. This includes 
Standard 

Fluency 

Formal 

Simple 

Creative 

Expand 

Shorten 
Features of Quillbot
5 paraphrasing modes:

Quillbot lets you mold your content in different tones and writing formats. You can select the tone by selecting the right mode and the tool will paraphrase your content accordingly.  
Synonyms addition count:

The tool also offers a count synonyms adjuster that will extend or limit the number of synonyms used in your rephrased content. You can adjust this by dragging the adjuster from right to left.
Integration with writing tools:

You can easily rephrase your text by integrating Quillbot with various writing tools.

This includes adding it to your Word document and Google Docs and adding the Chrome extension in your browser. 
Grammar checker:

Quillbot grammar checker works on providing error-free content. So when you are finally using this content on your website or for any other medium it is grammatically correct and sounds human written.  
Summarizer:

The summarizer feature lets you convert your long-form content into concise brief form. So that you can pinpoint the vital points for your

content marketing approach

. 
Plagiarism checker:

This is a new add-on feature that lets you scan through content for plagiarism. You can use this feature to make sure the paraphrased content you use is completely unique and of high quality. 
Citation generator:

Quillbot also lets you generate citations for books and websites in three formats this includes APA, MLA, and Chicago style. 
Doc upload option:

You can easily upload your doc file for paraphrasing content without any hassle. 
Pricing plans for Quillbot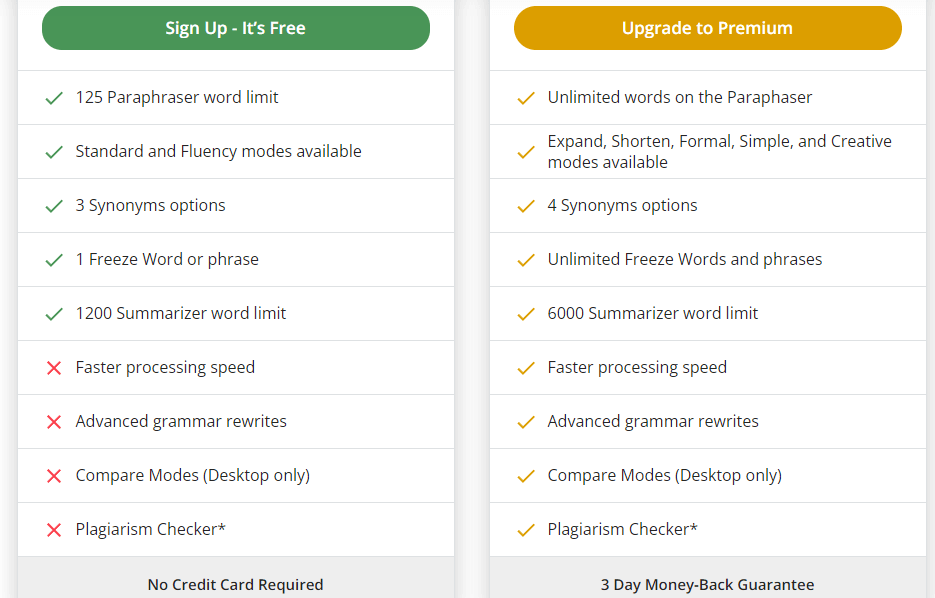 Annual subscription for $4.17:

If you opt for an annual subscription then you have to pay a one-time fee of $49.95. 

Semi-annual subscription for $6.66: The

Semi-annually plan is available for a 33% discount and your billing would be for $39.95 six-monthly. 

Monthly subscription for $9.95:

You can even opt for monthly billing but that would cost you much higher as compared to semi and yearly subscriptions.  
Pros and cons of the Quillbot
Pros of using Quillbot
The 5 modes give you the option to create articles in different formats. 

Chrome extension is available to allow paraphrasing while you are working on your own CMS. 

Creating unique content is very important. Quillbot plagiarism checker lets you scan your content for uniqueness. 

The free version of the available tool is available without signing up for a free trial. 

Easy-to-use interface for smooth paraphrasing. All you need to do is enter your original text once you land on the home page of the site. 

The tools let you choose the count of synonyms used which makes your writing more genuine and qualitative. 

A risk-free money-back guarantee is available if in case you are not satisfied with the output. 
Cons of using Quillbot
Quillbot only offers a 3-day money-back guarantee which is very little time to explore the tool. 

With the free plan, you can only use two modes with a 125-paraphrase word limit. 

There is a limitation to the summarizer feature which only lets you summarize words up to 6000. 

A manual check is still required as you only get a grammar check if you opt for a paid plan. 
Related Reading: 8 Best Quillbot alternatives & Similar Sites Like Quillbot
Customer feedback on Quillbot




4) Wordtune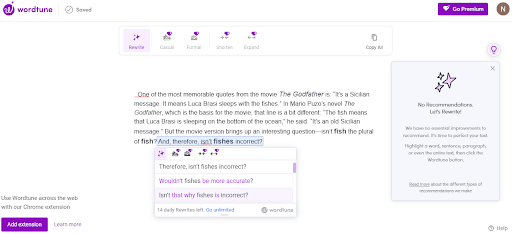 Wordtune serves as your trusted AI-powered re-writing tool. It can assist you in improving the clarity, tone, and style of your content, making your writing more impactful and engaging for your audience.
When you use Wordtune, it instantly analyzes your text and provides you with a range of suggestions and alternatives to enhance your writing. You'll receive valuable recommendations that can help you rephrase sentences for better clarity and select more powerful vocabulary to enhance the overall tone of your writing.
Let's say you're working on an important email, a blog post, or an academic paper. You want it to be clear, engaging, and impactful. Wordtune can suggest alternative words and phrases, helping you rephrase sentences for better clarity, and even providing vocabulary choices that can give your writing that extra touch.
 Moreover, as compared to WordAI, Wordtune offers 5 different modes to rewrite your text. Each mode will give you the results in different styles and formats, these modes include:  
Standard Rewrite mode 

Casual writing mode 

Formal writing mode 

Shorten writing mode 

Expand writing mode  
Features of Wordtune
Word document integration:

You can connect Wordtune with your writing doc for convenient content spinning. The tool also comes with a Chrome extension that can be easily downloadable in our web browser. 
Text summarizer:

The new updated feature also lets you summarize and extract crucial information from any long-form text. You can use this feature for quick scanning of long-form content. 
Smart synonyms suggestion:

The tool can now enhance your content with multiple synonyms options. The smart suggestion understands the context of your content and provides recommendations accordingly. 
Word alteration:

With Wordtune word alteration you can now cherry-pick your words and phrases that are needed to be altered with new variations. Once you select the word the tool will give you suggestions for replacing them with new words. 
Writing suggestion:

Wordtune will not only rewrite your sentences but will also give you suggestions on how to enhance your original writing. This will further improve your writing skills and content quality. 
Translate and Rewrite simultaneously:

One of the unique features of Wordtune is translation and rewriting. This means the tool can translate the text into the native English language and then rephrase it. 
Pricing plans of Wordtune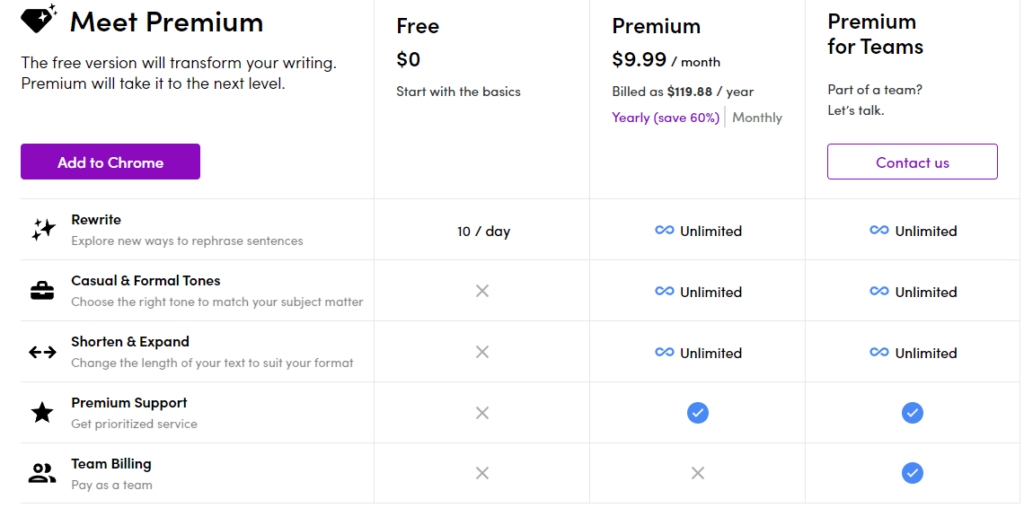 Monthly plan pricing: $9.99
Yearly plan pricing: $119.88
The premium for team pricing: Need to contact the support team.  
Pros and Cons of Wordtune
Pros of using Wordtune
Wordtune is beginner-friendly and has an easy-to-use interface. 

Comes with State of the art AI that provides error-free rewrite content. 

Wordtune is capable of understanding the

semantic relationships between words

. 

You get additional support from the team when you shift to premium plans. 

As compared with WordAI, Wordtune offers various writing formats at a cheaper cost. 

Wordtune can be used on various platforms and has a Chrome extension to support your writing experience. 
Cons of using Wordtune
The premium plan does not offer any refund or money-back guarantee. This can cause dissatisfaction if the tool does not provide the expected results. 

The free plan only comes with rewrite functionality and the rest all the features are in paid plans. Thus limiting the exposure to exploring the tool. 

Wordtune's yearly pricing is over $100 which is quite expensive as compared with other paraphrasing tools.  
Customer feedback on Wordtune





5) Prepostseo Paraphrasing Tool              
                         
The Prepostseo Paraphrasing is an online tool designed to help you create original and plagiarism-free text by rephrasing existing content in a way that maintains the meaning of the original copy.
You simply input the text you want to rephrase into the tool, and with a click of a button, the tool processes the content and generates a new version, using different words and sentence structures while maintaining the core message.
One of the key benefits of the Prepostseo Paraphrasing Tool is its simplicity and accessibility. You don't need to be a tech expert to use it effectively. Its user-friendly interface makes it easy for anyone to create original content without the hassle of manually rewording every sentence.
There are 4 modes in which you paraphrase your write-up including: 
Simple 

Advance 

Fluency 

Creative 
Features of PrepostSeo
Plagiarism checker:

You can use the plagiarism checker to validate the copy score of your spin content. Using this will make sure you are not using copied content. 
Doc file upload:

You can upload documents from your device for faster processing and save manual copy-pasting. 
Include State of art AI tech:

The tool uses AI tech to spin your content which provides better recommendations after understanding your write-up. 
Multiple modes to enhance quality:

You can shift from multiple modes to match the style of your writing. 
Grammar checker:

Prepostseo also comes with a grammar checker to check the accuracy of your spin text. 
Text summarizer:

The text summarizer helps in describing the content in the most concise manner. 
Other feature includes

Chrome extension, report download, citation, customer support etc. 
Pricing plans of PrepostSeo

Pros and Cons of PrepostSeo
Pros of using Prepostseo
Even in the free plan, the tool offers three modes to use. This gives you the option to choose the best format for your content. 

Easy to use interface all you need to do is copy-paste or upload the original doc. 

You can add your own words to the paraphrased content. 

Offer other useful tools such as grammar checker plagiarism checker, and domain checker. 
Cons of using Prepostseo
As compared to other paraphrasing tools the paid plan is quite expensive. 

No lifetime membership is offered. 

The free version does not use AI to spin the content. 
Customer feedback for PrepostSeo


Who should consider each alternative?
1/ Spin Rewriter:
Target Audience

: Content creators and marketers looking to generate unique versions of existing content.
2/ Spinbot:
Target Audience

: A wide range of users, including students, bloggers, and content creators seeking to avoid plagiarism and generate alternate versions of text.
3/ Quillbot:
Target Audience

: Writers of all levels, including students, bloggers, business professionals, and editors.
4/ Wordtune:
Target Audience

: Writers looking to improve the clarity, tone, and style of their content.
5/ Prepostseo Paraphrasing Tool:
Target Audience

: A broad range of users seeking to create original, plagiarism-free content without extensive manual rewording.
Each of these tools caters to specific content generation needs and audience preferences. The best choice depends on your unique requirements and the scenario in which you intend to use the tool.