WordAI is one of the advanced article rewriters tools in 2022. But its expensive pricing, no free version mode and fewer control options make it less competitive as compared to other similar tools. This is why in this article we have listed the 11 best WordAI alternatives and competitors to enhance your content paraphrasing.
Comparison table for WordAI Alternatives
| | | | | |
| --- | --- | --- | --- | --- |
| List of WordAI Alternatives | | | | |
| | | | | |
| | | | | |
| | | | | |
| | | | | |
| | | | | |
| | | | | |
| | | | | |
| | | | | |
| | | | | |
| | | | | |
| | | | | |
What is WordAI
As the name suggests WordAI is an Artificial intelligence rewriter that creates high-quality unique content. Its machine learning algorithm is capable of interpreting the original text and returning the spin content in human written style.
The best part of this tool is that it can understand the original text word by word, and sentence by sentence to discover the context and the intent behind the content. This process enables WordAI to restructure content with better alternative words that are easy to read and understand. 
Moreover, if you are not satisfied with the paraphrased content then you can respin the content to get a new result. The tool provides one thousand rewritten variations of the same text. Isn't that great?
On top of this WordAi also take care of optimizing the content with LSI keywords, better readability, content structuring and creating unique engaging content. 
And all of this is done in just three steps which means this tool can save a huge amount of time for you when it comes to content spinning.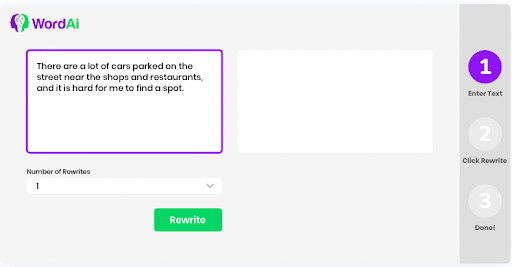 To start with you need to paste the original text, decided the number of rewrites you want and click on the rewrite button. That's it your job is done.
Reason to shift from WordAI (the big disadvantage of WordAI)
No lifetime access available:

WordAI does not come with a lifetime plan which means you need to reinvest in the tool every year. Unlike other sites like WordAI which offers lifetime plan subscriptions.  
No free version is available:

WordAI does not offer a free mode for exploring the tool. This means you need to sign up for a 3-day free trial before making any final decision. As per our verdict, a 3-day free trial is not sufficient enough for making a purchasing decision.    
No multi-user account on monthly and yearly plan:

You can not add your team members and other co-coworker as there is no multi-user account option in the monthly and yearly plan. In order to do so, you need to go for an enterprise plan which is not suitable for beginners and small companies. 
The 30-day money-back guarantee comes with usage terms and conditions:

You will get a refund if you rewrite less than 10 articles after purchasing the plan. Which we think is not justified because if you go beyond the limit then you won't be able to claim your money back. 
No manual selection of synonyms:

WordAI offer less control over the paraphrased content. That means no synonym options would be given for selecting. This often limits the choice of your final result. 
Best WordAI Alternatives & Competitors 
1) Spinrewriter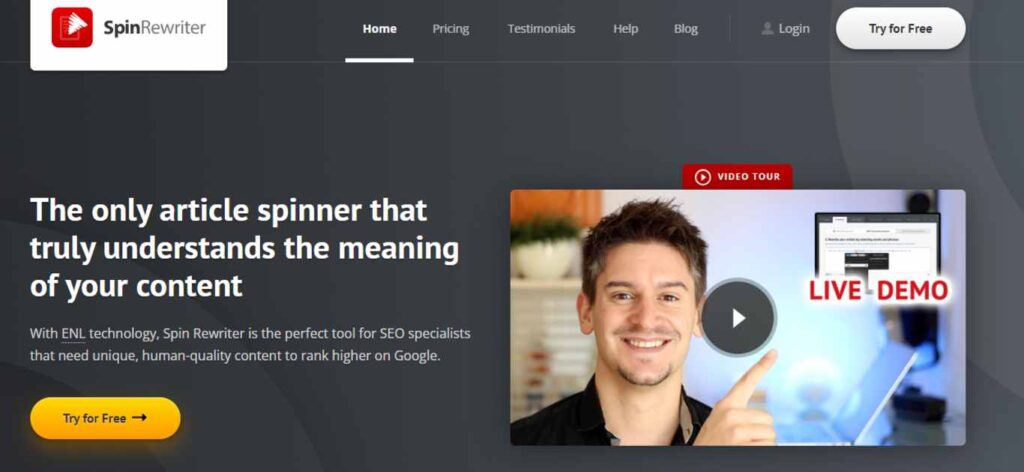 Spinrewriter is one of the few tools that use Emulated natural language (ENL) for rewriting articles and text. The tool's main focus is on creating unique content with human written quality that can rank high on search engines like google. And that is the reason why Spinrewriter has been trusted by 181,394 SEO experts to date. 
The spin rewriter tool is also supported by semantic spinning technology and artificial intelligence. This helps in understanding the meaning of each word in the original content and their semantic relationship with each other. After processing the content with its high tech command the tool is able to provide SEO friendly content which is unique and ready to rank. 
In addition, the tool does not only provide one spinning result but gives you up to 1000 results to choose from. That means you can choose the best rewrite content based on your quality standard.  
Moreover, if you have any doubt about whether Spinrewriter is still compatible with today's content marketing standards then let me tell you that the tool has been constantly updated. And has come up with Spin rewriter 12 edition that went live on 6 October 2021.
Features of Spinrewriter 
Original text and rewritten text comparison:

This feature allows you to compare your spun content with the original content side by side. So that you can judge the quality of spun content, mark the changes, and compare it with your quality standard. I think this is the most important feature every rewriting tool should have. 
Free Stock Image insertion:

Spinrewriter also gives you the option to include free stock images in your write up. These images are copyright free and enhance the visual appearance of your content. Nobody likes to read a wall of text, readers are looking for graphical representations to visualize the text for better understanding. 
Create up to 1000 variations of original content:

Your original text can be rewritten up to 1000 versions. Gives you a wide variety to choose from if you are not satisfied with your first result. Each version consists of the same meaning but is modified with different words and synonyms. 
Multiple articles spinning:

Many times you need to rewrite multiple articles to save your time. And spin rewriter gives you the feature of spinning multiples article simultaneously. You can save your time, generate more content and increase your web presence. 
Multi-device usability:

Spinrewriter is device friendly and compatible with any device type (mobile, tablet, desktop). This opens up your option of operating from anywhere with any device without any technical assistance.

 
Orignal paragraph creation:

This is another great feature which you won't see in many other article rewriter tools. Spin Rewriter can actually create new paragraphs in addition to the spun text which completely aligns and support your content. 
Mass SEO API integration:

If you are in the SEO industry there are many tools you want to integrate your content creation process with. And Spinrewriter gives you an option for API integration with top-notch SEO tools including backlink beats, big content search, Rank wyz etc. 
Some of the new added features & improvements in Spinrewriter 12 edition 
Upgraded ENL tech:

Spin rewriter 12 has given more emphasis on phrase-level spinning through its semantic spinning technology. This generates purely unique results, with the human quality writing style and provides better readability to text. 
Including mass synonyms option:

Spin rewriter 12 is now embedded with a more comprehensive list of synonyms to further simplify the content and its quality.

You can choose to spin content based on your

tone of writing

and requirement. 
Step by step guiding material:

Even if you are a complete beginner and have no experience with content spinning. The 12th edition of spin rewriter consists of guide material to inform you and start your first article rewriting process. 
Update video tutorials:

This edition comes with an updated version of 16 tool assistant videos that can streamline your content creation process with a spin rewriter. You must watch them all for getting better output from the tool. 
Enhancing mobile usability:

With Spin Rewriter 12 edition you can now use all the desktop version features on your mobile phone. This gives you full control over all the features you want to use while spinning your content. 
Extending images and video options:

12 Edition comes with further addition of images and video visuals. Which can be incorporated into your articles easily with one click.

 
Easy categorization option:

You can now better segment and categories all your spun articles with in place categorization. This process will further help you with sorting articles and making your findings available at the right time.

 
3 format export option: 

The spun content can easily be exported in all three formats including, PDF, .text and word doc

. 
Error fixing option:

One of the most interesting features of Spin rewriter 12 is that it can detect errors within the original text inputted by the user. The tool can also offer a manual correction option to make the content accurate before rewriting. 
Pricing plans of Spinrewriter
Spinrewriter offers three plans for their user, monthly, yearly and lifetime. The offering you get in all three plans is almost the same. The only difference you will see is in the yearly plan. Wherein you get 10 free seeds articles and over 8 million videos. 
The yearly plan also gets you 5 day free trial for exploring the tool. And if the tool doesn't give you satisfactory results you have a 30-day money-back guarantee with no questions asked. 
In addition, if you cancel your subscription within the 5 days of the free trial and you will not be billed for your chosen plan. Currently, if a user opts for a yearly plan then you will get a 60% off on yearly billing which comes at $77 annually.

Monthly billing with free trial: $47/ Month
Yearly Billing with free trail: $77/ Yearly
Lifetime subscription for a single payment of $497
Pros and cons of the Spinrewriter
Pros of using Spinrewriter: 
Embedded with ENL spinning algorithm for 100% unique content.

Can use free copyright images and videos within the content for a better user experience. 

Offers 30 days risk-free guarantee for exploring the tool. 

Side by side original and spun content comparison. 

Can easily be integrated with a top-notch SEO tool with API.

Compatible with all the devices. 
Cons of using Spinrewriter: 
No free trial is available monthly which means you need to pay for using the tool. 

Unlike other rewriter tools, spin rewriter can be expensive since it starting plan start at $47 a month. Which is quite expensive if you are a beginner. 

Even after using ENL and machine learning algorithms, there is no guarantee that the spun content would be of high quality. A manual check is still required. 
Customer feedback for Spinrewriter





2) Spinbot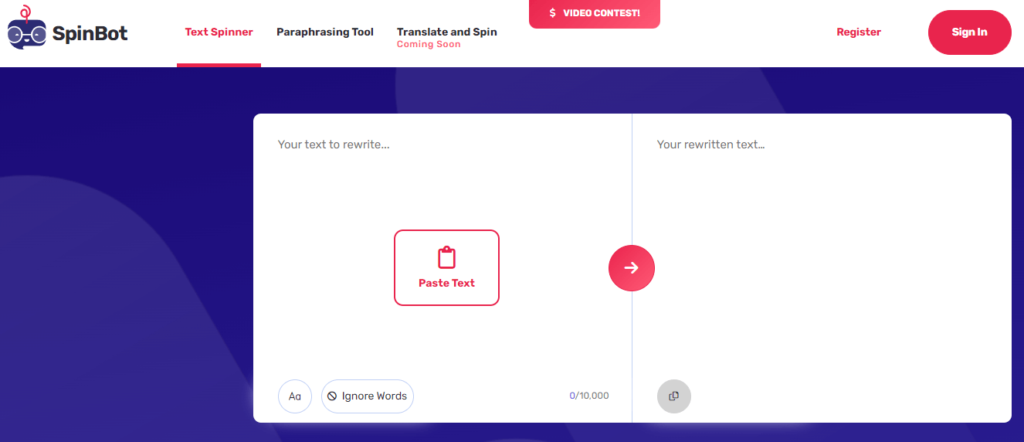 If you are looking for a free WordAI alternative then Spinbot can be the best option for you. It's an automated article writing software that is capable of rewriting content with immense clarity and readability. Spinbot also portrays itself as one of the fastest article rewriters tools with human readability. 
In addition, this is one of the simplest tools to use. All you need to do is copy the original text into the rewrite section and click on spin it.  In no time you will have a unique spun article. Moreover, you can even give commands for ignoring the words which you want to stay as it is. And Spinbot will ignore those words while spinning your content. 
Spinbot newest addition to its platform is its paraphrasing dual-mode with two paraphrasing options. You can also choose the random option if you are not sure which one to go with. And the tool will automatically choose any of the two below given options. 
Find the Shortest available: This option will rephrase your original text in the most concise and crisp manner. 

Find the longest available: This option will broaden your paraphrased content with brief and long explanations. 
Features of Spinbot
API integration:

Spinbot API integration gives you an opportunity to connect the tool with your website, and any web-based application. This integration makes it easy for users to use the tool, especially on your website and streamlines the content spinning process. Moreover, SEO tools can also be integrated for better organic analysis. 
Ignore words feature:

This feature gives you an opportunity to restrict words and phrases from getting rephrased. All you need to do is click on the ignore section and type in the words you want the tool to skip while rewriting and it will follow the command.
Clipboard copy-paste:

You can easily copy, and paste the content for spinning while using this feature. But you need to take care of your word limit as Spinbot can only rewrite 1000 words per spin. 
Paraphrase mood:

This feature allows you to paraphrase the content based on your desired length. You can choose from two given options or let the tool decide which one is best for your type of content. 
Translate and spin (coming soon):

This feature gives you the facility to spin text from any language. It is still incoming soon mode but would be really helpful for people looking for a multilingual rewriter. 
Pricing plans of Spinbot
Note that Spinbot is completely free but as a paid user you still get some extra value addition, we will talk about it in a while. But before that Spinbot offers three plans divided into monthly, 6 monthly and yearly subscriptions. The offering you get in each plan differs slightly, and the rest of the features remains the same across all paid plans.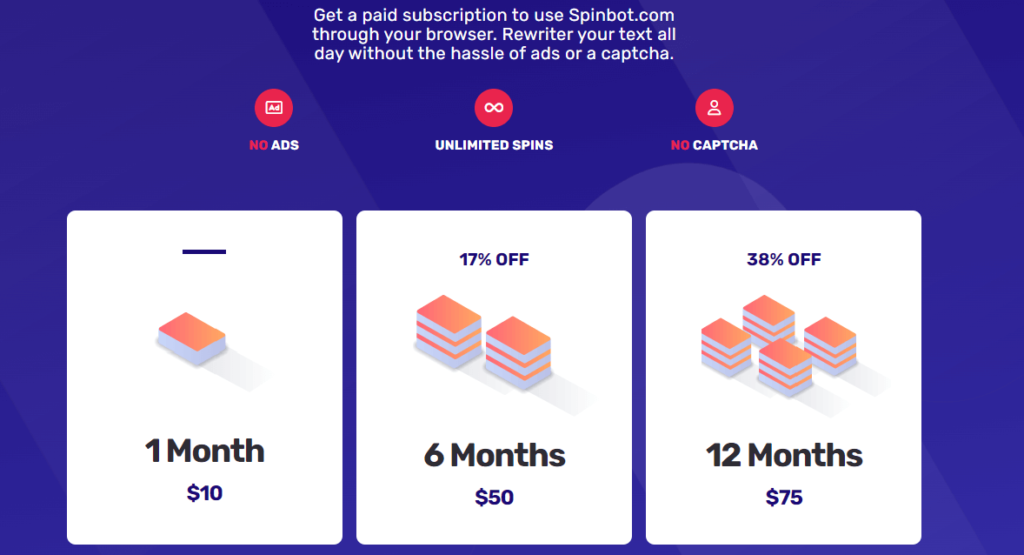 As you can see Spinbot has three plans to offer which allow you to get rid of ads, spin limit and captcha. But if you are using Spinbot for free you will have to continue your work with ads, spin limit and filling up captcha every time. 
With a $10/ Month

subscription you can get rid of all the ads.  

With a $50/half-yearly

subscription, you can get rid of the Spin limit. (which is 1000 words in the free plan).  

With a $75/ Yearly

subscription, you can get rid of all the above.  
Pros and cons of Spinbot
Pros of using Spinbot: 
Offer free mode without enrolling for any free trial, as compared to many other paid articles rewriting tools. 

API integration makes it even easier for you to use Spinbot by directly connecting it with your website and other platforms. 

Spinbot allows you to make priority commands by letting the tool know which word to skip. You don't find this feature in many free rewriting tools.  

Easy to use user interface, making it easier for any beginner to rewrite articles. All you need to do is copy the original text and paste it into the rewrite section. 

Offer affordable pricing plans if we compare the pricing plans of Spinbot with WordAI. 
Cons of using Spinbot: 
One of the biggest drawbacks we found using Spinbotis there are grammatical errors and readability issues in the rewritten version of the text. 

The free plan only lets you spin content with a word count of 1000 which is often less if you are working with long-form articles. 

Filling a captcha every time can be irritating and impacts the flow of work. 

Spinbot does not offer any grammar checker to let you check the grammar of the spun text. 

The tool does not use advanced tech such as ENL or

NLP

for performing article spin. 
Related reading: 6 Best Spinbot Alternatives & Similar Site To Overcome Plagiarism
Customer feedback for Spinbot




3) Quillbot


Quillbot is a dynamic multifunctional paraphrasing tool that lets you rephrase your word, phrases, sentences and paragraphs by State of the art AI technology. Quillbot can reword your content by matching the best synonyms and finding the right tone and style for your write-up. 
There are 5 modes that are offered by Quillbot for rephrasing your content. This includes 
Standard 

Fluency 

Formal 

Simple 

Creative 

Expand 

Shorten 
Stand and fluency can be used with the free version of Quillbot but you can unlock the rest of the mode by shifting to a paid plan. 
All the modes are designed to satisfy the needs of people from different professions and use cases. This includes creating sales copy, social media copy, email write-up and website copywriting etc. 
For any such use cases, you can choose the count of synonyms and the variation of synonyms to be used in your content. As a result, you get multiple versions of paraphrased content to choose from. 
In addition, Quillbot also offers a grammar checker, text summarizer and Chrom Extention for further simplifying the process of content paraphrasing. 
Features of Quillbot
5 paraphrasing modes:

Quillbot lets you mould your content in different tones and writing formats. You can select the tone by selecting the right mode and the tool will paraphrase your content accordingly.  
Synonyms addition count:

The tool also offers a count synonyms adjuster that will extend or limit the number of synonyms used in your rephrased content. You can adjust this by dragging the adjuster from right to left.
Integration with writing tools:

You can easily rephrase your text by integrating Quillbot with various writing tools.

This includes adding it to your word document, google Docs and adding the chrome extension in your browser. 
Grammar checker:

Quillbot grammar checker works on providing error-free content. So when you are finally using this content on your website or for any other medium it is grammatically correct and sounds human written.  
Summarizer:

The summarizer feature lets you convert your long-form content into concise brief form. So that you can pinpoint the vital points for your

content marketing approach

. 
Plagiarism checker:

This is a new add on feature that lets you scan through content for plagiarism. You can use this feature to make sure the paraphrased content you use is completely unique and of high quality. 
Citation generator:

Quillbot also lets you generate citations for books and websites in three formats this includes APA, MLA and Chicago style. 
Doc upload option:

You can easily upload your doc file for paraphrasing content without any hassle. 
Pricing plans for Quillbot
Unlike WordAI and other paraphrasing tools, Quillbot offers one upgrade plan that lets you take advantage of all the premium features. This includes unlimited paraphrasing words, 6000  Summarizer word limit, faster processing etc. 
Moreover, If you are not satisfied with the tool you also get a 3-day money-back guarantee. One key addition you get with Quillbot premium plan is you can pause your subscription and restart it whenever you want. This is rarely found in any other paraphrasing tool.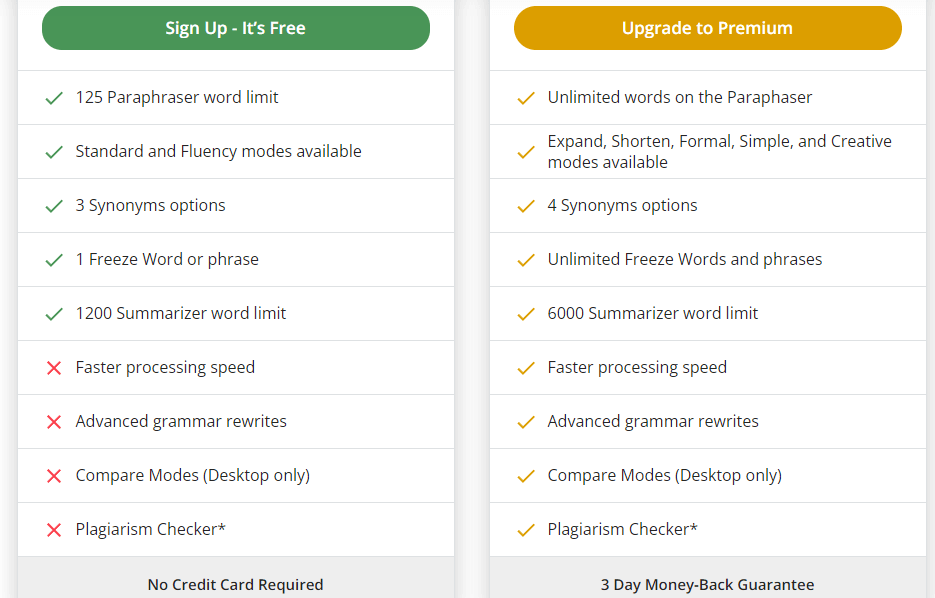 Annual subscription for $4.17:

If you opt for an annual subscription then you have to pay a one-time fee of $49.95. 

Semi-annual subscription for $6.66:

Semi-annually plan is available for a 33% discount and your billing would be for $39.95 six-monthly. 

Monthly subscription for $9.95:

You can even opt for monthly billing but that would cost you much higher as compared to semi and yearly subscriptions.  
Pros and cons of the Quillbot
Pros of using Quillbot
The 5 modes give you the option to create articles in different formats. 

Chrome extension is available to allow paraphrasing while you are working on your own CMS. 

Creating unique content is very important. Quillbot plagiarism checker lets you scan your content for uniqueness. 

The free version of the available tool is available without signing up for a free trial. 

Easy to use interface for smooth paraphrasing. All you need to do is enter your original text once you land on the home page of the site. 

The tools let you choose the count of synonyms used which makes your writing more genuine and qualitative. 

A risk-free money-back guarantee is available if in case you are not satisfied with the output. 
Cons of using Quillbot
Quillbot only offers a 3-day money-back guarantee which is very less time to explore the tool. 

With the free plan, you can only use two modes with a 125 paraphrase word limit. 

There is a limitation to the summarizer feature which only lets you summarize words up to 6000. 

A manual check is still required as you only get a grammar check if you opt for a paid plan. 
Related Reading: 5 Best Quillbot alternatives & Similar Sites Like Quillbot
Customer feedback on Quillbot




4) Wordtune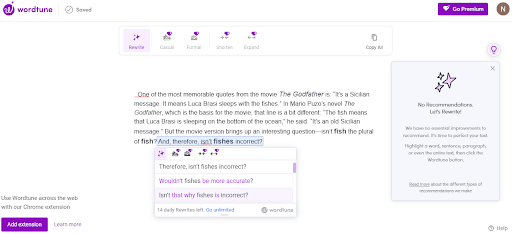 Wordtune is an authentic content rewriting software that is designed to go beyond content styles and grammatical fixes. As compared to WordAI, Wordtune offers 5 different modes to rewrite your text. Each mode will give you the results in different styles and formats, these modes include:  
Standard Rewrite mode 

Casual writing mode 

Formal writing mode 

Shorten writing mode 

Expand writing mode  
 Wordtune is also compact with Artificial Intelligence technology with a very easy to use interface. 
All you need to do is copy and paste the original text into the rewrite box and click on the rewrite. 
In addition to the above modes, Wordtune has recently added new features in their recent update which came out on Feb 7/2022. One of the interesting add on was giving manual suggestions for improving your write-up. 
This means you can not only rewrite the text but even take suggestions on improving the original content which can lead to better quality content. 
Features of Wordtune
Word document integration:

You can connect Wordtune with your writing doc for convenient content spinning. The tool also comes with a chrome extension that can be easily downloadable in our web browser. 
Text summarizer:

The new updated feature also lets you summarize and extract crucial information from any long-form text. You can use this feature for quick scanning of long-form content. 
Smart synonyms suggestion:

The tool can now enhance your content with multiple synonyms options. The smart suggestion understands the context of your content and provides recommendations accordingly. 
Word alteration:

With Wordtune word alteration you can now cherry-pick your words and phrases that are needed to be altered with new variations. Once you select the word the tool will give you suggestions for replacing them with new words. 
Writing suggestion:

Wordtune will not only rewrite your sentences but will also give you suggestions on how to enhance your original writing. This will further improve your writing skills and content quality. 
Translate and Rewrite simultaneously:

One of the unique features of Wordtune is translation and rewriting. This means the tool can translate the text into the native English language and then rephrase it. 
Pricing plans of Wordtune
Wordtune offers three extra premium plans along with their free mode which lets your rewrite 10 articles per day. The free version also comes with a character limit of 208 characters. So if you want to use any other feature which we just talk about you need to upgrade your plan to premium.  
Wordtune offers Monthly, yearly and team plans. If you are an organization and work on a team level then Wordtune has a team plan for you. The pricing on this plan needs to be decided after contacting the support team.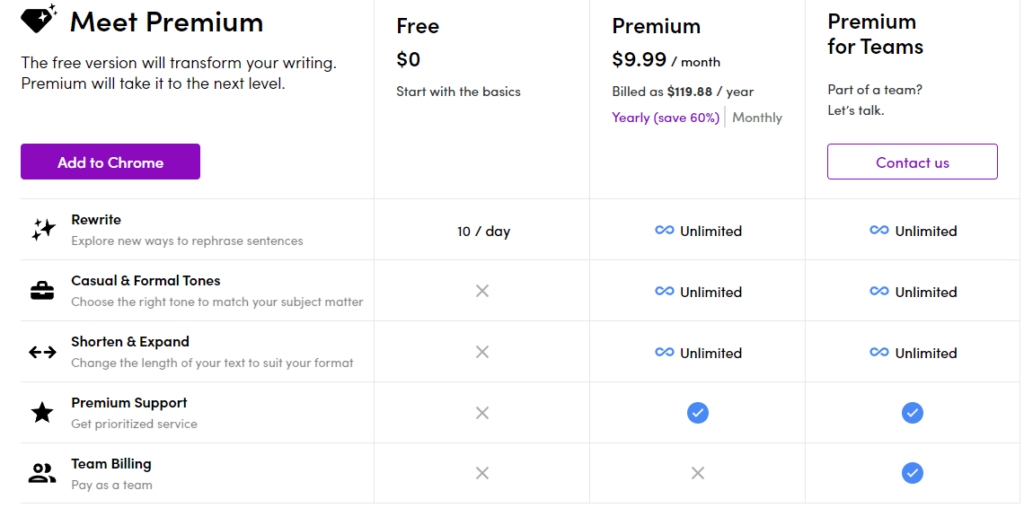 As you can see there is no filtration on features in the paid plans across all the time span. But there is no refund or free trial on premium plans.  
Monthly plan pricing: $9.99
Yearly plan pricing: $119.88
The premium for team pricing: Need to contact the support team.  
Pros and Cons of Wordtune
Pros of using Wordtune
Wordtune is beginner-friendly and has an easy to use interface. 

Comes with State of the art AI that provides error-free rewrite content. 

Wordtune is capable of understanding the

semantic relationships between words

. 

You get additional support from the team when you shift to premium plans. 

As compared with WordAI, Wordtune offers various writing formats at a cheaper cost. 

Wordtune can be used on various platforms and has a chrome extension to support your writing experience. 
Cons of using Wordtune
The premium plan does not offer any refund or money-back guarantee. This can cause dissatisfaction if the tool does not provide the expected results. 

The free plan only comes with rewrite functionality and the rest all the features are in paid plans. Thus limiting the exposure to exploring the tool. 

Wordtune's yearly pricing is over $100 which is quite expensive as compared with other paraphrasing tools.  
Customer feedback on Wordtune





5) Plagiarism Detector paraphrasing tool

Plagiarism Detector is a web-based paraphrasing tool that can rephrase long forms of content with accuracy. The tool has been facilitated by Artificial intelligence that focuses on creating paraphrased versions that read as human-friendly text. 
Through the Plagiarism detector, you can rewrite text for generating web copy, sales page content, email writes up, and blog articles. Ultimately you can create unique, original content that can help you rank on various search engines while keeping the meaning of your content intact. 
While spinning your content Plagiarism Detector gives you full control over selecting the synonyms and replacing words by giving the best suggestions. Moreover, you are not limited to just one paraphrased version, this means you can satisfy your requirement of creating content in bulk. 
Apart from sentence and text rephrasing, this tool also offers complimentary add on such as Text Compare Tool, Word to PDF, Grammar checker and Article Rewriter. 
Features of Plagiarism Detector
Hand-Picked Synonyms in Database

: Plagiarism Detector has a simple process of rewording content by using simpler and better synonyms. The tool has been embedded with a large database of synonyms to give you multiple options to choose from. 
Bulk Content producing

: Unlike WordAI this tool gives you 2000 words to rephrase within the free version which can further be extended to 70 thousand plus and beyond. This allows the user to rewrite an entire essay and produce content in bulk. 
Grammar checker

: Plagiarism Detector USP is to generate grammatically unique content. Through Grammar checker, you can ensure that the rewritten text is error-free and does not contain phrases with the wrong structure. 
Plagiarism checker:

If you want to rank your content on the web, you need to be creative and unique. The plagiarism checker helps you to validate your content by checking its uniqueness so that you do not use copied content under any condition. 
Manual synonym addition:

This feature lets your input your manual words and synonyms Instead of choosing the recommendation given by the algorithms. 
Pricing plans of Plagiarism Detector
Plagiarism Detector has 4 plans to offer, depending on your needs and requirements. But you can also customize your pricing and features by dragging the pricing option. However, you also get the free version of the tool to explore the quality and uniqueness of your spun content. 

Along with custom plan the other three plans are: 
Student subscription

: $20/Month 

Institute subscription

: $50/Month 

Enterprise Subcription

: $90/Month
Note that as you upgrade your plan from student to enterprise-level the number of features and word limit you get also increases.  In addition, add ons such as, multiple file support, PDF download, grammar checker, real-time web search and 10 other features, are available on all premium plans. 
Pros and Cons of Plagiarism Detector
Pros of using Plagiarism Detector
Multiple synonym suggestions are given by the tools so that you can choose the best one matching the style of your writing.

The free version comes with a 2000 word limit which is higher than many paraphrasing tools that offer free mode. 

You can customize your pricing which starts from $10 according to your requirement. 

Along with article spinning the tool also offer a plagiarism checker and grammar checker to maintain the standard of your writing. 
Cons of using Plagiarism Detector
The tool does not come with any money-back guarantee for premium plans. 

There is no lifetime purchase plan offered to the user. 

A monthly plan of $20 is expensive compared to other paraphrasing tools. 

The free version offen hampers the user experience with a lot of ads and captcha filling. 
Customer feedback for Plagiarism Detector



6) Clever Spinner     

Clever Spinner is another web-based tool that is capable of rewriting content by using the right synonym in the right sentence. Clever spinner inbuilt AI works on understanding the words, sentence structure and context of the content to provide the best suggestion without losing Its meaning.  
Moreover, many times the spin content does not match the quality standard required. But with Clever Spinner,  your spin content is readable, unique and also passes Copyscape. This means you can use the text to enhance your online presence and increase your market share. 
In addition to all of the above clever spinner is super easy to use. And even If you are a complete beginner and never used a rewriting tool before. You can find a complete tutorial on how to use the tool and make the best out of it. 
Features of Clever Spinner
Copyscape checker:

This feature lets you scan the content through Copyscape in order to remove any amount of plagiarism and pass on only unique content. If you need to grow your content organically it is very important to work with original content without copying. 
Spin quality selector:

You can select the spin quality level by using the drop-down feature. The highest level you can choose is level 7 which gets you the best-paraphrased result. 
Enable sentence spin:

This feature allows you to segment your rewriting process at the sentence level. So by selecting this option you can spin the sentence and use the best synonyms to enhance its readability. 
Editing command option:

Through this command, you can select the right synonym for your content based on the writing style you follow. You can even add your own alternative which you think best suits the spinning of your article. 
Pricing plans For Clever Spinner 
Clever Spinner does not come with any free version. So you have to sign up for a free 3-day trial if you want to explore the tool. On top of this to remove the complication Clever Spinner only has a monthly plan with 30 money-back guarantees. 
You can cancel your subscription anytime within three days and you will get your money back. 

You can start your free trial by paying the monthly subscription amount of $ 9.90. 
Pros and Cons of Clever Spinner 
Pros of using Clever Spinner 
An AI-based tool that first understands your content before spinning it. 

Offers a level of quality spin, so that you can adjust your rewriting level without compromising the quality of the content. 

A 100% money-back guarantee for 30 days. 

A 3-day trial is available for exploring the tool. 

Clever spinner provides a fast process of paraphrasing content without commercial ads.
Cons of using Clever Spinner 
The biggest disadvantage of Clever Spinner is there is no free version to use. 

The tool offers a 3-day free trial which is not sufficient for exploring the platform. 

Unlike other rewriting tools Clever spinner does not get updated frequently. 

There is no lifetime plan available for users. 

The tool does not come with an inbuilt grammar checker. 
Customer feedback for Clever Spinner

7) Prepostseo Paraphrasing Tool              
                         
Prepostseo is a dual tech paraphrasing tool that gives you the opportunity to spin your content through AI as well as using state of art paraphrasing. 
There are 4 modes in which you paraphrase your write-up that including: 
Simple 

Advance 

Fluency 

Creative 
With the free version you get to explore the three modes, (Simple, Advance, Fluency) and if you want to use the creative mode then you need to shift to the paid plans. The paid plan also lets you rephrase your content through AI, and work on rephrasing sentence by sentence. 
Using PrepostSeo is very easy all you need to do is upload the doc file or copy and paste the original content and press the paraphrase button. And within no time you will have unique content to use. 
Features of PrepostSeo
Plagiarism checker:

You can use the plagiarism checker to validate the copy score of your spin content. Using this will make sure you are not using copied content. 
Doc file upload:

You can upload documents from your device for faster processing and save manual copy-pasting. 
Include State of art AI tech:

The tool uses AI tech to spin your content which provides better recommendations after understanding your write-up. 
Multiple modes to enhance quality:

You can shift from multiple modes to match the style of your writing. 
Grammar checker:

Prepostseo also comes with a grammar checker to check the accuracy of your spin text. 
Text summarizer:

The text summarizer helps in describing the content in the most concise manner. 
Other feature includes

chrome extension, report download, citation, customer support etc. 
Pricing plans of PrepostSeo
Prepostseo comes with a monthly plan and a yearly plan. As you upgrade your plan you will be introduced to new features. The common addon you get with any premium plan is AI mode, No ads interruption, No Captcha, and an increased word limit. 

Pros and Cons of PrepostSeo
Pros of using Prepostseo
Even in the free plan, the tool offers three modes to use. This gives you the option to choose the best format for your content. 

Easy to use interface all you need to do is copy-paste or upload the original doc. 

You can add your own words to the paraphrased content. 

Offer other useful tools such as grammar checker plagiarism checker, and domain checker. 
Cons of using Prepostseo
As compared to other paraphrasing tools the paid plan is quite expensive. 

No lifetime membership is offered. 

The free version does not use AI to spin the content. 
Customer feedback for PrepostSeo


8) Ref-n-write        
                                         
If you are looking for a paraphrasing tool that can help you in academic writing then Ref-n-write can be the best option for you. The tool is designed to support academic writers involving students and academic professionals. 
Ref-n-write is also embedded with Artificial intelligence that can work on rewriting content on sentences level as well as paragraph levels. 
For better processing, you can use this tool offline as well as online which in comparison with WordAI and any other paraphrasing tool is a big advantage. 
 In addition, students and academic professionals can also use academic phrasebank and rewording tools for further academic research. 
Features of Ref-n-write
Legacy phrase template:

Works on paraphrasing your content from the sentence level. 
Work in online and offline mode:

Unlike other tools, you can work with Ref-n-write without connecting to the internet. 
Grammar checker:

Inbuilt grammar checkers enhance the quality of content. 
Plagiarism check:

You can check the originality of your content through a plagiarism check, to avoid using copied text. 
Word doc integration:

This feature allows you to rewrite content with word doc integration. 
 Pricing plans of Ref-n-write
Ref-n-write is a completely free paraphrasing tool which means you don't have to pay for rewriting your content. But if you want to use the full version of the tool then you need to pay a one-time fee of $29.99 with 15 days free trial. 
Customer feedback for Ref-n-write

9) Paraphraser    


Paraphraser is an easy to use article rewriter tool that can be used for blogging, academic rewriting, and web copy generation. The tool works on premium models but you can get sufficient features in the free version as well. 
Paraphraser tool AI algorithm scan through your original text in order to understand the context and meaning of the content. After analyzing the content the tool rewords your content by including synonyms and presenting you with a unique copy. 
In addition to rewriting articles, the tool also offers a plagiarism checker, grammar checker, text summarizer, and cite generator.
Features of Paraphraser
Plagiarism checker

: This feature lets you create unique content with a 0% copy score. 
Grammar checker:

To enhance the accuracy of your content, the tool offers a grammar checker. 
File upload option:

You can upload your doc file directly in the rewritten editor. 
AI spin algorithm:

The AI tech first understands the context of your article before spinning it. 
Cite generator:

You can also generate citations for your resources through this feature. 
Pricing plans of Paraphraser
The premium plan of Paraphraser comes with extra value addition for the users. It provides the spinning of articles without ad interruption, an increase in word limit for rewriting and a plagiarism checker.

You can start your premium plan by paying for a monthly subscription or yearly subscription. 
The monthly subscription starts at:

$20/Month 

The monthly subscription start at:

$150/Yearly 
10) Seomagnifier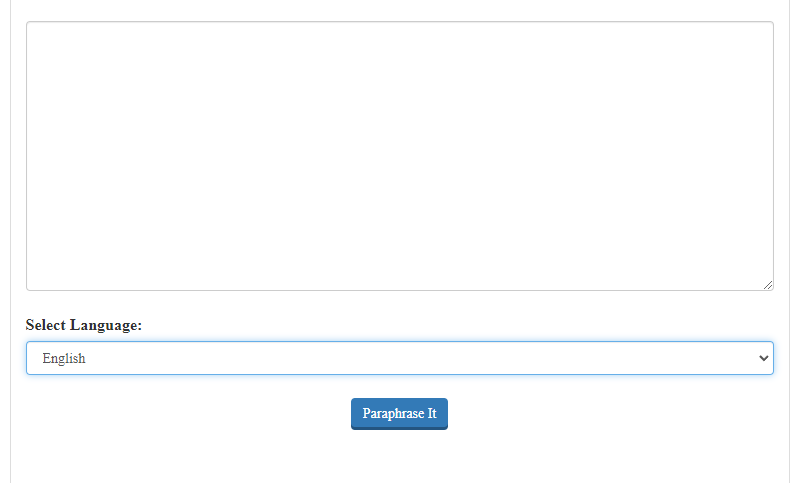 Seomagnifier is a free WordAI alternative and a multilingual online paraphrasing tool that is completely free and easy to use. 
The tool can accept the following language for rephrasing, 
English 

Dutch 

French 

Spanish 

Germany 

Turkish 

Indonesian
You can paraphrase any type of content within just 4 steps. Moreover, in between these steps you are also given the option to choose the right synonym as per your choice. This simple process makes the tool user friendly for any beginner.
Features of Seomagnifier
Pricing plans of Seomagnifier
The tool is completely free and does not require any paid plan to use. All the above features. Unlike WordAI which works on the premium plan, Seomagnifier is completely free to use.
Customer feedback for Seomagnifier




11) Frase.io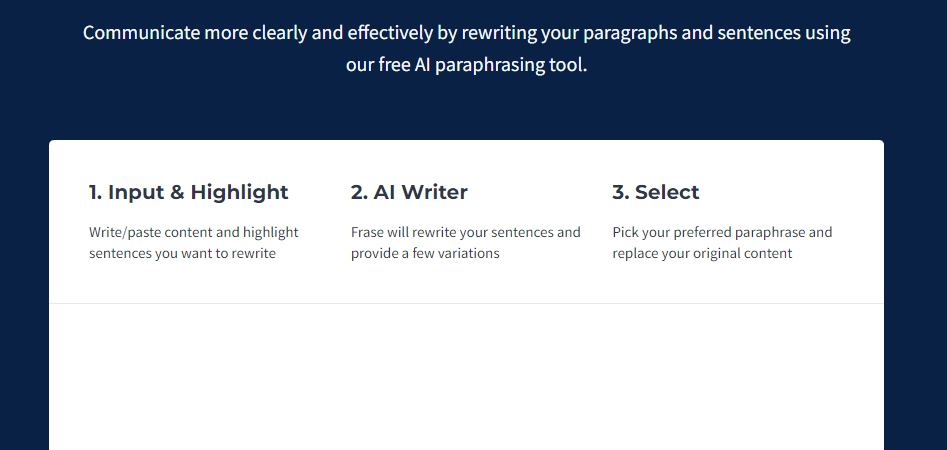 If you are looking for an advanced & updated rewriting tool then Frase.io should be on your list. It is an AI built content generator software that gives you various rephrased versions of your original text. 
Along with the above, you get three modes to choose your content from. 
All three modes will get you different results for your original text. To start with all you need to do is copy and paste the content chose the paraphrased version and you will have unique content to use. 
Features of Frase.io
Pricing plans for Frase.io
If you just want to use frase.io for rewriting then you do not have to pay any amount. As this tool is completely free and does not charge you for rephrasing. 
However, if you want to use extra features such as Blog title generator, Paragraph rewriter, and Outline generator then you need to upgrade and enrol for a subscription.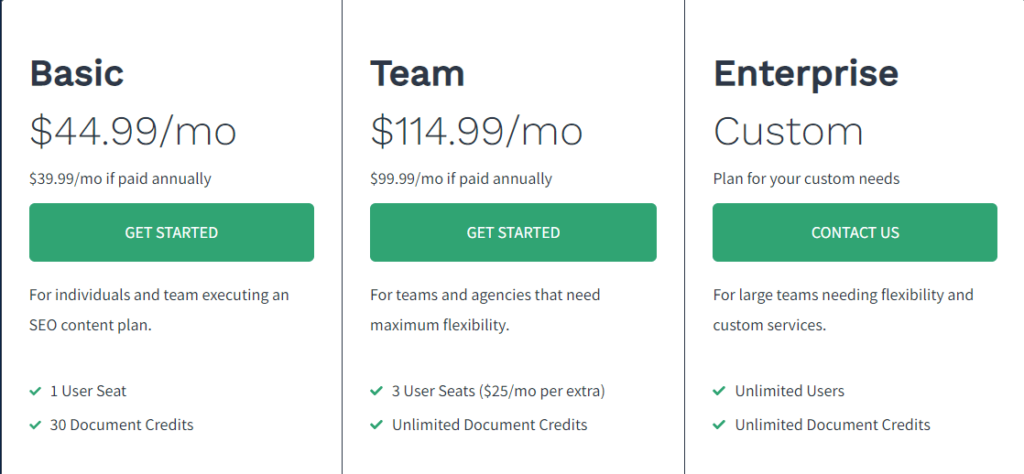 Customer feedback for Frase.io


Related Reading:

6 Best AI Copywriting Tools & Software To Use In 2022

17 Best Content Idea Generator Tools For Your Website & Social Media