About 4.4 million new blog posts are published every day across all platforms.  Wondering why? because Content is king.
And we think that is the sole reason you are reading this post. Because you need content, either for your website, blog post or for your sales copy, but you do. 
So rather than asking you, Are you here for a content generator tool? 
(Because we know you are)
We will take you through the 5 best content generator software in demand. 
These article marketing tools will not only help you to create fast content but will also drive more conversions for your business. 
And we can relate to this because we have used these AI blog writing tools to create articles and other content with speed and ease.
They come in a variety of shapes and sizes, but the best article generators are:
Rytr.me: Article builder with a strike of an emotional chord.
Jarvis: Multi-lingual and efficient article maker.
Zyro: SEO-friendly AI article generator and website builder.
Article Forge: Unique editorial generator with automatic posting technique.
SEO content machine: SEO article generator with link-building tools and multi-software integration.
What is automated article writing software?
An article writing software is an AI-based platform that can create unique content as per your need. Surprisingly, articles produced by these article builders can depict the human writing tone. 
These auto-writers can help you create content for your blogs, summarize a text, generate ad copies, headlines etc. 
Wondering how this is possible?
They do this by using AI technologies, GPT-3 (Natural language process model), and machine learning algorithms. However, we don't have to go in-depth to understand how these technologies work. 
"In 10 years the majority of content will be generated by software. In 20 years, humans will wonder why we wasted so much time on content creation. I can't see any other way around this."

https://contentmarketinginstitute.com/2017/11/content-creation-robots-examples/
But these advanced AI technologies can create readable, well-organized content and even pass the Copyscape test. 
Okay, now let us address how you can use these content writing tools and create content for your business. 
To start these innovative AI tools would still require a topic or niche selection from your side. 

The second step is to insert keywords and related phrases for the topic and niche you have chosen. 
Based on the topic and keywords suggested, the tool will scan through the web directories and look for similar articles that include the topic and key phrases you suggested.
After spinning the content found on the web, it will present you with a fresh piece. How simple can this be? Of course, but you would still have to go through the content once. 
Advantages and disadvantages of using content writing tools:
Let's go through its benefits first: 
Quick and intelligent content:
Finding a human expert in a particular subject and then making them write an article takes time. Writing the article needs research which is time taking in itself. At the same time, a single content generator can produce excellent articles on different subjects in no time.
The blog content generator has features of producing SEO-friendly and plagiarism-free content. The content produced is notably different every time from the original one. Such an article can be published on PNBs and Web 2.0 sites to create backlinks, hence a good SERP ranking.
When we talk about time, we must consider the money spent on hiring content writers. On average, we pay 50 cents to $1 per word, which sums up to hundreds per month. Whereas content writing tool costing ranges from the most minor $20 to a maximum of $100 per month. Hence, article maker seems to be a practical choice.
Sometimes, our human minds get blocked of new ideas. This is the time when any writer or blogger may feel a lack of creativity in their writing. This phase does pass, but time is also lost, which is not affordable in today's competitive era. However, content generator tools are more capable and efficient by all means.
Let's now discuss the disadvantages of using Auto-writers: 
No human behaviour understanding:

 
Auto-writer is good in quantity output, but the human touch is absent from the content. The emotions in the writings of a person can never be there in the content produced by using algorithms.
Humans are capable of immense creativity. Humans have created these algorithms to generate new articles from the existing ones. AI compiles the data on the current facts and data already added to the software.
Empathy, opinions, and straight answers are missing from the automated content. It comes very quickly in human-created content. Hence we can say that human written content shows knowledge and experience.
Evaluation criteria for auto article generator
We are evaluating our different types of automakers based on 6 criteria mentioned below:
Text accuracy for the produced content is one of the criteria to tell you how much you need to check and correct the grammatical and spelling mistakes. There's no good if you have to spend much time on it.
Quality of content will tell you whether the content is good to read and understand and consistent with the topic.
The ease of using the tool is to tell you whether the auto-writer is easy to access and navigate. Is it simple for those who are not technical and are beginners?
User feedback is helpful to know what people who already are using the article maker have to say about the tool.
Availability of a free trial is critical because not all people are comfortable spending money without trying the tool for its features.
Price: Once tried and tested, the price that needs to be compared must suit your budget.
Let's discuss them in detail now…
Rytr is a free article generator for your all needs, from short captions to detailed blog posts. It uses GPT3 technology in article making. Deep learning and language model is the backbone of the plagiarism-free content maker. 
It researches and sources words from an online database and makes text predictions. Hence is an excellent summary generator for articles. The summarized article is created in no time, just from the topic input. 
Features: 
Different writing ideas and styles:

Outline templates and blog article ideas help users get different versions of the outline for the entered keyword. Later you can mix the different contents and create your outline. 

Add details to the outline:

When your headings and outline are ready, use the "write operation" function. Templates are also helpful in content addition. 

Text editing:

The content can be edited based on different styles. The cases like Reword, Append, Shorten or expand enables you to mould your text as per your need. 
Rytr Pricing & Plans
Rytr offers three plans which also include a Free plan with 5000 characters. 
Free plan- Free 
Saver Plan- $9/Month
Ultimate plan- 29/Month
If you are a beginner you can definitely try out their free plan to get started. You also get access to their free community.
PROS
Supports 15 languages

Plagiarism free content 

Budget-friendly

Easy to use interface
CONS
Inaccurate information 

Incomplete articles 

Limited editing refers only to highlighted text 
We recommend it to: 
Rytr is recommended to beginners and amateurs with budget restrictions and has difficulty in doing research work for the article. 
What we found best in this tool: 
Can set the content tone 

Free as well as affordable plans 

Industry-specific writing styles 
User Feedbacks:

2. Jarvis (Now called Jasper)

Jasper (Earlier called Jarvis) is a content writing tool that provides high-quality content for websites, ads, listings, emails, etc. The tool is also very well known for spinning the content.
However, we use spinbot to do so but there are other spinbot alternatives that you can try. Adding to it, even after renaming Jarvis to Jasper, the features and quality content are unbeatable. 
Artificial intelligence makes it a smart article generator with more than 50 templates for your article choice. This gives you publish ready articles when and where you are ready. 
Features: 
Efficient content making: It offers a "Boss Mode", which offers multi-fold speed in content generation. It understands the topic and follows the desired co-related content pattern. This makes it uniquely efficient in its field. 
Analysis content writing for SEO: Surfer SEO is a tool that makes the content plagiarism-free and SEO friendly after analyzing it and giving you feedback on its quality. 
Long-form assistance: You can opt to start the content from scratch or continue to follow the blog post. It makes it even more suitable for your need and style of articles. 
Problem-Agitate-Solution (PAS) framework: Jarvis offers the content problem listing style that, after making you anxious about the problem, also calms with its solution. This framework is highly fruitful in today's marketing world. 
Jaser Pricing & Plans
5-days for trial with a 100% money refund guarantee ensures the removal of risk.
Starter Plan: $29 per month
Boss Mode Plan: $ 99 per month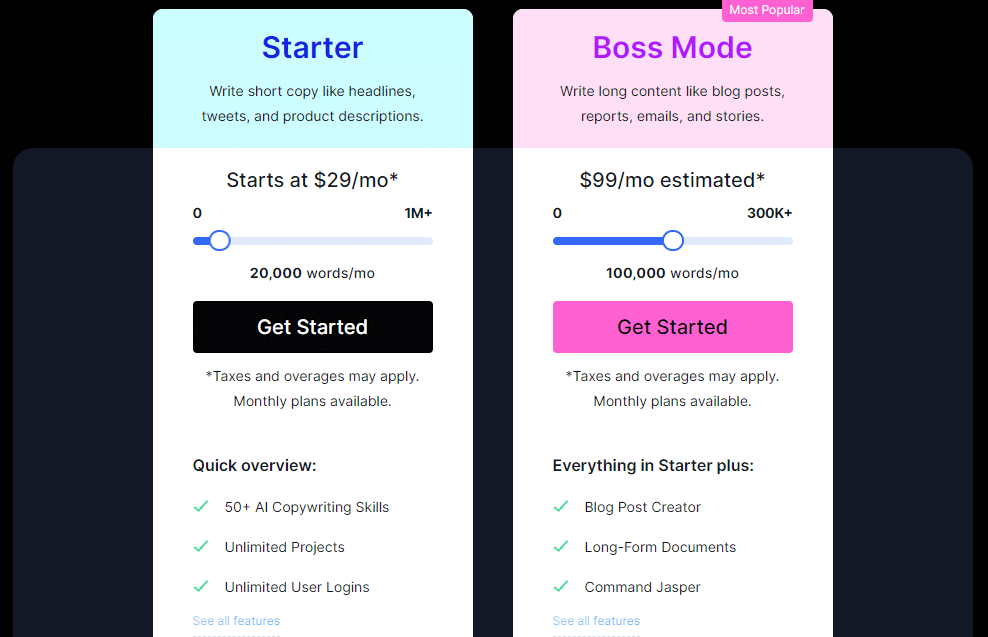 The unique feature about jaser pricing is that you can customize it as per your needs. So even if you are a small or a large-scale enterprise you can customize your pricing plan accordingly to your needs and requirements. Although it may vary depending on the number of words, the type of content you want to generate, etc. 
PROS
Limitless output in word count

Supports more than 25 languages

Copyscape and Grammarly integrated
CONS
Requires text editing and fact-checking

 
We recommend it to: 
Jarvis is recommended to the marketers and bloggers with many sites to cater to regularly. In addition, people who don't have much time to spare and need a constant flow of articles in less time will feel blessed working with it. 
What we found best in this tool: 
10,000 words credits 

Intuitive and impressive output
User Feedback: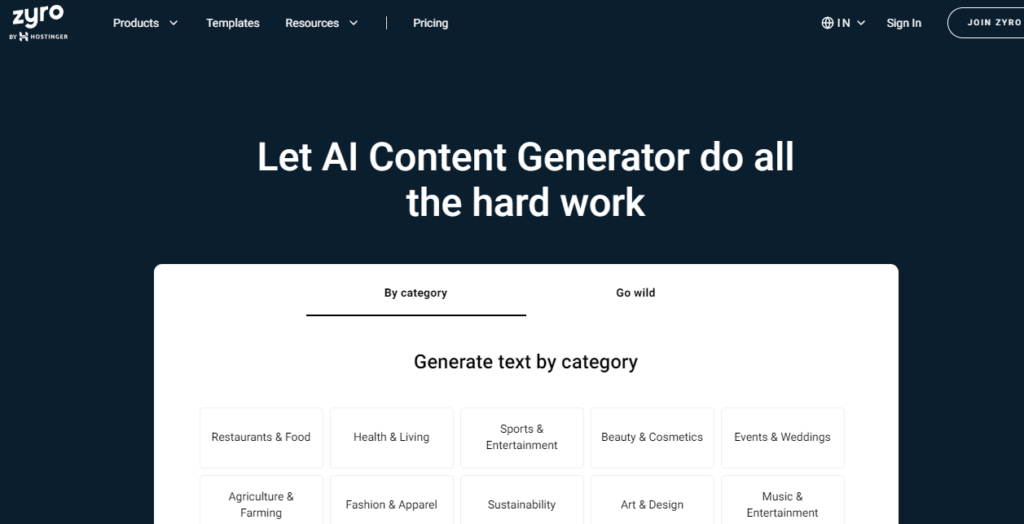 Zyro is a web host with website content writer software. It enables you to focus on your website/store's launch and growth and provides AI blog writing to sales copy generation. 
Zyro offers a free article generator that uses either a category or descriptive sentence to start article making. 
Features: 
Plagiarism-free content generator: Information is picked from the web, yet the content created is unique. The content is also high-ranking and SEO-friendly. 
 Twelve categories of contextual content: There are different classifications of the topics that provide the best version of full-fledged related articles when selected. 
"Go wild" option: In case the category is not of your wish, then you simply need to write a few sentences related to what you need in the article and hit the continue button. The results will amaze you. 
Zyro Pricing & Plans
Zyro comes with four different plans
Website – 2.90/Month
Business – 4.90/Month
Online Store – 8.90/Month
Advanced Store – 15.90/Month
With Zyro you don't just get AI content creator functionality. But you can create a brand new website with 24/7 support.
PROS: 
Easy to use platform 

Free editorial generator

SEO friendly content 

Multiple functionalities

Unlimited times article making 
CONS: 
100 words content generated in one time

Not publishable content needs editing 

No free trial
We recommend it to 
Zyro is best suitable for starters in online store/website building. They can easily design their website just by drag and drop design feature and get a head start in content for the website at an affordable price. 
What we found best in this tool: 
Readable and straightforward text 

Unique branding features Logo and slogan creator. 

Article generator comes free with the website building software.
User Feedbacks: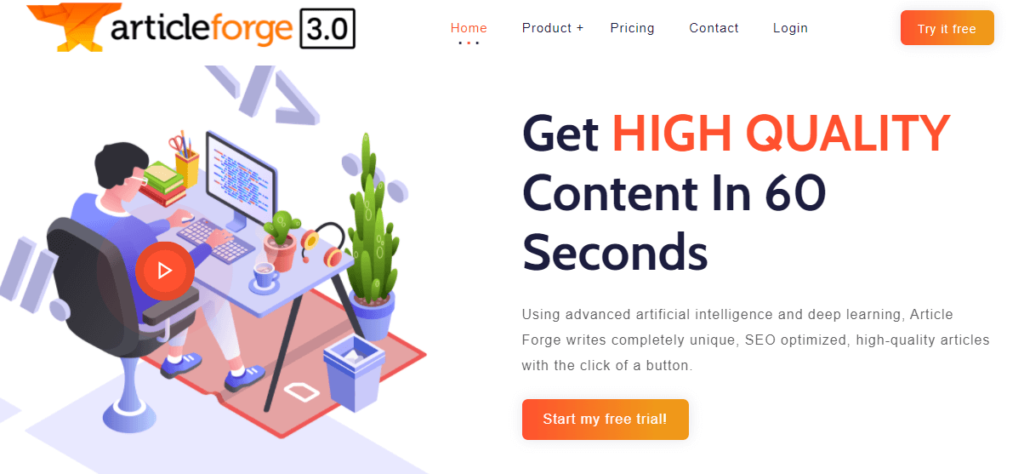 Article Forge is an efficient smart article generator. Its striking results are the product of deep learning. It creates a detailed article precisely in 60 seconds. 
It has just a three-step process. You just need to enter the keyword and the desired content length; it will do the rest to its best. The produced content is readable, relevant, and unique. 
Features: 
LSI keywords: Article Forge shows unique content writing for SEO by adding semantically related words and long-tail keywords. 
Automated posting on your WordPress website. 
Content in multiple global languages:

French, Dutch, German, Spanish, Portuguese, Italian, and English. 
Article Forge Pricing & Plans-
Article forge offers two plans under the monthly and yearly subscription model.
For monthly subscription 
Standard- $57/Monthly
Unlimited- $117/Monthly 
For yearly subscription
Standard- $27/Monthly
Unlimited- $57/Monthly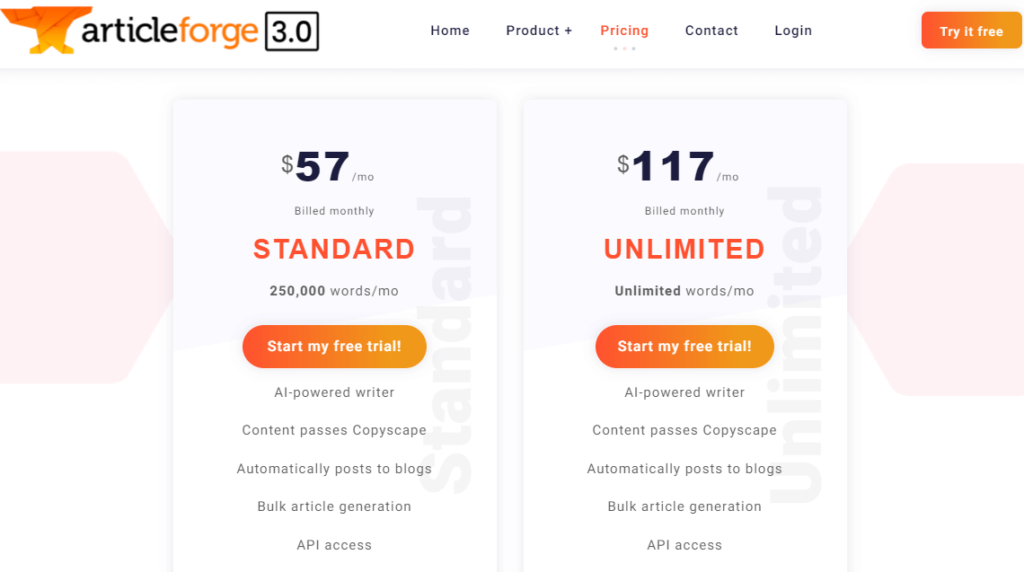 The best part with a yearly subscription is you get a 6 month free trial period. This can help you level up with your content marketing. Another benefit of using article forge is it creates content that can pass Copyscape.
PROS
Simple interface

Research-based unlimited content

Insert keyword related media links automatically into the articles

Word.AI integrated

30-days money-back guarantee
CONS
Article maximum with 750-word length

Non-publishable content needs editing

Non-engaging and uninteresting content  
We Recommend it to 
It is best for the upcoming bloggers and website owners who need a bulk of good quality content in less time and at cheaper rates.
What we found best in this tool: 
Integrated Perfect Tense tool to check mistakes 

Use of longtail keywords to produce SEO-friendly content 
User Feedback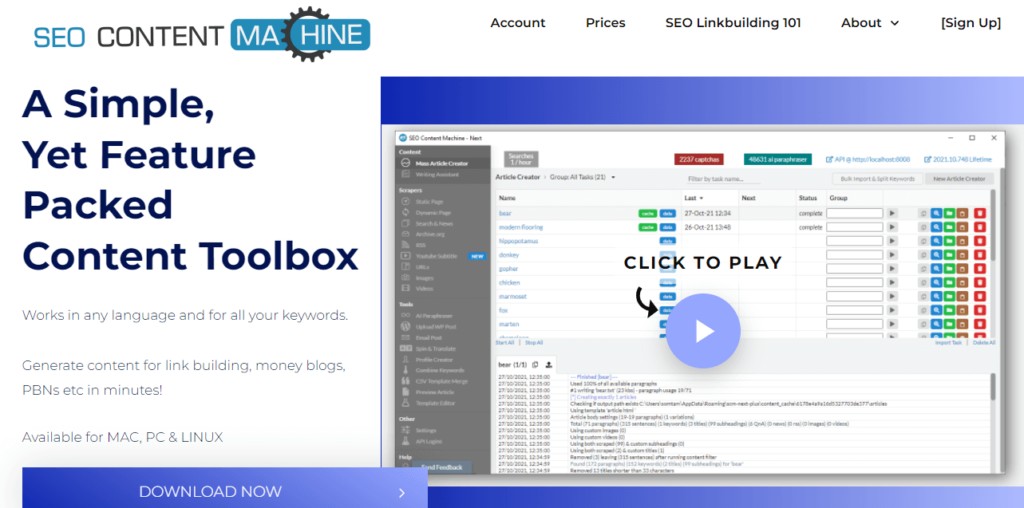 If you are looking for content writing for SEO 
This can be your choice. 
It is made to stand out because of its specific design to meet the professional work requirements in today's world of AI blog writing.  
Unlike other options listed in this post, SEO Content Machine is a 
downable tool 

easy to install 

works on Linux, Windows, and Mac. 
SEO Content Machine is a feature-packed app that enables you to create and publish leading content. 
Features: 
Link building mass article builder:

It produces extensive articles from keywords under defined parameters. 

URL finder and spinner tool:

It lets you download top-ranking articles and URLs related to your topic. 

Keyword generator:

With the help of a blog content generator, only a few sentences help in auto-generating the keywords, which further helps in content writing for SEO. 

Writing Assistant for Website:

Website content writing software is useful in generating high-end quality articles for your website. 
SEO Content Machine Plans and pricing- 
SEO content machine offers three 4 plans with timely subscription options. 
Monthly- $27.00
Quarterly- $57.00
Yearly- $120.00
Perpetual- $197.00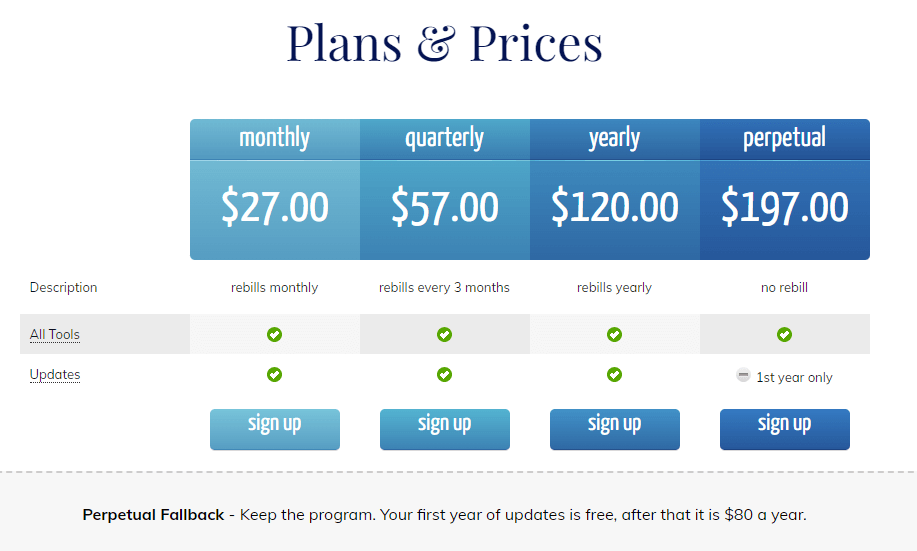 You can get 5-day free access to explore. But according to us the best part about this tool is it offers a wide range of features for SEO verticals. This allows businesses to achieve better results through organic reach. 
PROS
Supports multiple languages 

Inserts subheadings, lists, images, videos, links, etc. by itself

Direct and automatic publishing to WordPress blogs 
CONS
Non-English content quality is low. 

Only 1100 words article is produced. Hence article making is slow

Articles need editing before publication

The user interface is complex

Smaller trial period
We Recommend it to: 
Bloggers with many blogs to work on require a bulk of SEO-friendly and high-quality content. Advisable to have a human editor check the article before publishing. 
What we found best in this tool: 
SEO-friendly

Automated scheduled posting

Link building tools
User feedback

So which article generator should you choose from the above?
We would have two standpoints on this as the need for content differs from business to business. 
Suppose you are an entry-level enterprise or a beginner; we suggest Ryter. This is because it comes with a free plan (obviously, you need it). 
But also, there are starter templates and article ideas that can get you started. The tool also creates plagiarism-free content from its online database. 
This will speed up your process as you don't want to be stuck in publishing polarized content. 
But 
Suppose content marketing is one of the pillars of your overall marketing strategy. We would link ourselves with jasper. Why?
The tool can understand topic and keyword relevance, leading to high-quality, engaging content. 
Its AI mechanism can also focus on digital aspects such as Search engine optimization and adapt the writing tone accordingly.
FAQ: 
1. What is AI content generation & How does AI writing software work?
Ans: It is the use of artificial intelligence in creating content. Machine learning enables computerized article writing. AI writing software uses intelligent and flexible algorithms to extract online pages and content on a topic and generate a new piece of content. 
2. Can an AI Article builder replace real writers?
Ans: No, AI article builders can't replace real writers. Though I acknowledge that machines work faster and at a cheaper rate than human writers. Human touch is beyond computer ability. And, to date, no auto-writer can write an excellent publishable article on its own. Therefore, real-time editing is always needed. 
3. Free AI content generator tool?
Ans: Rytr.me and Zyro are free content generator tools. Rytr.me offers a free plan, whereas Zyro offers a free AI blog generator tool in website building software. 
4. What is artificial intelligence blog writing?
Ans: In simple words, it is the writing process done by the machine without the help of a human. This process involves understanding the given topic, doing the online research work, choosing words to write the content, and using the proper grammar for the feel and structure of the content.