Writing in-depth articles that can solve your reader problem is the best content marketing approach for any business.
That is why about 4.4 million new blog posts are published every day. But how can you automate this process and generate content with speed?
Therefore, in this guide, we will take you through the 16 best article generator software that you can use in 2023 to speed up your content generation process. 
What is automated article-writing software?
An article-writing software is an AI-based platform that can create unique content for your website, social media, and other digital presence. The content produced through these article builders can depict the human writing tone which helps you to create content for your blogs, summarize a text, generate ad copies, headlines, etc.
This is done by using AI technologies, GPT-3 (Natural language process model), and machine learning algorithms. These advanced AI technologies can create readable, well-organized content that is capable of passing the Copyscape test.
"In 10 years the majority of content will be generated by software. In 20 years, humans will wonder why we wasted so much time on content creation. I can't see any other way around this." Source.
Let's discuss them in detail now…

Writesonic is a compact AI-driven content creation tool. With its advanced technology, you can easily create content in various forms such as blogs, marketing copy, social media copy, landing page content, research reports, E-books, etc. 
Writesonic is a multi-purpose tool that can be useful to bloggers, content writers, marketing professionals, and social media content creators. The tool is capable of satisfying the need for content creation within just three steps.  
Describe the need for your content with a few keywords and phrases (Minimum 5 words). You can also include keywords that you wish to include for SEO optimization. 
After describing the requirement, press the generate button. The tool will give you a suitable title, a compelling introduction, outlines for the content, and the main body text. 
If not satisfied with the generated content you can command rewrite which would give you a whole new write-up from scratch. You can even edit the content, expand it, or shorten it based on your writing style and preferences. 
Moreover, the generated content can directly be published on your preferred content management system including WordPress, Wix, Shopify, and many more.
Features:
Chrome Extension:

The Writesonic tool can be downloaded and used for easy access as a Google Chrome extension.  

Text Rewriter Option:

Writesonic makes it easy for the user to copy an existing article into the interface and reword it into a new article to read.

Expand and Shorten Feature:

This tool is also used to expand sentences to make them more descriptive or shorten them into concise, to-the-point language.

CMS Integration:

Writesonic allows content management system integration to allow updated and dynamic content.

Text Summary:

The text summarizer feature can be used to summarize any piece of content down to its core points.  

Landing Page Copy Generator:

This tool is also used to generate landing page copies which are high in conversion rate and can boost sales and leads.

Detailed Quora Answers:

High-quality answers to questions on the popular site Quora can also be generated on Writesonic.

AI Article Ideas: Writesonic is an effective artificial intelligence curated tool for generating content ideas for blogs, sales emails, ebooks, etc.
Content Creation:

Writesonic provides content creators with a number of tools to help them generate content for YouTube, LinkedIn, Instagram, Twitter, etc. 
PROS: 
A wide variety of content generation includes blogs, cold emails, landing pages, product descriptions, etc.

Used to copy and paste existing content and rewrite it.

Excellent tool for social media content creators

Generates content within seconds

A free trial version is available 
CONS:
The full version of the tool is expensive

Content generated may lack nuance and descriptive detail 

Human touch is absent from the content produced

Fact-checking and proofreading required for each piece of content
We recommend it to:
Writersonic is a brilliant tool that offers an extensive range of content generation across various different platforms. These platforms include websites, emails, social media, products, etc. 
Given its wide capability, we would recommend this tool to people who want quick access from one place towards creating content for multiple different platforms. 
What we found best:
One-stop content generation tool which can be used for multiple platforms

Easy-to-use interface 

Offers results within seconds
Pricing

Writesonic offers its users a total of 2 plans – short form and long form. Short form is for short-form content templates such as Instagram posts, Facebook ads, etc. Wherever, long-form is more suited for larger pieces of content such as guides, ebooks, etc.
Pricing Plans:
Short-Form:  $10 per month
Long-Form: $13 per month
Along with this, there is a quality filter ranging economy, average, good and premium. Depending on what quality the user selects along with their plan, it gives them access to more words.
There is also an option for annual billing which saves up to 33%.

If you are looking for an AI-based copywriting tool for your eCommerce business then copysmith can be your go-to option. You can easily generate compelling AI-driven product descriptions and SEO-friendly content that ranks on google. 
The tool also offers premade templates for handling many SKUs that can be filled with unique product descriptions.  
You can even prepare content for Youtube video descriptions, and FAQ content and brainstorm new content ideas. 
One of the unique functions of Copysmith is its Campaign builder. It can save a huge amount of time in creating content for landing pages, blog posts, website copy, social media copy, PPC ad copy, Facebook ad copy, etc.
On top of this, the generated content is 100% unique and plagiarism free. You can even download the chrome extension for convenient content writing.
Features:
Bulk Content Generation:

Copysmith allows the generation of content for the annual content calendar by generating thousands of bulk content pieces for products and social media. 

Campaign Builder:

Copysmith makes it very easy to create effective campaigns in a few clicks and launch them. 

Third-Party Integration:

It can be integrated into key platforms such as WordPress, Google Ads, Shopify, etc. 

Readability Score:

Copysmith is an automated content generator that generates content with high readability scores for better results.

Multiple Language Support:

Copysmith supports 100+ languages for its users.

Automatic Plagiarism Checker:

It has an inbuilt plagiarism checking tool to test the uniqueness of the copy.

Mission Statement Generator:

Copysmith also uses its AI-writing technology to generate cohesive mission statements to convey a company's values and goals effectively.

 
PROS: 
Easy to understand interface

Content backups 

Effective customer support

SEO optimized content

Tools are constantly updated

Content exporting is easy
CONS:
Credits are limited 

Drafts require human proofreading after generation

May draft copies that don't adhere to the keywords mentioned

May sound robotic 
We recommend it to:
Copysmith is suitable for any freelancers, marketing agencies, in-house marketing teams and e-commerce owners.
What we found best:
Uncluttered and easy-to-navigate interface

Offers a wide variety of content templates

Bulk content generation
Pricing:

Copysmith offers 2 plans – starter and professional. These are billed according to monthly or annual payments. 
Starter: $19 per month and $192 per year
Professional: $59 per month and $600 per year
All plans of Copysmith come with third-party integrations and in-app support. Word limit and plagiarism checking limit may vary depending on the plan you select.

With its machine learning algorithm, Kafkai can create SEO-friendly long-form content in a very short time. It is the only automatic content writing software that can create niche-specific content. 
There are more than 50 predefined niches mentioned within the tools such as dental care, dogs, education, fashion, cyber security, dating, food, etc. On which you can generate unique, readable content. 
The tool operates under three models, Model-1, Model-2, and Model-3. The first two models are programmed around creating niche-specific content. 
Meaning you can select any niche and the tool will create a random article around that niche. You can also set the number of articles you want to by giving a numeric value. 
With Module-2 you can even provide a Seed of content for the pre-mentioned niche. This Seeding would help the tool create a semantically related article. You can bring in the reference from any other website, or an already published article.  
The last Module-3 is for creating a general article that may be related to the niches mentioned. The article generated can also be translated into 7 different languages, including Dutch, French, German, Italian, Spanish, and Swedish.
Features: 
Models Types:

Kafka supports 3 different model types for content generation. These are – Niche Article Writer, Advanced Niche Article Writer and General Writing.

Money Back Guarantee:

Users are guaranteed a 30-day money-back guarantee if they are not satisfied with the product.

Pre-defined Niches:

Kafkai provides its users with a large number of niches to generate content in such as dogs, dental care, music, nutrition, etc.

 
Language Translator:

Other than English, articles can be translated into 6 different languages such as German, French, Dutch, Spanish, Swedish and Italian.

Separate WordPress Plugin:

Kafkai comes with a plugin which can be easily integrated into WordPress for ease of use.
PROS: 
Over 40+ niche content modes

Translation into 6 different languages

Third-party integration
CONS:
Lack of advanced features such as article rewriting.

Not being able to specify the tone of the content. Example – Whether content is a story, tagline or description.

Content generated requires human attention for accuracy.
Who we recommend it to:
Upon analyzing Kafkai, we would recommend it to SEO professionals and affiliate marketing teams.
What we found best:
40+ niche content modes They target a wide variety of niche topics such as sports, music, animals, etc.

Language Translation
Pricing:

Kafkai offers the following pricing schemes:
Printing Press: $129 per month
Industrial Printer: $199 per month
Each plan offers a number of monthly articles to the user. Depending on the scale of operations, you can select which one suits you best. Additionally, there is a 3-day trial available for users.

Another AI copywriting tool that can generate content and drive conversion with persuasive copywriting. The tool can create social media content, higher conversion copy for digital ads, a write-up for long-form blogs, and much more. 
With its data-driven approach, you can evaluate the performance of generated content. Understand the demography that engages with your content the most, and select the best performing write-up based on data. 
Besides this, the tool will also help you in creating buyer personas that would help target the right audience with your content and drive more conversions. 
Anyword can be used for all your marketing functions and create compelling content for your sales pages, email copy, SMS marketing, and product descriptions.
All you need to do is perform three steps: 
 Input a URL, summary, or product description to get the best copy for what you'd like to promote.

Choose the format you want the AI writer to generate copy for, along with your desired style or tone.

Generate AI copy with a click, scored and sorted by predicted performance.
Features:
Provide Content Performance Score

: Anyword has a built-in predictive performance score to evaluate the potential of the content to engage its audience.

Separate Ad Copy Generator:

It is used to create compelling ad copies for every channel on platforms such as Facebook, LinkedIn, Instagram, etc.

Landing Page Generator:

Landing page material which is compelling and engaging can also be generated using automated technology. 

Website Target Messages:

Optimized on-site messages to display to the viewers can also be generated by Anyword. 

Customer Writing Mode:

You can adjust the AI writing assistant to write content in your brand voice or similar to other top-performing content.

Original Text Suggestions:

The AI technology of Anyword offers users a list of original text suggestions to enhance their content.

Preset Keyword Library:

Users can choose from a keyboard preset library to add better quality to their content.

Custom Keywords:

Furthermore, users can also add custom keywords which will be added by the AI in the content generated. 

API support:

Includes API integration between different platforms.
PROS:
Custom API integration

Generates engaging content quickly

Free 7-day trial

Text customization

Great for creating sales copies
CONS:
Direct integrations with major platforms not offered
Who do we recommend to:
Anyword specializes in generating sales-related content. Therefore, we could recommend Anyword to marketing agencies and affiliates. 
What we found best:
Content performance score feature

Creates attention-grabbing content  
Pricing:

Anyword comes with a free version with a word limit of 1000 words per month. Its paid plans include monthly and annual services. Annual plans save the user some money while also offering 2 months free of cost. They include:
Basic: $29 per month and $288 annually
Data-Driven: $99 per month and $996 annually
The basic plan includes up to 20,000 words and the Data-Driven plan includes up to 30,000 words.

Built on OpenAI with GPT-3 technology Growthbarseo is a multifunctional unique content writing software that can help you out with researching keywords and writing long forms of AI-driven content. 
The tool can perform various SEO practices such as measuring keywords ranking, analyzing backlink profiles, analyzing website organic traffic, and tracking google and Facebook ads.   
It is also an all-in-one tool for bloggers and content writers for generating blog posts, landing page content, and social media copy.  
All you need to do is enter a few related keywords and the natural language algorithms to start creating the content as per your need. In addition, you also get a compline headline, outline for the content, and blog post idea  
The content optimized meter will also help you out in checking the SEO score for your content. The following generated content can be directly shared on your CMS for instant publishing.
Features:
AI Outline:

GrowthBar SEO can create SEO-optimized outlines for blogs quickly.

AI Metas:

This tool can generate meta descriptions and blog ideas using its advanced artificial intelligence. 

Keyword Research:

GrowthBar SEO offers the user a huge number of keyword suggestions to enhance content.

Keyword Tracking:

The keywords used in the content by your or your clients can be tracked to show how they rank on the web.

 
Analyze Competitors:

It can be used to view any website's data such as backlinks, domain authority, and paid/organic traffic.

Backlink profile analyzer:

Similar to keyword suggestions, it also allows the user to view a list of the website's linked domains. 

Free Chrome Extension:

It can easily be integrated into Google Chrome as an extension.

 
Money Back Guarantee:

GrowthBar SEO offers its users a money-back guarantee on all its premium plans. 
PROS:
5-day free trial available

Simple interface and easy to use

Creates an effective SEO campaign

Chrome browser extension integration

Unlimited keyword research
CONS:
Only suitable for basic SEO content

Limited features available in the free version

Backlink monitoring is basic

Does not fix broken links

Does not display keyword difficulty score in keyword suggestions
Who we recommend it to:
After taking a look at it, we have come to find that GrowthBar SEO is a good tool to use for marketers, entrepreneurs and bloggers. 
 What we found best:
Creates SEO-friendly content

Ample of effective keyword suggestions to choose from
Pricing:

GrowthBar SEO can be billed monthly and annually. Users with regular use of the platform can save a considerable amount of money by opting for the annual plan. 
The 3 pricing plans offered are:
Standard: $48 per month and $29 per month annually
Pro: $99 per month and $79 per month annually
Agency: $199 per month and $129 per month annually
All premium features are made available to the user and the number of AI content outlines increases if you go for the Pro or Agency plan. 

Adzis is an automated content generator tool for creating diverse content such as blog posts, social media posts, product descriptions, and video descriptions. 
The tool was founded in 2015 and got upgraded with content top Natural Language Generation tech by 2018. This allows Adzis to create human-written content rather than spinning the existing content from the web. 
Features:
Product Description Generator:

AdZis is a good automated writing tool to generate high-quality product descriptions for marketing.

Social Media Posts Scheduler:

It can be used to create and schedule posts on various social media platforms such as Instagram, Facebook, LinkedIn, etc.

YouTube Content Generator:

AdZis also helps the users generate content for YouTube videos quickly.
PROS: 
Quick content generation for social media

Scheduled posts

Free version available
CONS:
Only 10 credits are offered in the free plan
Who we recommend it to:
AdZis specializes in product descriptions and social media content. With that in mind,  we would recommend it to bloggers and marketers.
What we found best:
Great for content generation for social media

Social media posts scheduling feature
Pricing:

AdZis offers its users a free version along with three paid plans available.
They are: 
Starter: $9 per month
Intermediate: $49 per month
Professional: $99 per month
The starter plan offers 20 credits and approximately 2000 words. The intermediate plan offers 200 credits and about 20,000 words. And finally, the professional plan offers 400 credits and approximately 40,000 words.

CopyAI is an AI content writing tool that can create multiple forms of content based on individual requirements. Starting with a blog post, social media copy, advertising copy, eCommerce product description, landing page content, website copy, and many more.
With over 90+ premade copywriting templates, CopyAI can create compelling content on consistent bases and has been trusted by many marketing professionals. 
You can easily streamline your content production with three easy steps-:
First, choose the type of content you would want to create. Such as Long-form blog posts, ad copy, email write-ups, headlines, etc. For now, let's say you have selected a long-form blog post.

Second, you would want to provide some context in terms of what you are looking for. Since we have selected a long form of a blog post, you need to provide points as to what you want to cover.
Based on the information and context provided the tool AI algorithm will create human-friendly content for use.
You can even edit the content based on your requirement and writing style. Copy.AI editor will help you to accurately frame your generated paragraphs and enhances the quality of your sentences. 
Features: 
Advanced Paraphrasing Editor:

With in-built artificial intelligence, Copy AI lets its users generate content with custom keywords and the ability to rephrase the content in a number of ways.

Multiple Language Support:

CopyAI lets its users generate content in 25+ languages. 

E-commerce and Ad Copy Generator:

It is a handy tool for content generation for e-commerce product descriptions and generating quality ad copies. 

Ready To Use Templates:

A wide range of templates such as cold emails, business plans, cover letters, etc. are provided in the platform for users to quickly generate content. 

Free Instagram Caption Generator:

Compelling captions and descriptions for Instagram posts can be generated using CopyAI.

Email Subject Line Generator:

Creates attention-grabbing and professional subject lines for emails.

Website Call-To-Action Creator:

CopyAI uses its AI-technology to create effective CTA's for websites to generate more leads. 
PROS:
Plagiarism checker included

Spelling and grammar checker

Effective paraphrasing tool

Third-party extensions are available

24/7 support for all pricing plans
CONS:
Content generation may require human proofreading

Building long-form content can be frustrating

You may face some lags in content building
We recommend it to:
Copy AI is one of the best article writing software on the internet. It provides a useful and painless experience to solve their content generation needs. We found content generation for websites and email marketing to be the highlights of this tool. Copy AI is also a unique content generator tool which is best suited for digital marketers and online business vendors.
What we found best:
Creates effective email campaigns

Impressive paraphrasing tool

Quality content creation for websites
Pricing:

CopyAI offers a free plan and a pro plan. The pro plan can be billed monthly or annually. The price of it may vary depending on how many words the user wants to include. The range starts from 40k words all the way up to 300k+ words.
The 40k word pro plan is $49 per month and $432 per year whereas the 300k+ word plan includes custom pricing depending on how many words are crossed over the limit.
Similarly, the 100k variant is $99 per month and $888 yearly. Whereas, the 300k plan is $279 per month and $2508 per year.

If you are looking for an AI text rewriter then WordAI can restructure your content in a meaningful way. 
The tools AI algorithm can understand the contextual meaning among the words.  This helps in spinning the content while keeping the meaning intact. The rewritten text is enriched by LSI keywords which further helps with organic ranking. 
The tool is capable of creating up to one thousand rewritten variations of your original text. This helps in selecting the best version according to your style of writing. 
WordAI interface is user-friendly with just three steps required to rewrite your content. 
Copy and paste your original text within the rewriting dashboard. 

Select the number of rewrites you want, this can depend on your content requirement. If you are rewriting a sales copy then you may want to look for variations. 

Press the rewrite button, to generate a new copy. 
Within a few seconds, the tool will give you a unique rewritten copy. That is completely plagiarism free and can be used for your web presence.
Features:
Inbuilt LSI Adding Keyword:

WordAI comes with an inbuilt feature that lets the user add custom keywords to the content generated by the AI.

Grammar and Punctuation:

Also found in the tool is an inbuilt spelling and grammar correction function.

Sentence Splitting:

It provides an inbuilt function to split sentences into short concise points.

Creates Up To 1000 Rewrites:

WordAI can generate up to 1000 rewrites and multiple variations for an original article.

 
Bulk Rewrite and Download:

This tool can upload all your articles at once to conserve time and export them in bulk for maximum efficiency.

 
API Support:

You can add rewritten articles to the workflow using the built-in API support.

Article Forge Integration:

WordAI makes it easy to import articles on any topic with just one button.

HTML Compatible:

WordAI supports HTML content.

 
PROS:
Provides a free 3-day trial 

Easy to use

Affordable pricing schemes
CONS:
We recommend it to:
WordAI is a great tool for content writers, bloggers and marketers. It provides a clean, easy-to-use interface making it simple to respin to content.
What we found best:
Multiple variations of respun content 

Bulk exporting and rewriting

Uncluttered workspace
Pricing:

WordAI provides three paid plans:
Monthly: $57 per month
Yearly: $27 per month (billed annually) 
Enterprise: Custom pricing which is negotiated with the WordAI team
WordAI is one of the most affordable rewriting tools available. The features offered in the paid versions remain the same in all plans. 
The Enterprise version allows custom payments as this plan is meant for high-volume usage and multiple user accounts. You can click on the 'Contact Us button to find out more.

Embedded with Advanced AI, Contentbot is an instant article creator that can generate and rewrite content for your web presence. The tool is capable of creating high-quality content based on your needs and requirements. 
Whether you want to generate a new blog post, create a new paragraph, need answers to the existing questions or change the writing tone of your original text, the tool can satisfy all your needs. 
Moreover the content team and SEO specialist can get inspiration for ideas that helps in generating SEO-optimized content with persuasive copy. 
You can even create a full landing page copy and brand promotion content with the AI tech.  
Features: 
Easy To Use Chrome Extension:

ContentBot.AI can easily be integrated into the Google Chrome web browser as an extension for user convenience. 

WordPress Plugin:

Another popular third-party integration part of ContentBot.AI is integration into WordPress as a plugin.

35+ AI Tools:

It provides the users with 35+ ready-to-use AI templates for both short-form and long-form content.

Blog Topic Generator:

Compelling topics for blog posts can be quickly generated using this article writing software.
PROS:
User-friendly interface

35+ templates to use

Unique TinySeedAI technology is used as their AI tool
CONS:
The starter plan offers limited features

Even the Premium+ plan does not offer unlimited words
Who we recommend it to:
ContentBot.AI is a great tool for SEO specialists, copywriters, marketers and bloggers. 
What we found best:
Uses GPT-3 technology which utilizes deep learning to generate human-like writing. 

Convenient and simple to use tool
Pricing:

ContentBot.AI provides users with the following plans:
Prepaid: $1 per 1000 words
Starter: $29 per month
Premium: $59 per month
Premium+: $99 per month
While all features remain the same in all paid plans, the only difference is the amount of words. The Prepaid plan charges $1 per 1000 words. The Starter and Premium plans offer 40,000 and 100,000 words respectively.
Lastly, the Premium+ package offers a whopping 300,000 monthly words for $99 per month.

AIwriter is an auto article writer that uses state-of-the-art AI technology for creating human-written content.
The tool can produce a completely optimized article with the help of referencing the title given. The platform will also clarify the citation and the source link from which the tool takes inspiration for writing your content. 
This process helps in building authoritative content that is preferred by search engines like google, Bing, etc. 
Along with this, you can also get rephrased content by just copying and pasting your original text. And the tool automatically rewords your existing content and makes it unique. 
In addition with AIwriter you can also get rid of writer blocks with the help of Sub Topic Discover. This feature can help you out in discovering new content ideas to write about.
Features:
Generate List of Verifiable Citation:

AI-Writer generates content which is accurate and provides a list of citations and sources which can be verified manually by the user.

 
Text Rewording:

It can easily reword and republish an existing piece of content using its AI technology.

SEO Text Editor:

The inbuilt SEO Editor helps you use the optimal words that rank high in SEO rankings.

Topic Discovery:

AI-Writer aids you in discovering the topic for your next article by analyzing what Google is searching for and what others are writing.

Fast Article Generator:

The AI technology helps you generate articles quickly, saving time and making it easy to produce content consistently.

WordPress Integration:

It can be integrated into WordPress as a plugin for ease of access.
PROS:
Provides tools that help the user in research

Finds effective keywords quickly

Easy to use

Provides a list of references for easy fact-checking 
Cons:
Long-form articles may start to become robotic in tone
Who we recommend it to:
AI-writer is great for website managers and blogpost writers as it is easy to use and can generate high quality content effectively.
What we found best:
Keyword assistant is a time saver

Allows easy access to accurate sources of information
Pricing:

AI-Writer offers its users the following paid plans: 
Basic Plan: $29 per month
Standard Plan: $59 per month
Power Plan: $375 per month
Along with monthly plans,  AI-Writer also offers yearly subscriptions which give users 2 months free.
Depending on the scale of operations, you may opt for which plan suits you best. The features offered remain the same throughout all plans. The only difference is the number of articles you can generate with up to 40 articles in the Basic plan and 150 articles in the Standard Plan.
The Power plan offers up to 1000 articles and up to 10 users can use it. This is more suited for large-scale content production.

Frase is an all-in-one content creation tool that is capable of creating SEO-Optimized content. With easy to use interface and advanced functionality you can shape your content requirement as per your needs and wants. 
 The Frase editor gives you 5 advanced options for creating and optimizing content. 
Research:

The research option will analyze the top 20 ranking results from google for your given topic. And will provide you with crucial information such as word count, links, and Images along with the sub-headings used by the top 20 SERP results. 

Outline:

The outline section will give you sub-topics covered by all the ranking domains. This can help you to analyze common sub-headings used by the ranking competitors for better optimizing your content. 

AI Write:

The AI-write option is an advanced function that will help you to shape your content according to your requirements. You can opt for a blog introduction, Bullet point answer, feature benefits, how-to blog post, listicle post, etc. 

Optimize:

The optimize section will help you find the right keywords for your content but will also enhance your overall write-up by finding content gaps, and initiating topic clusters. 

Help:

The help section will give you video resources on researching your competitors, creating an outline, optimizing content, and introducing to the AI writer along with a live walk through of the tool. 
In addition to AI content, Frase also provides an article rewriting tool that would rephrase your original content, and present it in a unique form that is completely plagiarism free.
Features:
Research Tool:

Frase has an inbuilt research tool which is useful for researching keywords and questions from all over the internet in the interface itself.

Export In Multiple Formats:

The content generated can be exported into multiple file formats making Frase a versatile AI content producer.

User-Friendly Edit Pad:

Frase provides its users with an easy-to-navigate workspace making editing content simpler.

Offer Full Screen and Resize Mode:

You can use Frase in full-screen mode or resize the screen to a resolution of your choice.

AI Generated Content Briefs:

You can generate comprehensive content briefs with high-quality SEO keywords and descriptions.

Offer Multiple Writing Modes:

Frase is a great content generation tool offering a variety of templates for different kinds of content.

List Post Generator:

You can easily generate listicle posts with Frase.

Blog Introduction Generator:

Frase is a great tool to generate compelling introduction sections for blogs.
PROS:
Inbuilt researching tools

Simple interface

Time-efficient content generator

Identify and fix gaps in content
CONS:
Average AI-Assistant

No mobile app

Content may not always be accurate 
Who we recommend it to:
Frase is a great tool for anyone producing content. It is great for content writers, copywriters, marketing agencies, podcasters, YouTubers, etc.
What we found best:
The Research tool in Frase helps you research keywords from the interface itself, thus saving a lot of time.

Generates SEO based content briefs
Pricing:

Frase comes with 3 monthly and annual packages for its users. They are:
Solo: $14.99 per month ($12 per month annually)
Basic: $44.99 per month ($37 per month annually)
Team: $114.99 per month ($97 per month annually)
The Solo and Basic plans both contain 1 user seat. The Team plan contains 3 seats with an additional $25 per month per extra seat.
All 3 plans generate up to 20,000 AI characters per month.
You can write and optimize 4 articles in the Solo plan, 30 in the Basic plan and unlimited articles in the Team plan.

Embedded with state-of-the-art AI, Rytr.me is a useful writing platform for creating original and unique content. Its advanced machine-learning algorithm lets you create content in just three steps. 
Select the use case for your write-up 

Select your preferred language 

Chose the desired tone 
Rytr.me offers 40+ use cases to satisfy all your content goals. This includes comprehensive blog posts for your website, social media ad copies, email copies, landing page copies, product descriptions, job descriptions, and many more. 
These use cases will help you command the content you are looking to create along with the selected language and tone of writing. You can choose from 30+ languages and across 20+ tonnes of writing. The tone of writing can be selected keeping in mind the persona of your target audience. You can use many tones such as Joyful, humble, convenient, worried, etc. 
Once the context of the content is given the tools AI algorithm will deliver engaging high-quality content within a time span of 15 mins. You can also edit the content and set your own content hierarchy within the edit pad given. 
Rytr edit pad gives you a lot many options to style out your content and enhance the quality. You can shorten or expand the content at the same time check the authenticity with the built-in grammar checker. 
Features: 
Advance edit pad for content formatting 

Chrome extension 

Build-in SEO analyzer 

Plugin support for CMS integration 

API Integration 

Plagiarism checker 

Image generator 

Live chat support
Rytr Pricing & Plans
The pricing plans offered by the tool are flexible enough for exploring the tool without spending any money. On the other side, premium plans are embedded with extra features for gearing up your content marketing.

Rytr.me offers 3 plans starting with a no-risk-free plan with 10k characters per month.  
Free Plan:

Signup to start 

Saver Plan:

$9/month 

Unlimited Plan:

$29/month
If you are a starter and have never tried an article-writing tool you can signup for a free plan and get access to features like a plagiarism checker, and an image generator with writing options. 
But if you want to increase the character count with custom use cases you need to shift to premium plans starting at $9/month and $29/month. If you chose the yearly package for any of the paid plans you will only have to pay for 10 months giving you 2 months of free subscription. 
However, if you explore the difference between both the paid plans offer you won't see much difference in features. The only major difference is of unlimited character count with a dedicated account manager and chats support. 
PROS
Supports 15 languages

Plagiarism free content 

Budget-friendly

Easy-to-use interface
CONS
Inaccurate information 

Incomplete articles 

Limited editing refers only to highlighted text 
We recommend it to: 
Rytr is recommended to beginners and amateurs with budget restrictions and has difficulty in doing research work for the article. 
What we found best in this tool: 
Can set the content tone 

Free as well as affordable plans 

Industry-specific writing styles 
User Feedbacks:

13. Jarvis (Now called Jasper)


Jasper is an AI assistance writing platform that can create compelling content copies for all your marketing needs. The best part is that the tool is loaded with multiple templates to choose from, saving time and effort. 
Starting with, a listicle format template, personalized Linkedin post template, AIDA formula template, blog outline, documentation, and 50+ such templates. All you need to do is provide some context within the template and you will have multiple copies to choose from. 
Jasper also gives you different categories to select a specific content type you wish to produce. This includes social media copy, website content, email copy, SEO copy, blog post, advertising, etc. 
All of these content types can be written by the tool in 26 different languages without any language barrier. Moreover, for a better writing experience, you download the Jasper chrome extension and use it on all your writing platforms. 
In addition, Jasper does not only work on content creation but also helps you create royalty-free high-quality images with Jasper Art. All you need to do is provide the context of the photos needed and the tool will create custom images per your inputs. 
The tool is also very well known for spinning the content. However, we use Spinbot for spinning content but there are other Spinbot alternatives that you can try.
Features: 
50+ premade templates

Jasper Art Functionality 

25+ languages 

Google chrome extension

Surfer SEO Integration 

Jasper for business 

Bose mode

Education resources 

Live 101 training
Jasper Pricing & Plans
Pricing for Jasper is customizable which means you can choose the plan depending on the amount of content required.  There are three plans offered by Jasper starting with
Starter:

$49/ Month Estimated 
Bose Mode:

$82/mo estimated
Jasper for Business:

Custom Plan & Price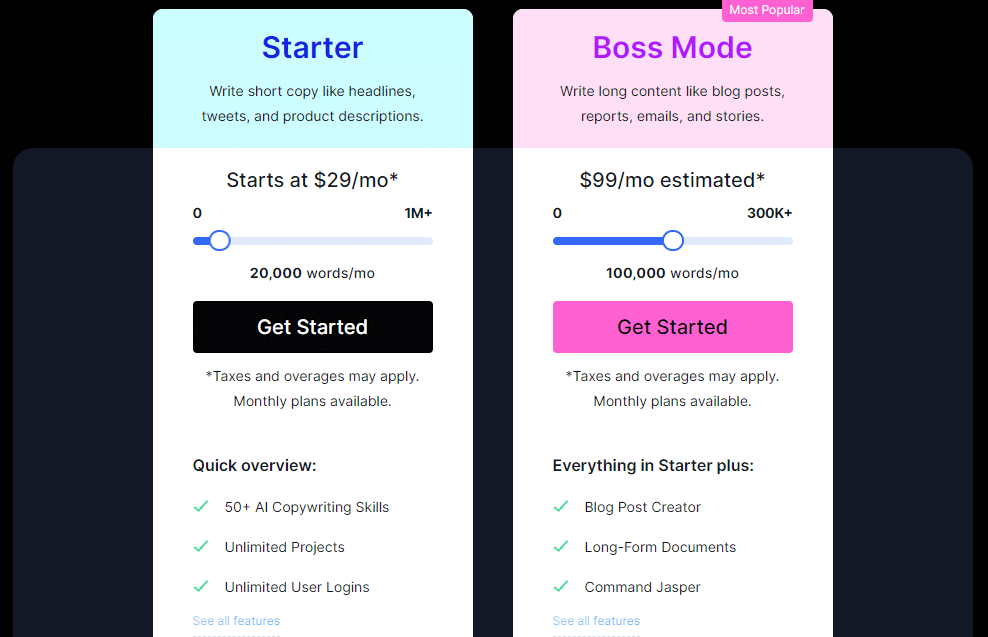 For the user looking to explore the tool, you can sign-up for a free trial or book a demo.
The starter plan is best for creating short forms of content which include ad copy, social media copy, product descriptions, etc. Boss mode and Business plan are designed for the long form of content. 
And If you are planning to upgrade from any of the first and second plans Jasper will add on all the features from your previous plan, thus giving you all the benefits. 
The business plan offered by Jasper requires contacting the sales team as it can be customized according to your content marketing goals. Moreover, for Starter and Bose modes, you can either subscribe for a month as well as a yearly subscription. You can save up to 17% if you subscribe for a yearly subscription. 
PROS
Limitless output in word count

Supports more than 25 languages

Copyscape and Grammarly integrated
CONS
Requires text editing and fact-checking

 
We recommend it to: 
Jarvis is recommended to marketers and bloggers with many sites to cater to regularly. In addition, people who don't have much time to spare and need a constant flow of articles in less time will feel blessed working with it. 
What we found best in this tool: 
10,000 words credits 

Intuitive and impressive output
User Feedback:

14. Aiseo.ai

AISEO is an artificial intelligence article generator software for producing engaging high-quality content. The tool AI algorithm works on creating SEO-optimized original content by taking simple contextual inputs.
These contextual inputs are in the form of keywords and descriptions you include for the kind of content needed. AISEO also specializes in long-form assistant guides for creating comprehensive blog posts. 
Moreover, along with generating fresh content, you can also paraphrase existing content with the help of a paraphraser. The paraphraser will spin your content with the help of synonyms and deliver unique content to use. 
The tool also comes with a readability improver that can improvise your content for a better user experience. It helps in forming better sentence structure by including easy-to-read phrases.
Features: 
Chrome extension

Content paraphraser 

Readability improviser 

Copywriting templates 

Email Generator 

Sentence rewriter 

AI Art generator 

SEO dashboard 

50+ starter template
AISEO Pricing & Plans
You can subscribe to the premium plans offered by AISEO on a year as well as on monthly basis. 
In total there are three plans offered by AISEO 
Grow plan

: $19/m

Scale plan:

$34/m

Team plan:

$49/m

If you subscribe to the basic grow plan for $19 monthly it comes with a 400 credits limit and 50k paraphraser character limit. This means you can only generate content up to 50 thousand words on monthly basis. 
On the other site, AISEO also offers the same three plans on annual basis as well 
Grow plan

: $15/m on a yearly subscription

Scale plan:

$29/m on a yearly subscription

Team plan:

$44/m on a yearly subscription
That means you can save up to 20% on your monthly billing if you wish to go with a yearly subscription. In addition, if you opt for the Scale or Team plan the tool also offers priority support whether you are on a monthly or yearly subscription. 
Moreover, the tool offers a risk money-back guarantee, which means the new onboarding user has 5 days to explore the tool. If it does align with your overall content marketing goals you will be given a 100% refund.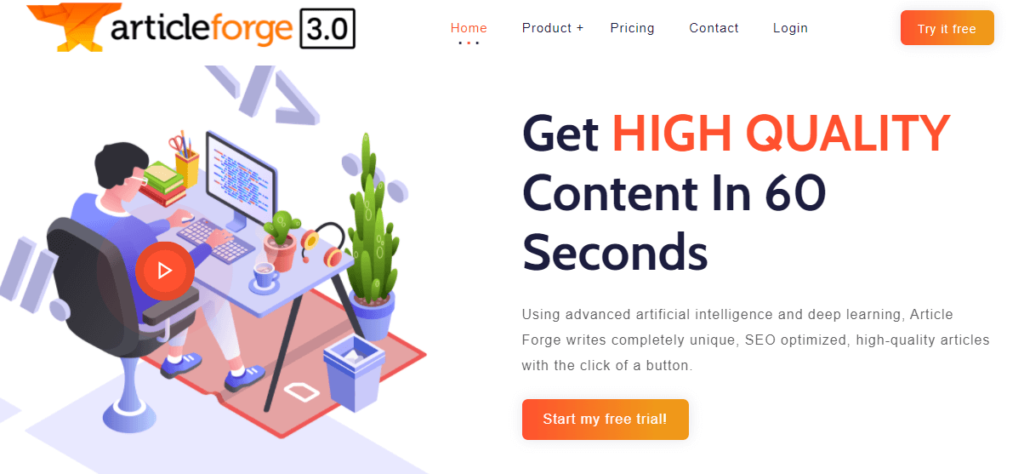 With advanced deep learning and AI embedded, Articleforge 4.0 is one of the fastest tools for generating long to short-form of articles. The tool uses deep artificial neural networks to create unique content which is auto-optimized for search engines like google, bing, etc. 
The tool does not only work on generating high-quality articles but also validates the uniqueness of the content with the help of the Copyscape test. This assures users before using the content for organic search visibility. 
In addition, Articleforge is capable of adding relevant images, videos, links, and optimizing the content with LSI keywords within just four steps. 
Start with adding the seed topic under the keywords insertion box. You can also include the full topic of the phrase such as "Best content marketing tools" if you want. 

Second chose your desired language for the content. 

Third, you need to select the kind of content needed in terms of the number of words. This is divided into 5 categories: Very short, Short, Medium, Long, and Very long. 
Depending on the requirement you can select the number of words required for the following topic. For example, if you are looking to create an in-depth guide on the selected topic. You chose the long form of content category and click on create a new article. Within a minute you will have a unique Copyscape passed quality content.
Features: 
Automatic WordPress article scheduling
API integration
7 foreign languages to choose from
30 money-back guarantee
Modified pricing plans
Copyscape passed content
Article Forge Pricing & Plans-
Articleforge offer three paid plans and one of the best parts about a premium subscription is that whichever plan you chose you are given a 5-day free trial. 
The three premium plans are as follows: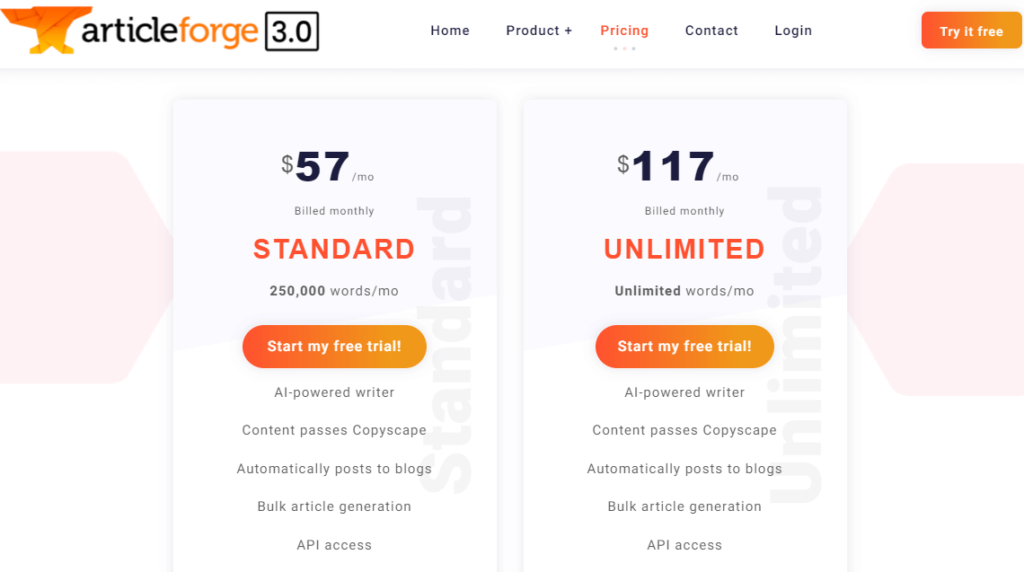 Monthly

: $57 with 100000 words/m, per user 

Yearly

: $27 with 100000 words/m, per user 

Business:

Can be customized

 
Moreover, all three plans offered by the tools can be customized according to the number of words your need to produce on a monthly basis. According to the word limit, the prices are going to differ in all three plans offered. 
One of the biggest bonuses for newly subscribed users is a 30-day money-back guarantee. So even after using the 5 days free trial, you are still left with 30 days to explore the tool. The only condition is the article generated should be less than 10.
PROS
Simple interface

Research-based unlimited content

Insert keyword-related media links automatically into the articles

Word.AI integrated

30-days money-back guarantee
CONS
Article maximum with 750-word length

Non-publishable content needs editing

Non-engaging and uninteresting content  
We recommend it to 
It is best for the upcoming bloggers and website owners who need a bulk of good quality content in less time and at cheaper rates.
What we found best in this tool: 
Integrated Perfect Tense tool to check mistakes 

Use of longtail keywords to produce SEO-friendly content 
User Feedback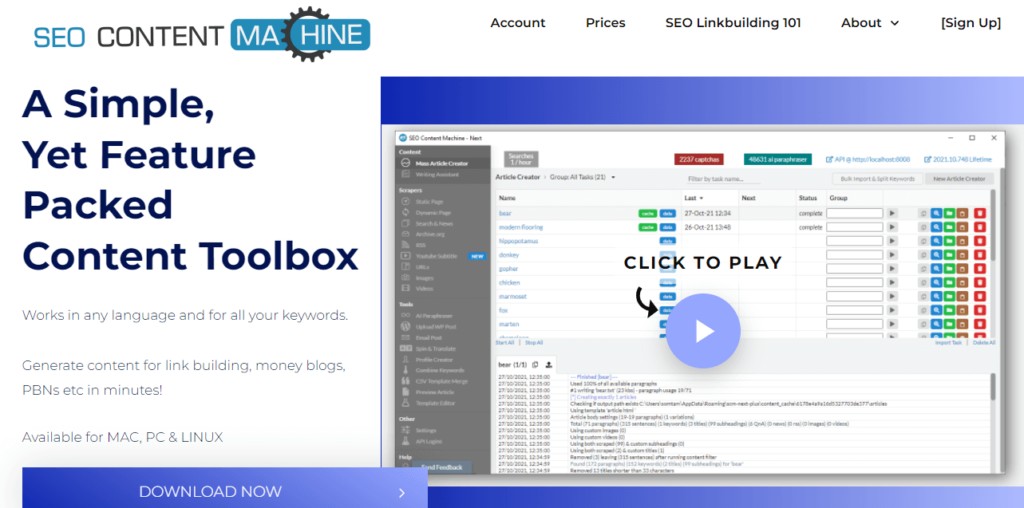 An AI-powered multilingual software specifically designed for agencies, copywriters, and link builders. The software can easily be downloaded on Mac, Windows, and Linux. Seo content machine OpenAI work on creating AI content just like any other human-written text. And also works to generate keyword-optimized content for better ranking opportunities. 
The tool also gives you multiple customization options to produce your content in bulk. Starting with keyword insertion, selecting the language for content, the number of words, and paragraph count. Your article can also consist of sub-headings, bullet points, Questions answers, etc. 
Moreover, if you want to speed up your content marketing you can opt for a mass article creator that can generate 1000s of articles. On top of this if you want to insert your content and modify it with the help of an SEO content machine you can select the custom content option to do so. 
In addition to the above functionality, you can also use the re-writer to paraphrase existing content that to into multiple languages. All of this content can be directly uploaded to your preferred platforms such as WordPress etc. 
Features: 
Mass article creator 

AI rewriter 

Mac, Windows, and Linux support 

WordPress Upload 

WordPress XML 

Generator Email Poster

Profile creator 

Keyword combiner 

CSV template merge 

10 scraper tools
SEO Content Machine Plans and pricing- 
You can try out the free trial of the tool before shifting towards the 4 different subscription plans offered. One interesting part here is that you don't need to include any payment details before opting for a free trial which is not an option if you compare other article creator tools with SCM. 
The four different plans are as follows 
Monthly plan:

$27/m subscription

Quarterly plan:

$57/q subscription

Yearly plan:

$120/yr subscription

Fallback plan:

$197 full purchase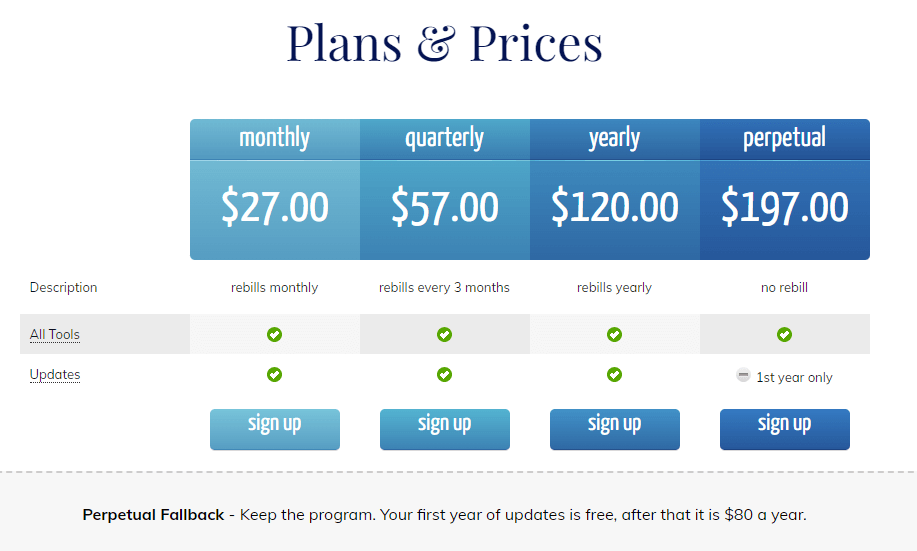 You get full control of all the features irrespective of the plan you chose. The fallback plan is a one-time purchase deal that lets you use the tool without any active license.
Note: Fallback License – Keep the program. A fallback license allows you to use a specific version of SCM without an active subscription for it. This purchase includes one year of updates for free, after that it is $80 a year.
PROS
Supports multiple languages 

Inserts subheadings, lists, images, videos, links, etc. by itself

Direct and automatic publishing to WordPress blogs 
CONS
Non-English content quality is low. 

Only 1100 words of article is produced. Hence article making is slow

Articles need editing before publication

The user interface is complex

Smaller trial period
We recommend it to: 
Bloggers with many blogs to work on require a bulk of SEO-friendly and high-quality content. Advisable to have a human editor check the article before publishing. 
What we found best in this tool: 
SEO-friendly

Automated scheduled posting

Link building tools
User Feedback

So which article generator should you choose from the above?
We have two standpoints on this as the need for content differs from business to business. 
Suppose you are an entry-level enterprise or a Start-up; we suggest Ryter. This is because it comes with a free plan (obviously, you need it). 
But also, there are starter templates and article ideas that can get you started. The tool also creates plagiarism-free content from its online database. 
This will speed up your process as you don't want to be stuck in publishing polarized content. 
But 
If content marketing plays a major role in your overall marketing strategy. We would recommend Jasper. Why?
The tool can understand topic and keyword relevance, leading to high-quality, engaging content. 
Its AI mechanism can also focus on digital aspects such as search engine optimization and adapt the writing tone accordingly.
FAQ's: 
Q1. What is AI content generation & How does AI writing software work?
Ans: It is the use of artificial intelligence in creating content. Machine learning enables computerized article writing. AI writing software uses intelligent and flexible algorithms to extract online pages and content on a topic and generate a new piece of content.
Q2. Can an AI Article builder replace real writers?
Ans: No, AI article builders can't replace real writers. Though I acknowledge that machines work faster and at a cheaper rate than human writers. Human touch is beyond computer ability. And, to date, no auto-writer can write an excellent publishable article on its own. Therefore, real-time editing is always needed.
Q3. Free AI content generator tool?
Ans: Rytr.me and Zyro are free content generator tools. Rytr.me offers a free plan, whereas Zyro offers a free AI blog generator tool in website building software.
Q4. What is artificial intelligence blog writing?
Ans: In simple words, it is the writing process done by a machine without the help of a human. This process involves understanding the given topic, doing the online research work, choosing words to write the content, and using the proper grammar for the feel and structure of the content.
Q5. How do you use an article generator?
Ans: A content generator is a software that allows you to generate content without any creative work. The following steps are involved in article generation: 
Visit the website for an article generation tool

Input keywords or use AI assistant to discover topics for content

With just a few clicks, the AI tool will generate a brand-new article for you.
Q6. What is the best content generator?
Ans: There are a number of quality content generators available online. 
The most popular ones include:
Grammarly

WordAI

WriterSonic

Ryter 

CopyAI

QuillBot
Q7. How can I write an article for free?
Ans: There are many free article generator software available online such as Anyword, CopyAI, QuillBot, etc. They can help you get started writing an article for free. There are tools available which can also help you generate topic ideas for your next piece of content.
Q8. Which AI tool is best for content writing?
Ans: You'll find a wide variety of online content generators online such as Grammarly, QuillBot, KafKai, WriterSonic, etc. These tools are designed to help the user in producing compelling content for a number of platforms.
Q9. How does a content generator work?
Ans: Content generators work by using sophisticated AI technology which uses search algorithms and deep learning AI to generate content. This saves the user a lot of time and effort as the tool produces content for them in seconds. Users input keywords which the tool uses to process content for them.