Brief about Quillbot and its purpose
Quillbot is an AI-powered paraphrasing and content-rephrasing tool designed to assist users in rewriting and generating written content. Its primary purpose is to help users create unique, plagiarism-free content by rephrasing and restructuring text while maintaining the original meaning. Writers, students, and professionals frequently use Quillbot to enhance the quality and uniqueness of their written work.
Why should you look for Quillbot alternatives?
Quillbot is a popular paraphrasing and translation tool, but it does have some limitations that you should be aware of:
1/ Accuracy and Context: Quillbot's primary limitation lies in its accuracy as it does not use  GPT-3 AI technology. While it can rephrase and translate text to some extent, it often struggles with maintaining context and producing natural-sounding content. This means that you might need to extensively edit the output to ensure it makes sense and conveys the intended message.
2/ No Offline Version: Some users prefer working with tools that have an offline version to ensure privacy or work without internet connectivity. Quillbot is only available as an online service.
3/ Complex or Technical Content: Quillbot might not be the best fit for complex or technical content. In our testing, it failed to accurately paraphrase or translate content containing specialized terminology, scientific jargon, or industry-specific language. If you are in fields like medicine, law, or engineering you may find it inadequate for your needs.
4/ Pricing Structure: While Quillbot offers a free version, it comes with limitations on the number of characters that can be processed, and you need to subscribe to a premium plan with only a 3-day money-back guarantee. 
It's important to note that while Quillbot has these limitations, it can still be a useful tool for many users, especially for simple paraphrasing and basic translations. However, for more demanding tasks and specialized needs, considering alternatives to Quillbot that address these limitations may be necessary.
Comparison table for different Quillbot alternatives
| | | | |
| --- | --- | --- | --- |
| | | | |
| | | | |
| | | | |
| | | | |
| | | | |
| | | | |
| Frase.io paraphrasing tool | | | |
| | | | |
| Smallseotools article rewriter | | | |
Criteria used for selecting the alternatives
1/ Key features to consider in a paraphrasing tool: 
When evaluating Quillbot alternatives, one of the first things we looked at was the set of key features. We were interested in the tool's ability to effectively rephrase and spin content. Additionally, we checked if there are any unique features that stand out and differentiate the alternative from others. 
2/ User-friendliness and Interface:
User-friendliness is essential to us. While exploring the alternatives, we paid close attention to its interface. A clean and intuitive design can make a significant difference in our experience.
3/ Accuracy of paraphrased content:
Ensuring the accuracy of the paraphrased content is a top priority for us. We don't want the content's original meaning to be lost or altered unintentionally. 
4/ Language support by the tool: 
Language support is crucial, especially since we often work with content in various languages and different contexts.
5/ Pricing and subscription models:
Cost is a significant consideration, whether it's a free trial, a subscription plan, or a one-time purchase. 
6/ Integration with other platforms and tools:
Integration capabilities are a key factor in our evaluation process. We often integrate the tools we use, so we assess whether an alternative can seamlessly work with our existing platforms and tools. 
1. Spin Rewriter: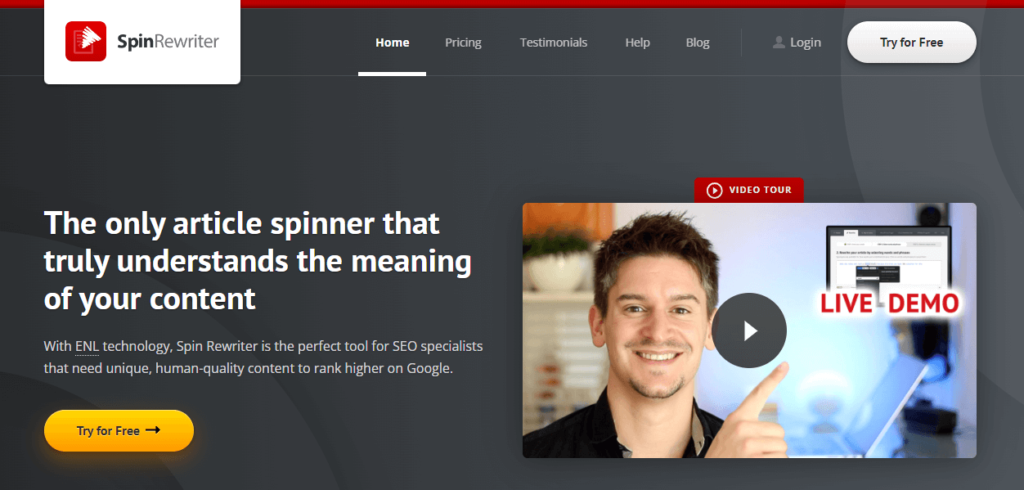 When it comes to content rewriting and generation, Spinrewriter excels in advanced content spinning. This means that if you need to create unique variations of existing content, whether for SEO purposes or paraphrasing while retaining the core message, Spinrewriter is a strong alternative for your requirements.
It offers options to rewrite content with keyword variations, making it an ideal tool for website owners and content marketers aiming to enhance their SERP ranking.
One of the key advantages of Spinrewriter that we found while using it is the degree of customization it offers. It allows you to have control over the level of uniqueness you want in your content.  This adaptability allows you to generate content that either closely aligns with the source copy or is entirely rewritten, depending on your specific requirements.
Additionally, when it comes to integration with other tools and platforms, Spinrewriter provides seamless connectivity, which can streamline your content creation and marketing workflow. This sets it apart from Quillbot, which does not offer the same level of integration capabilities.
Moreover, Spinrewriter incorporates features to prevent content duplication and plagiarism issues, essential for maintaining originality in content and ensuring a strong SEO performance.
Features of Spin Rewriter: 
Manual and/or automatic rewriting: Spin Rewriter allows you to either choose manually from the suggested synonyms and rephrase sentence options or set the settings of the paraphrasing tool to spin content automatically. 
Multimedia Integrated: The rewritten content outlook can be enhanced by the easy addition of appropriate images and videos directly from the platform. 
Unique bulk rewriting: Spin Rewriter can spin up to 10 articles in one go. You just need to copy-paste or upload the text or the ZIP file and its artificial intelligence will automatically provide the unique version of the content. 
Bulk Export: Spin Rewriter is capable of paraphrasing content up to 1000 variations from the original text. All these varieties of articles can be exported and made available for download in a ZIP file. 
Plagiarism-free content: Spin Rewriter is integrated with CopyScape which enables it to produce unique and plagiarism-free content. 
SEO-friendly content: Spin Rewriter is capable of retaining keywords, titles, phrases, and URLs and creates SEO-friendly content. 
Huge Database: Spin Rewriter has a huge database of ready-to-use 126,000 articles. These can be used for inspiration or rewriting. 
Content extender: Spin Rewriter can understand the meaning of the original text. Doing so also adds some extra content to extend the length of the article. 
API integrated: Spin Rewriter is API supportive, which enables it to be used along with other SEO tools like SociVidz, Social Monkee, and many more.
Pros and Cons of Spinrewriter:  
Pros: 
5 Spintax styles enable the creation of different tones of the content. 

It is a web-based application. 

The grammar checker keeps the spun article error-free.
Cons: 
No free plan is available, only a free trial is available. 

The free trial needs a credit card or PayPal information on registration only. 

Offers costlier plans in comparison to Quillbot.
Pricing Plans: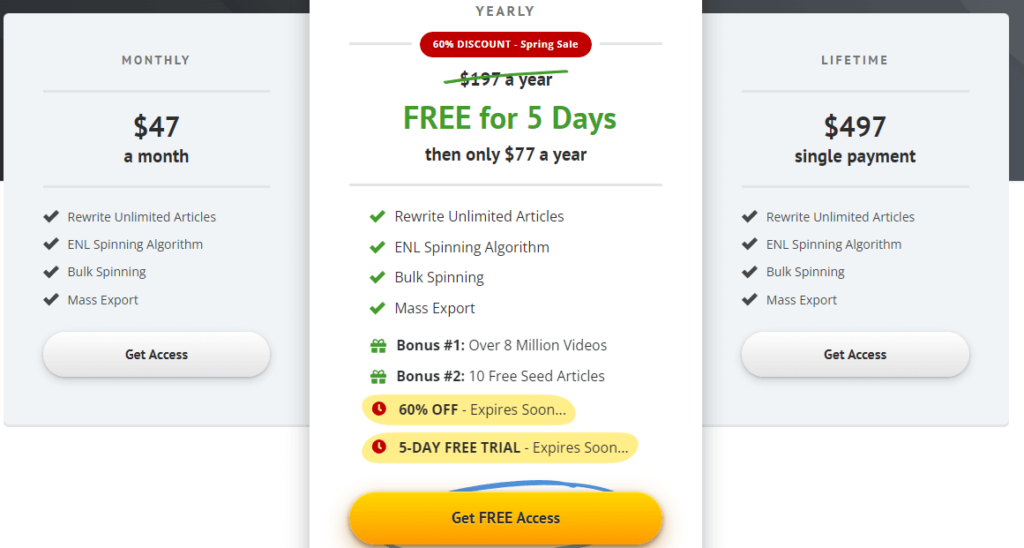 Monthly Plan:

$47/month is chargeable. 

Yearly Plan:

$77 for a year includes various bonuses. 

Lifetime Plan:

A $497 one-time payment for a lifetime gives access to the software. 
Spinrewriter customer feedback:






2. Spinbot: 


Spinbot is a free alternative to Quillbot. It can assist in rephrasing and generating unique content from existing text. This is done by using advanced algorithms to substitute words and sentences with their synonyms, resulting in an alternative interpretation of the content.
This feature can be beneficial if you're seeking to avoid content duplication issues or simply need multiple variations of a piece of text.
Another advantage of Spinbot is its simplicity and user-friendliness. It provides a straightforward interface, allowing you to quickly input your text and obtain the rephrased content.
This ease of use can save you time and effort, especially if you're looking for a tool that doesn't require technical learning. Note that Spinbot is completely free, which can be appealing if you're on a budget.
Spinbot Features: 
API integration: Spinbot allows API integration and permits you to coordinate your site, application, or web-associated programming. 
Content creation: It has a remarkable limit of 10,000 characters in one go, which is identical to around 1,000 words.
Accurate: The spun text is human-like, grammatically accurate, readable, and plagiarism-free.
Pros and Cons of Spinbot
Pros: 
Spins content at very high speed. 

Web-based rewriter tool is accessible across different devices. 

Registration free gives easy access to every client.
Cons: 
No additional performance features.

No user control over the rewriting process.
Spinbot customer feedback:


Releted Readings: Best Spinbot Alternatives & Similar Site To Overcome Plagiarism
3. Wordai: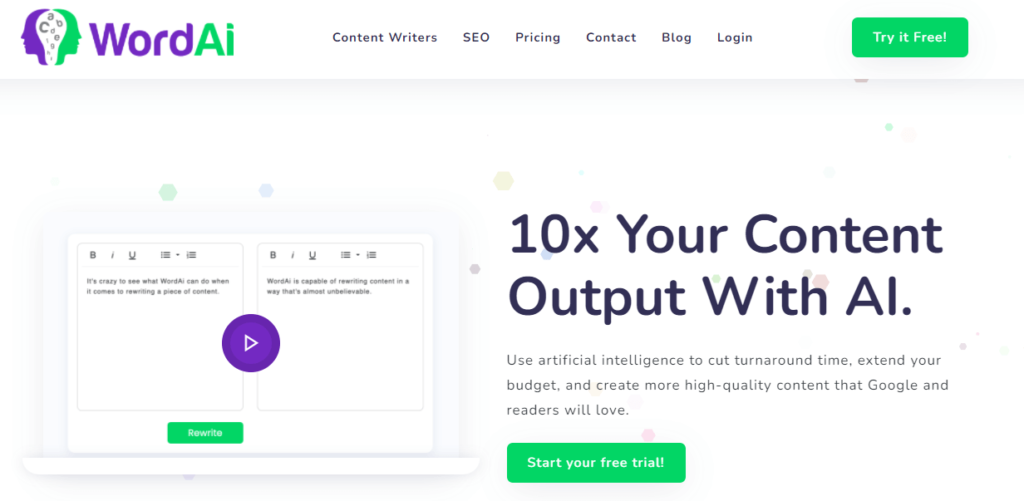 With its advanced natural language processing algorithms, Wordai can provide you with high-quality rewritten content that maintains context and readability. This can be particularly beneficial if you need more accurate paraphrasing for your content, especially in professional or technical writing contexts.
As per our experience with the tool, Wordai also excels in generating human-like readable content, ensuring that the output is natural-sounding. This feature is valuable if you require content that doesn't sound robotic or artificial, as it can help maintain the authenticity and tone of your original message.
Furthermore, Wordai's integration with various platforms and tools enhances its usability, allowing you to seamlessly incorporate it into your existing content creation workflow. This integration capability can streamline your content production process and save you time and effort.
WordAI Features: 
Rephrase sentences rapidly: In comparison to other paraphrasing software, WordAI most likely is the fastest. It can process hundreds of articles in a few seconds with quality. 
Bulk paraphrasing tool: WordAI can automatically rewrite multiple articles from the uploaded file in one go. Along with this, it can generate up to 1,000 variations of an article at a time. 
SEO-friendly content: WordAI can be set to retain keywords, titles, phrases, URLs, quotes, etc. from the original text for SEO-based content generation. 
Customized Synonyms: WordAI allows you to set a preference for synonyms of particularly desired words. It remembers them and rewrites the content accordingly. 
API integration: WordAI supports API integration and is capable of being used with other SEO tools like Kontent Machine, Ubot Studio, Article Forge, etc. 
CopyScape Integration: WordAI creates unique content with the integration of CopyScape.
Pros and Cons WordAI: 
Pros: 
User-friendly, easy-to-use paraphrasing tool. 

This web-based tool can be used on a variety of devices.

Human-like readable content gives authenticity to the text.
Cons: 
Requires little manual editing in the rewritten content.

No free plans for the user to use the software freely.
Related Readings: Best Wordai Alternatives & Competitors For 2022 (Free & Paid)
Pricing Plans: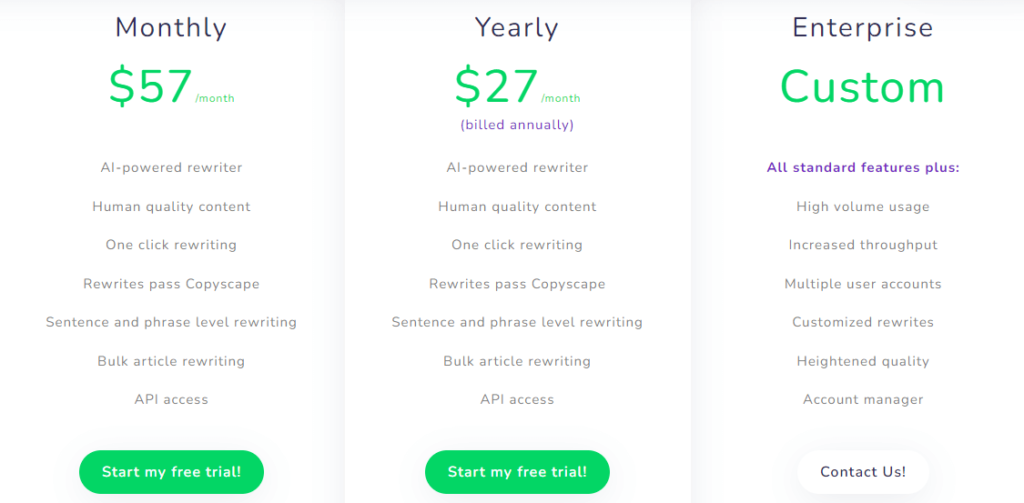 The monthly plan

is billed on a monthly basis: $57/month 

The annual plan

is billed yearly: $27/month ($324 in total)

Enterprise plan: Contact Wordai
WordAI customer feedback:





4. Wordtune: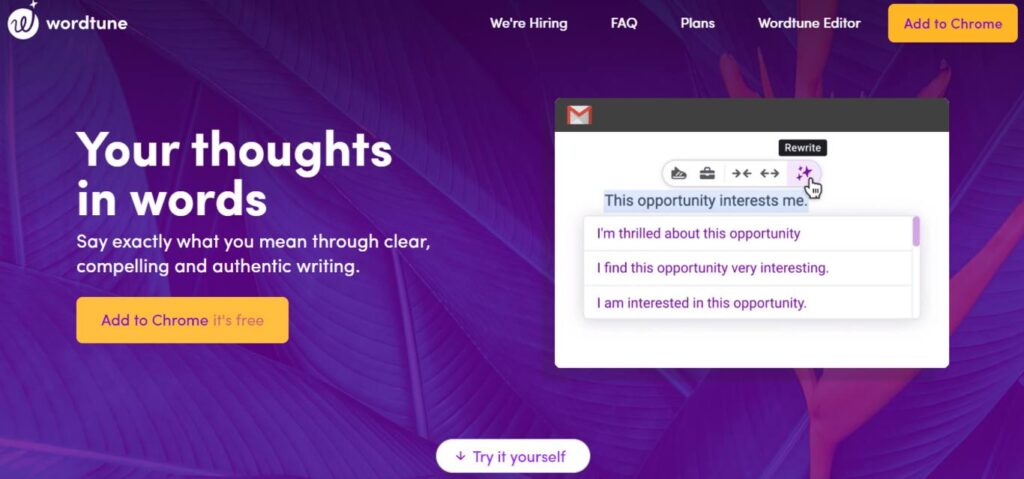 Wordtune can be a compelling choice for your content rewriting and enhancement needs. Wordtune offers a range of advanced features that can set it apart as a valuable alternative.
One key advantage of Wordtune that we found is its ability to provide you with real-time suggestions for improving your text. It goes beyond basic paraphrasing and offers detailed recommendations to enhance your content's clarity, tone, and engagement. This can be particularly useful if you're aiming to create content that is not just rephrased but also more reader-friendly.
The tool supports multiple languages, which is valuable if you work with content in languages other than English. This multi-language support ensures that Wordtune can accommodate your language requirements effectively.
Additionally, you can use the Wordtue browser extension with applications like Microsoft Word and Google Docs. This integration ensures that you can access its capabilities in the context of your work. Whether you're composing emails, writing reports, or creating content for your website, Wordtune is there to provide suggestions and enhancements as you go.
Features of Wordtune: 
Rewriting styles:

Wordtune offers five different rewriting styles. These are original, formal, casual, shortened, and extended. The free plan offers only the original text style for the users.
Manual Rewriting:

Wordtune divides big chunks of text into sentences and rephrases sentences automatically into different variations. It also can highlight keywords and phrases with suggestive synonyms.

 
Translation Languages:

Wordtune is accessible in English only. The text from 10 different languages can be rewritten and translated into English. These languages are French, German, Russian, Spanish, Portuguese, Hindi, Chinese (Mandarin), Arabic, Hebrew, and English.

 
Chrome Extension:

Wordtune offers extensions usable with various applications like Google Docs, Gmail, Facebook, Slack Web, LinkedIn, WhatsApp Web, Twitter, and Outlook Web.
Grammar Checker:

The in-built grammar checker and change check tool improve the overall writing tone and word choice.
Pros and Cons of Wordtune: 
Pros: 
Different writing styles to express the sentiment of the content.

This tool can also be integrated with social networks for easy sharing

.

Works well in business communication.

Different native languages can be converted into English while paraphrasing the content.

Chrome extension available.
Cons: 
The free plan has limited features.
Pricing Plans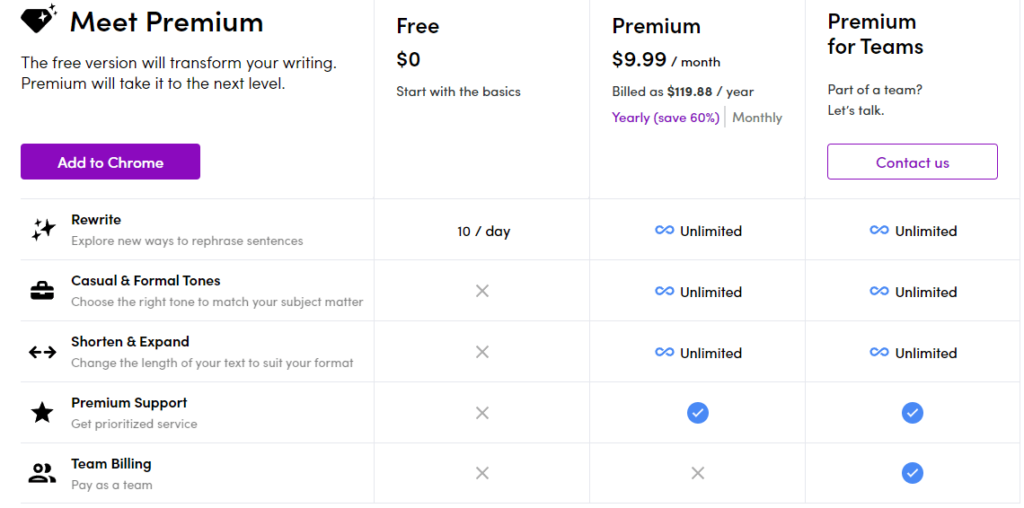 Free Plan:

10 rephrase sentences per day.

Premium Plan: Monthly:

$24.99/month /

Annual:

$119.88/year 

The premium for Teams:

Team with multiple members with custom pricing.
Wordtune customer feedback:






5. Chimp Rewriter:

Chimp Rewriter is a tool designed to help you generate unique and high-quality content. It focuses on content spinning, which means you can take existing text and rephrase it to create unique versions.
 If you're a content creator, blogger, SEO professional, or someone in need of original written content, Chimp Rewriter can be a valuable asset.
One of the standout features that we found while using Chimp Rewriter is its focus on producing content that is not just unique but also highly readable and coherent. This focus on readability ensures that the rewritten content remains engaging and well-structured, which is essential for maintaining the interest of your readers.
Customization is another key aspect of Chimp Rewriter that you might find beneficial. You can choose the level of rewriting you prefer, whether it's light paraphrasing or more substantial content spinning, depending on your specific needs and preferences.
Features of Chimp Rewriter: 
Multilingual Rewriting:

Chimp Rewriter can work with 14 languages. These languages are French, Italian, Portuguese, Swedish, Spanish, Norwegian, Slovene, Netherlands, German, Danish, and English.

 
Transforming Article:

Chimp Rewriter allows you to insert images and videos from the database to make your content look rich and valuable.

 
Grammar checker and change check tool:

Chimp Rewriter has a grammar checker to check and eradicate spelling errors in thousands of versions of uniquely spun content with the help of Copyscape integration.

 
API Integration: Chimp Rewriter offers extensive API integration that enables this content generator software to connect with nearly all 3rd party SEO and article writer tools like GSA Search Engine Ranker, Ultimate Ghost, WP Robot, etc.
SEO-friendly content:

Chimp Rewriter is capable of analyzing keyword density and adding LSI keywords, to make the content useful for SEO purposes. It also can be set to save particular words and/or phrases from the original text from getting rewritten.
Multi-Spintax formats:

Chimp Rewriter uses different styles to rewrite and generate unique and human-like content. Its blog submitter enables the distribution of posts to a number of websites in just a single click.
Pros and Cons of ChimpRewriter: 
Pros: 
Integrated 3rd-party applications. 

Paraphrased content is top-notch.

Dictionary customization and paragraph builders.
Cons: 
The interface of the tool is not as compatible as others.

Requires practice to learn the workings of the software. 

No free plan.
Pricing Plans for Chimp Rewriter: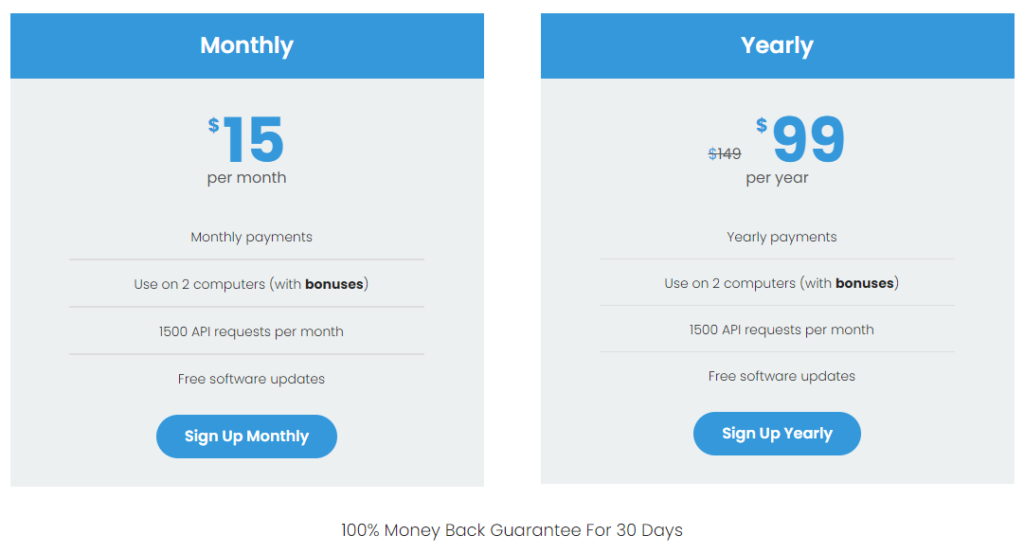 Monthly Plan

of $15/month.

Yearly Plan of $99/year.
ChimpRewriter customer feedback:



6. Smallseotools article rewriter: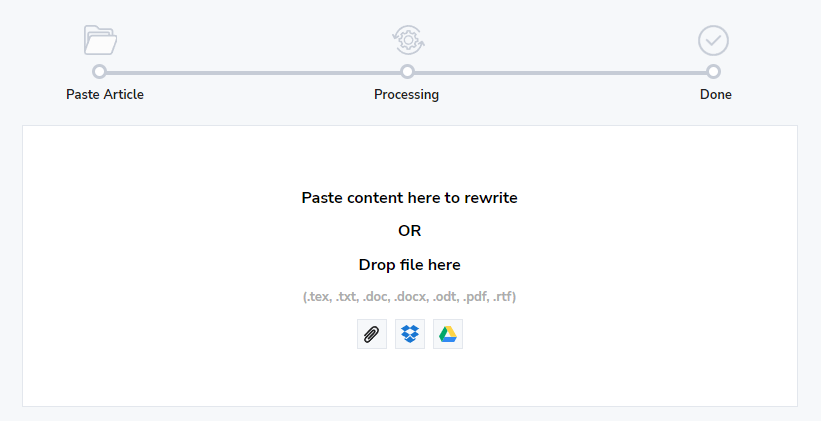 SmallSEOTools Article Rewriter is a straightforward and user-friendly online tool designed to assist you in quickly rewriting sentences and articles. When you visit their website, you'll find a free article rewriting tool that simplifies the process of generating unique versions of your content.
You'll typically encounter a text input area where you can paste or type the content you want to rewrite. With a simple click, you can initiate the rewriting process. The tool will automatically rephrase the text, providing you with an alternative version.
As per our take, it may not offer the advanced features of some premium paraphrasing tools, but SmallSEOTools Article Rewriter serves as a convenient option for generating fresh content swiftly. 
Features of Smallseotools article rewriter:
You can upload your file in various formats including

.Pdf, Txt, .rft

along with dropbox and google drive.
The rewritten text can easily be checked with a free grammar checker for any content accuracy error.   
The spell checker can also help you monitor the error within the word used in your rephrased content. 
The tool also offers a Plagiarism checker to check the copy score of your content. 
The other add-on tools that can be used include Word counter, file converter, image compressor etc.   
Pricing Plans for Smallseotools Article Rewriter
Smallseotool works on a freemium model offering paid versions that are categorized under four plans on a monthly basis. 
Basics 1: $9.80

Basics 2: $19.80

Basics 3: $39.80

Basics 4: $59.80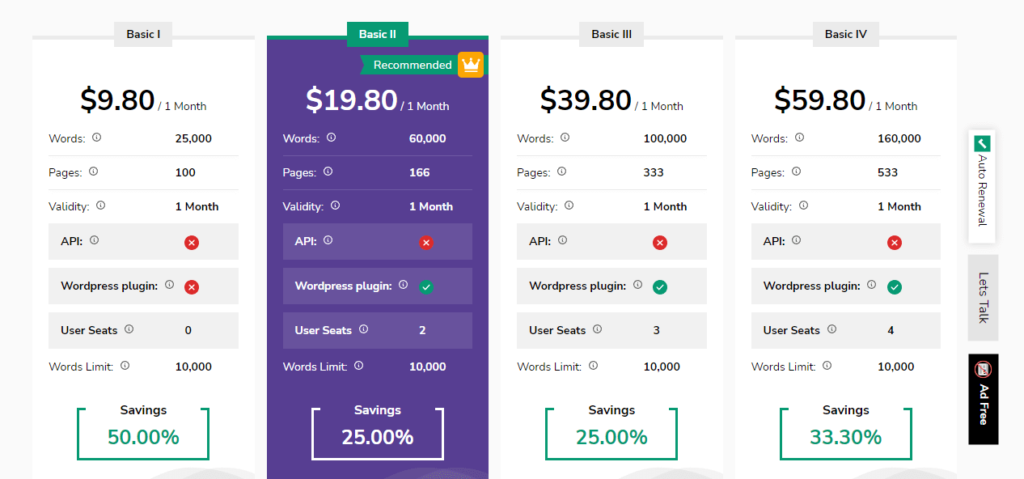 7. Prepostseo Paraphrasing Tool: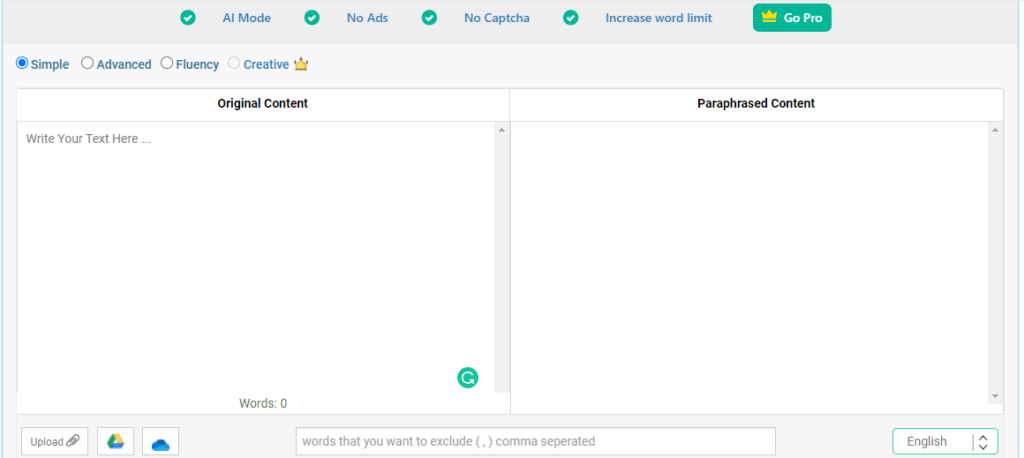 Prepostseo is an online platform that offers a suite of tools for various content-related needs, and one of its features is a paraphrasing tool. If you explore Prepostseo's website, you'll find an accessible and user-friendly online tool that allows you to quickly rewrite content.
This paraphrasing tool is designed to assist you in creating fresh and unique content by rephrasing existing text. You can easily use it by pasting the content you want to rewrite into the provided text input area. With a simple click, you can initiate the paraphrasing process, and the tool will generate an alternative version of the text.
One of the advantages of Prepostseo's paraphrasing tool is its ease of use. You don't need to download or install any software, as it's an online tool.
Features of Prepostseo Paraphrasing Tool:
The AI mode can create SEO-friendly rewritten content by keeping a check for keyword density. This type of content can help you rank for organic search on search engines. 
The tool offers a file upload feature instead of copy-pasting the original text into the rewriting box. You can also upload your file directly from your Google Drive. 
The exclude word feature will retain the words from your original content before spinning your text. You can trigger this command by giving a comma-separated instruction for the words you want to retain. 
Prepostseo supports 17 languages apart from English which includes Spanish, German, Dutch, Russian, Japanese, etc. 
You can also validate your rewritten content with a plagiarism checker that you can use for Free. Just upload your file and the tool will scan the content for duplicity. With the premium version, you check up to 1500 words 
The free grammar checker will enhance the quality of your write-up by eliminating grammatical and punctuation errors from the rewritten text. 
Pricing Plan for Prepostseo Paraphrasing Tool

There are three plans offered under paid subscription which include:
Company: $45/ month

Standard: $20/ month

Basic: $10/ month
8. Frase.io paraphrasing tool: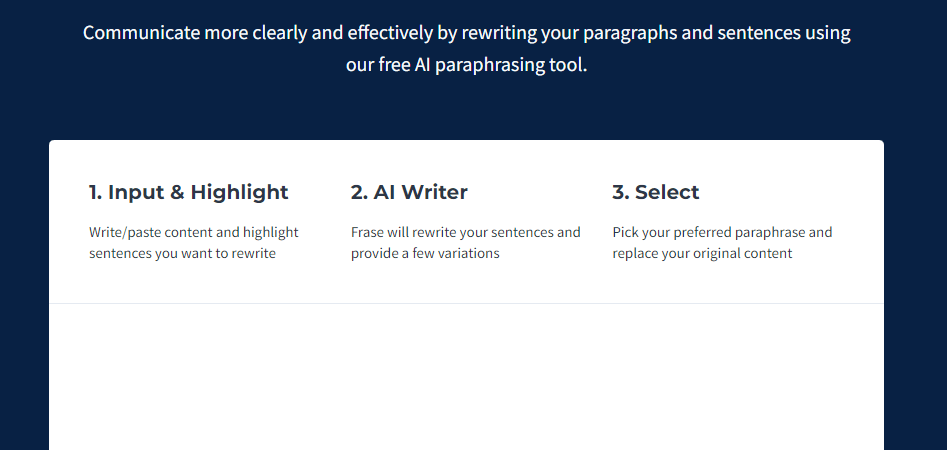 Frase.io is primarily designed to assist you in creating and optimizing content for SEO and improving your content marketing efforts.
Frase.io's key feature is its ability to generate content by leveraging AI and natural language processing. It focuses on generating informative, and search-engine-optimized content. 
This is particularly valuable if you're looking to create content that not only conveys your message effectively but also ranks well in search engine results.
Frase.io simplifies the research process by providing you with data-driven insights. It can analyze search engine results, identify relevant keywords, and recommend content ideas. Thus If you aim to develop content that deeply connects with your intended audience, this could be a valuable alternative to look for.
Features of Frase.io paraphrasing tool:
Offers a formal mode feature that lets you set a professional tone for your rewritten text. 

The

Next Spin

feature rephrases the content uniquely, it can represent the same original content in shortened and broad forms. 

You can easily copy the rewritten content by clicking on the copy-to-clipboard icon. 
Frase.io article rewriter is completely free to use and does not offer any premium plans.  
Which Quillbot alternative should you go with? 
Based on the criteria discussed earlier, the choice of the best replacement for Quillbot depends on your specific needs. 
If you require advanced content spinning and SEO-focused features, Spin Rewriter might be the best choice. 

For user-friendliness and basic content rewriting, Spinbot is a viable option. 

If you need highly accurate paraphrasing for professional or technical writing, Wordai stands out. 

If SEO optimization is your priority, Frase can be the best alternative. However, If you need efficient content creation and adaptability to different writing styles, Writesonic is a good choice.
Frequently Ask Questions
Q1. Can I use QuillBot for free?
Ans. Yes, Quillbot can be used for free. The tool offers a free plan through which you can rephrase up to 125 words at a time. Standard and Fluency are the two modes accessible in the free version. To extend the work limit you need to upgrade your plan which starts at $9 per month.
Q2. Can Turnitin detect QuillBot?
Ans. Turnitin cannot detect Quillbot. This is because Quillbot rephrases the content by using synonyms and alternative text rather than plagiarizing the content. That is why the Turnitin algorithm can not detect paraphrasing content that is spun by tools capable of changing the wording of the original text.
Q3. Which is better QuillBot or Spinbot?
Ans. Based on the comparison test we conducted, Quillbot is better the Spinbot, in terms of functionality, accuracy in spun content, and readability of text. We also checked the copy score after paraphrasing a small paragraph on Grammarly. We found that text rephrased from Quillbot came out with no copy score as compared to text rephrased from Spinbot.
Related Readings: Spinbot Vs Quillbot: The Best Paraphrasing Tool (A Direct Comparison)
Q4. Is Quillbot good for paraphrasing?
Ans. Quillbot is one of the best tools for paraphrasing with advanced functionality and multiple modes. Quillbot article rewriter can rewrite text, sentences, and paragraphs without plagiarizing the original text using state-of-the-art AI. The tool's user-friendly interface and useful Chrome/doc extension make it easier to rewrite content, especially for college and university students & professionals.
Q5. Is Grammarly better than Quillbot?
Ans. Grammarly is a superior tool when it comes to proofreading the content by checking grammatical errors and sentence structure. Unlike Quillbot which is an article rewriter software more focused on rewriting content by using alternative text and synonyms. Both the tools offer a free version for exploring the tool but Grammarly is more advanced in terms of improving your copywriting.
Q6. Free Quillbot alternatives?
Ans. Below is the list of free Quillbot alternatives 
Parapheasre.io- With up to 500 words in addition to fluency and standard rephrase mode in a free plan. 
Smallseotool- This tool offers 2000 words to be rephrased for free with a copy-paste or drag option. 
Prepostseo- You can use Prepostseo without word count limitation for free with 3 paraphrasing modes.
Seo magnifier- It completely free paraphrasing tool with the option to rephrase text into 7 different languages. 
Duplichecker-Along with rewriting the article this tool also offers a grammar checker and image-to-text option. 
Editpad- With no limit to word count, you can also check the plagiarism score of the content.
Q7. Best Free Paraphrasing Tool?
Ans. Free paraphrasing tools online for 2023 include:
Standuoteassy

Rewriteguru

Ivypanda

Frase.io 

Softwaretestinghelp 
Q8. Can Quillbot be detected?
Ans. Quillbot can not be detected as it simply spins the content and makes a new copy of the original version that is completely plagiarism-free.
Q9. Is using Quillbot cheating?
Ans. Using Quillbot for paraphrasing content is not cheating. This is because the tool does not copy the text from the web.