In this guide, you will find the top 18 Quillbot alternatives that you can use to paraphrase your content along with their features, pros/cons and usability. These similar sites like Quillbot will not only help you to spin your content but will also find the best tone and style for your content.
The 5 best Quillbot alternatives out of the 18 we tested
Spin Rewriter-Powerful business communication rewriter tool.
Spinbot– Intelligent and unique paraphrasing tool 
WordAI– Bulk upload supporting AI content generator software
Wordtune– Chrome extension-powered article writer tool
Chimp Rewriter– AI rewriter with a natural language processor
What is QuillBot?
Quillbot is an AI-based paraphrasing tool that allows you to rewrite sentences and texts without losing their meaning and context. Quillbot is easy to use, and completely beginner-friendly in case you are using it for the first time.
This is why 10 million people across the world use this tool to spin content as it matches the tone and style of the original text without plagiarising it. 
The tool offers 7 modes to rephrase sentences which you can use depending on your selected plan. If you chose to explore Quillbot with the free plan then you can use 2 modes (Standard and Fluency) with up to 125 paraphrase word limit. 
Unlimited paraphrase words are available in the premium plan with access to all 7 modes. Along with this, you get a 3-day money-back guarantee. 
You can also make use of synonyms suggestions led by its artificial intelligence and natural language to create multiple variations of the original copy. 
In addition to all the above QuillBot also offer a grammar checker, summarizer, co-writer, citation generator, and recently added plagiarism checker which is hard to find in companies similar to Quillbot
.  
When it comes to paraphrasing tools, it seems as if this is the only one you need. But while discovering we found a few limitations which lead us to find the website's alternative to QuillBot. 
Cause for looking at Quillbot alternatives
(disadvantages of QuillBot)
The premium plan does not have any free trial. For exploring the premium version you only have a 3-day money-back guarantee which should have been extended to at least a month. 
QuillBot does not support GPT-3 AI technology which produces error-free content. You still need to manually correct the error from the output given. 
The free version has a character limit which means you need to break your text every time while working on long-form of content.
Comparison Table for Quillbot alternatives Selected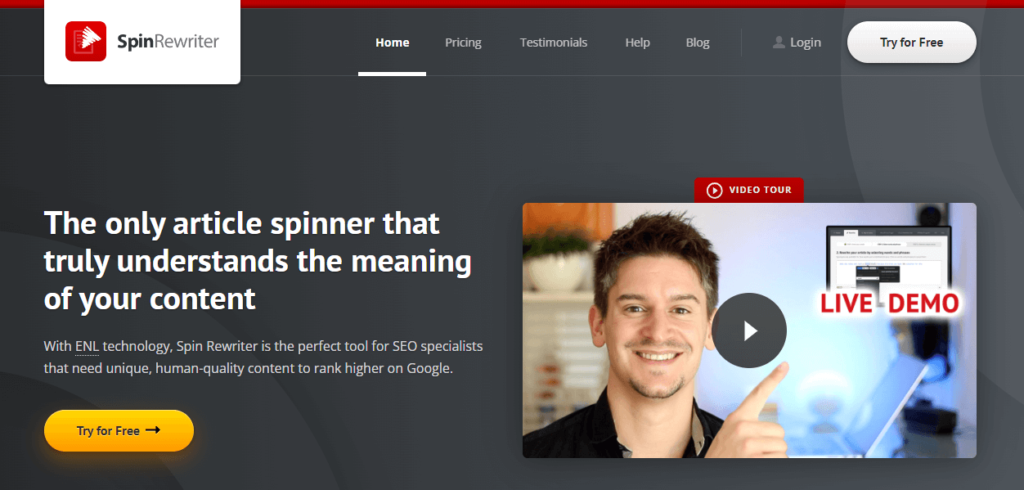 Established in 2011, Spin Rewriter, is a SaaS product by Aaron Sustar. Trusted by more than 181,000 clients worldwide, this platform is known for its article revising and high-level highlights. It is continuously updated, and its eleventh version came out in November 2020.
Spin Rewriter is one of the best QuillBot alternatives that utilises ENL (Emulated Natural Language) for its ENL Semantic Spinning innovation. With the assistance of ENL innovation, Spin Rewriter grasps the tune of the text and gives an extraordinary result that sounds as normal as human-composed.
Spin Rewriter utilizes a blend of AI and ENL Semantic Spinning Technology, a technology better than Quillbot. Which permits the product to grasp the tone of the entire article as well as the connections among words and expressions. This understanding enables it to create competent and unique content.
Features of Spin Rewriter: 
Manual and/or automatic rewriting: Spin Rewriter allows you to either choose manually from the suggested synonyms and rephrase sentence options or set the settings of the paraphrasing tool to spin content automatically. 
Multimedia Integrated: The rewritten content outlook can be enhanced by the easy addition of appropriate images and videos directly from the platform. 
Unique bulk rewriting: Spin Rewriter can spin up to 10 articles in one go. You just need to copy-paste or upload the text or the ZIP file and its artificial intelligence will automatically provide the unique version of the content. 
Bulk Export: Spin Rewriter is capable of paraphrasing content up to 1000 variations from the original text. All these varieties of articles can be exported and made available for download in a ZIP file. 
Plagiarism-free content: Spin Rewriter is integrated with CopyScape which enables it to produce unique and plagiarism-free content. 
SEO-friendly content: Spin Rewriter is capable of retaining keywords, titles, phrases, and URLs and creates SEO-friendly content. 
Huge Database: Spin Rewriter has a huge database of ready-to-use 126,000 articles. These can be used for inspiration or rewriting. 
Content extender: Spin Rewriter can understand the meaning of the original text. Doing so also adds some extra content to extend the length of the article. 
API integrated: Spin Rewriter is API supportive, which enables it to be used along with other SEO tools like SociVidz, Social Monkee, and many more.
Pros and Cons of Spinrewriter:  
Pros: 
5 Spintax styles enable the creation of different tones of the content. 

It is a web-based application. 

The grammar checker keeps the spun article error-free.
Cons: 
No free plan is available, only a free trial is available. 

The free trial needs a credit card or PayPal information on registration only. 

Offers costlier plans in comparison to Quillbot.
Pricing Plans: 
In comparison to Quillbot, Spin Rewriter has economical pricing plans. And unlike Quillbot, Spin Rewriter has a life plan which gives its users great options. 
One more extraordinary thing about Spin Rewriter is that it permits you to rewrite limitless articles with next to no character limit. 
Before purchasing the annual plan that offers extra rewards, a 5-day free trial is suitable to get the feel of the software. 
If the Spin Rewriter doesn't meet your expectations after purchasing, no need to worry, the software offers a 30-day money-back guarantee.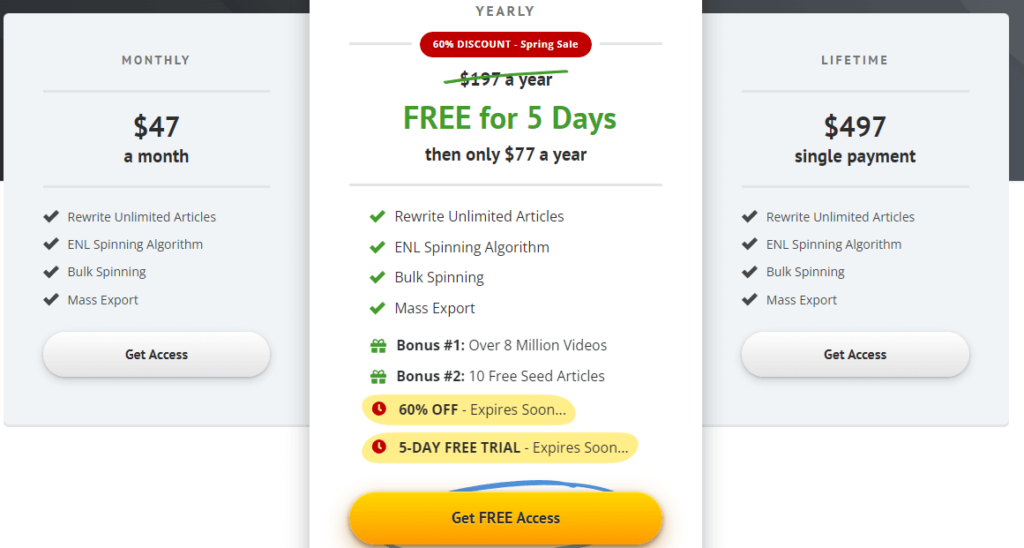 Monthly Plan:

$47/month is chargeable. 

Yearly Plan:

$77 for a year includes various bonuses. 

Lifetime Plan:

$497 one-time payment for lifetime gives access to the software. 
Who should use and how to use Spin Rewriter:
People with no prior knowledge of established bloggers, content writers, students, etc. can get benefitted from Spin Rewriter. 
To use it, you need to enter the original text into the article box.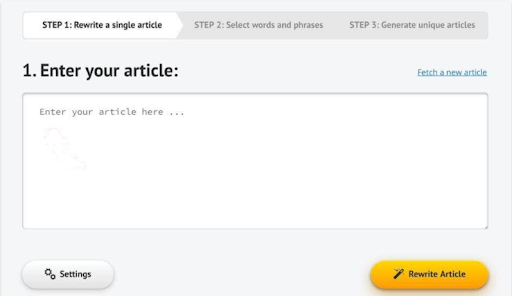 Then, either you can choose manual editing or the automatic one with desired settings.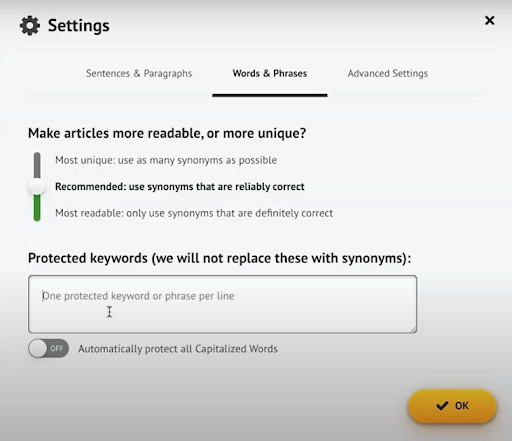 1,000 variants of the content can be generated. Not only this, plagiarism is checked to pass the CopyScape to get 100% unique content.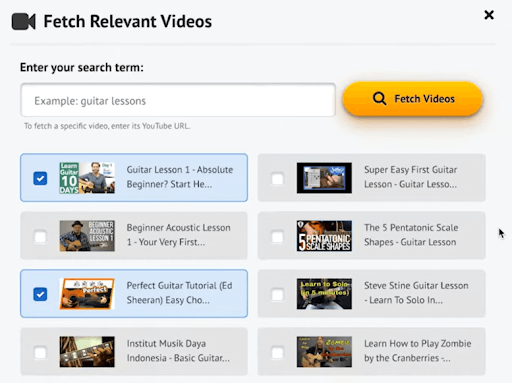 Spin Rewriter also enables you to insert images or video links to make the article even more catchy for the reader.
Spinrewriter customer feedback:








Spinbot is an article rewriter tool that works using a marked-up version of the text, indicating which text needs rearrangement or alteration.
 It creates readable articles using nested spinning yet not altering the core meaning of the text.
It is free forever and is also registration free. Hence, the most generally utilized free QuillBot alternative on the web, with an enormous client base of new bloggers and a huge number of students. Spinbot automatically rewrites the text, pasted on its editor, on clicking 'go'.
Spinbot Features: 
Paraphraser: Spinbot is completely a paraphrasing tool enabling its users to rewrite the text in just a fraction of the time. 
API integration: Spinbot allows API integration and permits you to coordinate your site, application, or web-associated programming. 
Content creation: It has a remarkable limit of 10,000 characters in one go, which is identical to around 1,000 words.
Accurate: The spun text is human-like, grammatically accurate, readable, and plagiarism free..
Pros and Cons of Spinbot
Pros: 
Spins content at very high speed. 

Web-based rewriter tool is accessible across different devices. 

Registration free gives easy access to every client.
Cons: 
No additional performance features.

No user control over the rewriting process.
Pricing Plans:
Of all the other Quillbot substitutes, Spinbot gives a free version of the product with 10,000 characters limits. The premium QuillBot plan has the same character limit as the free Spinbot plan. 
You can rewrite articles without ads and without the requirement of a captcha with Spinbot's premium plan which saves you a lot of time.
There are three valuing plans accessible, with month-to-month, semi-yearly, and yearly instalment choices.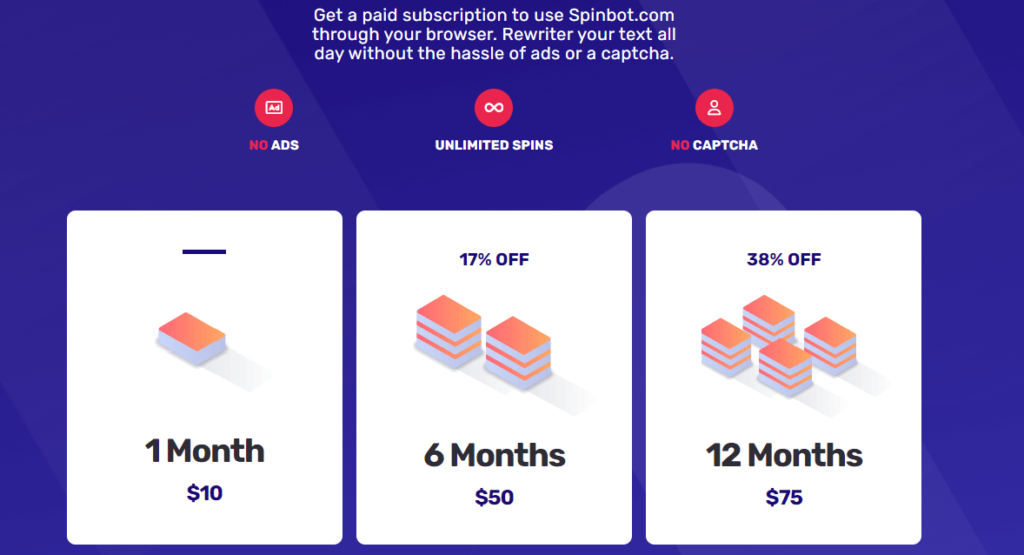 Monthly membership at $10 
Half-yearly membership at $50 (for 6 months)
Yearly membership at $75 (for 12 months)
Who should use and how to use Spinbot: 
Spinbot being a free automated article writing tool is suitable for use by bloggers, professionals, educators, students, etc. who want to write bulk content. 
To work on Spinbot, you just need to type the content or copy/paste the text into the editor. Then swipe the Recaptcha to the correct place after clicking the 'go' button. The rewritten work will be ready to use.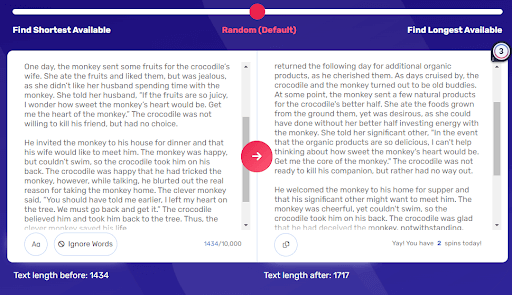 Spinbot customer feedback:


Releted Readings:

Best Spinbot Alternatives & Similar Site To Overcome Plagiarism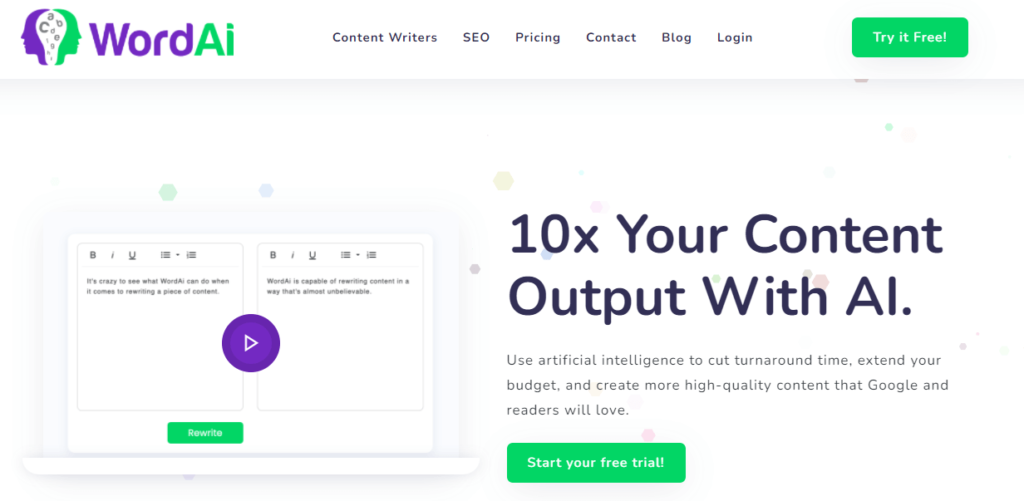 WordAI, established by Alex Cardinell in 2011, is another paraphrasing tool like Quillbot to facilitate the process of paraphrasing.
WordAI is useful in spinning the original text into a refined, and remarkable form, in addition, it adjusts the language and spelling to give you outstanding output.
You simply have to place your text into the input box and, just by hitting the rewrite button, you get spun sentences by WordAI.
However WordAI is not free, but its advanced features like WordAI bulk uploads enable fast rephrasing of many articles in one go.
WordAI Features: 
Rephrase sentences rapidly: In comparison to other paraphrasing software, WordAI most likely is the fastest. It can process hundreds of articles in a few seconds with quality. 
Bulk paraphrasing tool: WordAI can automatically rewrite multiple articles from the uploaded file in one go. Along with this, it can generate up to 1000 variations of an article at a time. 
SEO-friendly content: WordAI can be set to retain keywords, titles, phrases, URLs, quotes, etc. from the original text for SEO-based content generation. 
Customized Synonyms: WordAI allows you to set a preference of synonyms of particularly desired words. It remembers them and rewrites the content accordingly. 
API integration: WordAI supports API integration and is capable of being used with other SEO tools like Kontent Machine, Ubot Studio, Article Forge, etc. 
CopyScape Integration: WordAI creates unique content with the integration of CopyScape.
Pros and Cons WordAI: 
Pros: 
User-friendly, easy-to-use paraphrasing tool. 

This web-based tool can be used on a variety of devices.

Human-like readable content gives authenticity to the text.
Cons: 
Requires little manual editing in the rewritten content.

No free plans for the user to use the software freely.
Related Readings: Best WordAI Alternatives & Competitors For 2022 (Free & Paid)
Pricing Plans: 
We can not say that WordAI is the cheapest rewriter tool available. however, Its high pricing is supported by the remarkable user experience, fast processing, and good quality automated article writing. 
WordAI offers two pricing plans, one is on monthly basis and the other one is a yearly plan. Both the plans offer the same features, only the duration of the plan varies. 
Enterprise plan offers extensive features like high volume usage, multiple user accounts, supreme quality, etc. 
The price of this plan is to be discussed with WordAI directly. A 3-day free trial is followed by a 30-day money-back guarantee which is good for testing the paraphrasing software beforehand.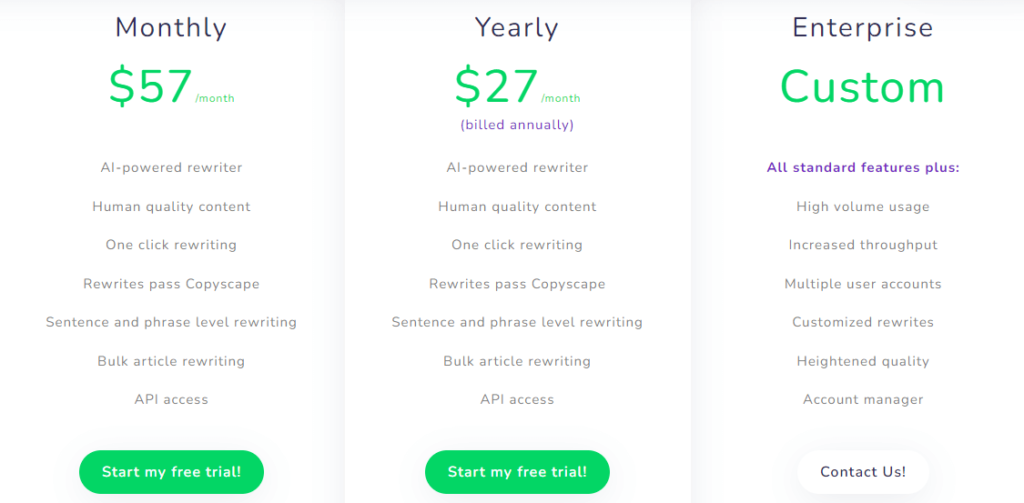 The monthly plan

is billed on monthly basis: $57/month 

The annual plan

is billed yearly: $27/month ($324 in total)

Enterprise plan: Contact WordAI
Who should use and how to use WordAI: 
Bloggers with several blogs or niche websites. Marketers, professionals, etc can get benefit from WordAI. 
When using you will get to choose from three spinning options: More Conservative, Regular, and More Adventurous. 
To use, you need to enter the original text into the spinner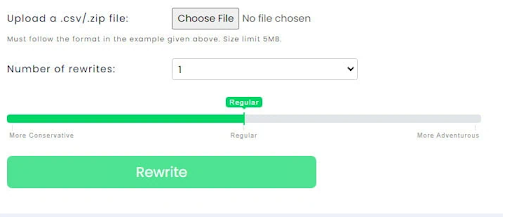 The uniqueness score for the More Conservative comes out to be 81%, Regular: 92%  and More Adventurous is 88 %. For a single article, there are up to 1000 unique rewrites available. Previous work is available in Saved Articles


WordAI customer feedback: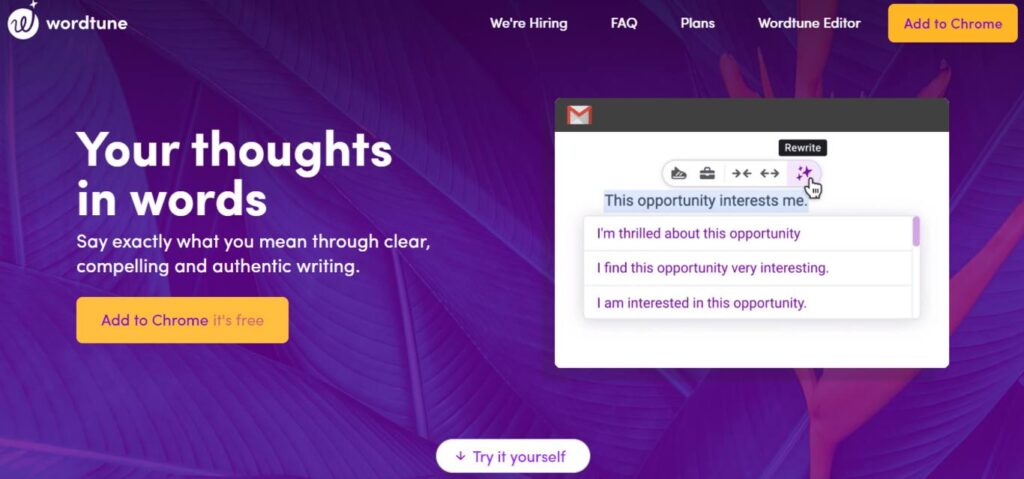 Wordtune is surely one of the latest websites similar to QuillBot with great artificial intelligence, a natural language model, and a chrome extension. It was developed by the AI21 Labs team and launched in 2018.
Wordtune not only spins content but can also shorten, expand and change the tone of the content into casual or formal. The inbuilt grammar checker or change check tool is great for fixing spelling errors.
The best part of Wordtune is that new updates of the software regularly, provide a refined and better user interface every time.
Wordtune has a forever free plan that offers to rewrite the original text up to 20 times a day. With different writing styles offered in paid plans, the content can be rewritten and translated into 10 different languages. It also allows manual rewriting with the write-as-you-go solution.
Features of Wordtune: 
Rewriting styles:

Wordtune offers five different rewriting styles. These are original, formal, casual, shortened, and extended. The free plan offers only the original text style for the users.
Manual Rewriting:

Wordtune divides big chunks of text into sentences and rephrases sentences automatically into different variations. It also can highlight keywords, and phrases with suggestive synonyms.

 
Translation Languages:

Wordtune is accessible in English only. The text from 10 different languages can be rewritten and translated into English. These languages are French, German, Russian, Spanish, Portuguese, Hindi, Chinese (Mandarin), Arabic, Hebrew, and English.

 
Chrome Extension:

Wordtune offers extensions usable with various applications like Google Docs, Gmail, Facebook, Slack Web, LinkedIn, WhatsApp Web, Twitter, and Outlook Web.
Grammar Checker:

The in-built grammar checker and change check tool improves the overall writing tone and word choice.
Pros and Cons of Wordtune: 
Pros: 
Different writing styles to express the sentiment of the content.

This tool can also be integrated with social networks for easy sharing

.

Works well in business communication.

Different native languages can be converted into English while paraphrasing the content.

Chrome extension available.
Cons: 
The free plan has limited features.
Pricing Plans
Wordtune offers a free plan however the only drawback is that the features offered in the free plan are limited and do not serve the purpose of the software to the fullest. 
To get unrestricted access to all the features, you need to get the premium plan which is available on a monthly as well as on yearly basis. These plans offer a 7-day risk-free trial for its new users. 
Also, non-profit organizations, educators, and students get a 40% discount on both of its paid plans.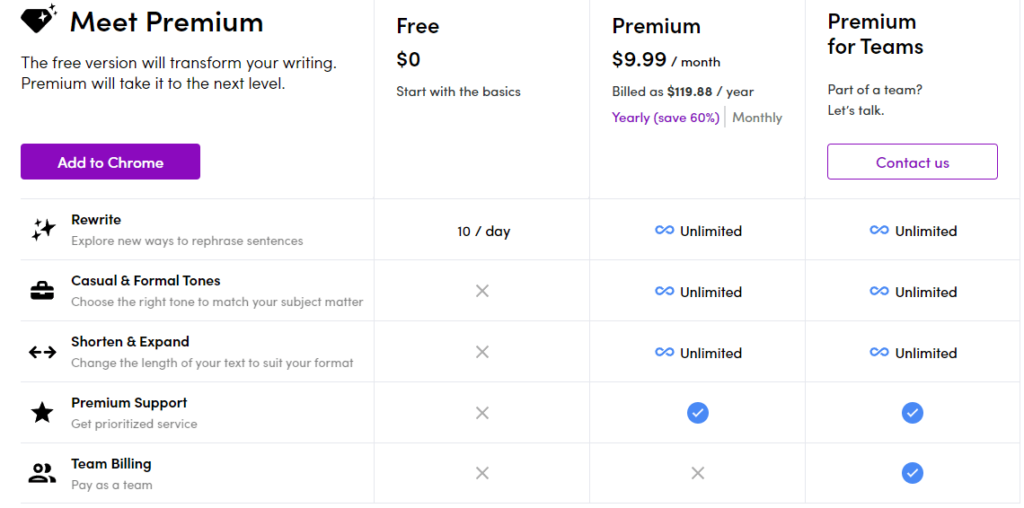 Free Plan:

10 rephrase sentences per day.

Premium Plan: Monthly:

$24.99/month /

Annual:

$119.88/year 

The premium for Teams:

Team with multiple members with customed pricing.
Who should use and How to use Wordtune: 
Unlike other apps like Quillbot, Wordtune is available for free and at discounted prices, so students, educators, and bloggers who intend to rewrite small amounts of text rather than big articles. 
To rewrite any text, you need to paste the text into the space and choose the desired option to rewrite, casual, formal, short or extend to get unique spun content. These options are available in Premium plans.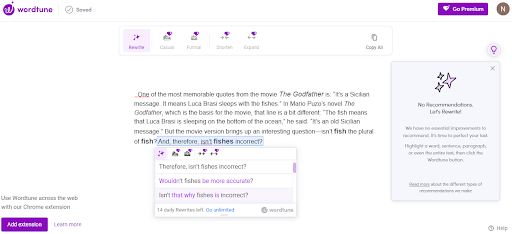 Wordtune customer feedback:







Chimp Rewriter is a downloadable paraphrasing tool, founded in 2010, it can rephrase sentences in bulk with an easy-to-use interface.
It is powered by artificial intelligence (AI) and natural language processing (NLP) and offers limitless article writing capabilities.
As compared to Quillbot, Chimp Rewriter is a desktop-based paraphrasing software. It is much more advanced in its field and some features can be complex to use in the beginning.
Features of Chimp Rewriter: 
Multilingual Rewriting:

Chimp Rewriter can work with 14 languages. These languages are French, Italian, Portuguese, Swedish, Spanish, Norwegian, Slovene, Netherlands, German, Danish, and English.

 
Transforming Article:

Chimp Rewriter allows you to insert images and videos from the database to make your content look rich and valuable.

 
Grammar checker and change check tool:

Chimp Rewriter has a grammar checker to check and eradicate spelling errors in thousands of versions of uniquely spun content with the help of Copyscape integration.

 
API Integration: Chimp Rewriter offers extensive API integration that enables this content generator software to connect with nearly all 3rd party SEO and article writer tools like GSA Search Engine Ranker, Ultimate Ghost, WP Robot, etc.
SEO-friendly content:

Chimp Rewriter is capable of analyzing keyword density and adding LSI keywords, to make the content useful for SEO purposes. It also can be set to save particular words and/or phrases from the original text from getting rewritten.
Multi-Spintax formats:

Chimp Rewriter uses different styles to rewrite and generate unique and human-like content. Its blog submitter enables the distribution of posts to a number of websites in just a single click.
Pros and Cons of ChimpRewriter: 
Pros: 
Integrated 3rd-party applications. 

Paraphrased content is top-notch.

Dictionary customization and paragraph builders.
Cons: 
The interface of the tool is not as compatible as others.

Requires practice to learn the working of the software. 

No free plan.
Pricing Plans for Chimp Rewriter: 
Chimp Rewriter offers a 14-day free trial plan which is a fair amount of time to learn the working of the software before really investing. 
After completion of the free trial, you have two plans to choose from, along with a 60-day money-back guarantee. The monthly and yearly plans both offer the same features and software updates, lining it up as an affordable tool.  
In addition, you get bonuses for free. With one plan you are allowed to install and use Chimp Rewriter software on 2 computers.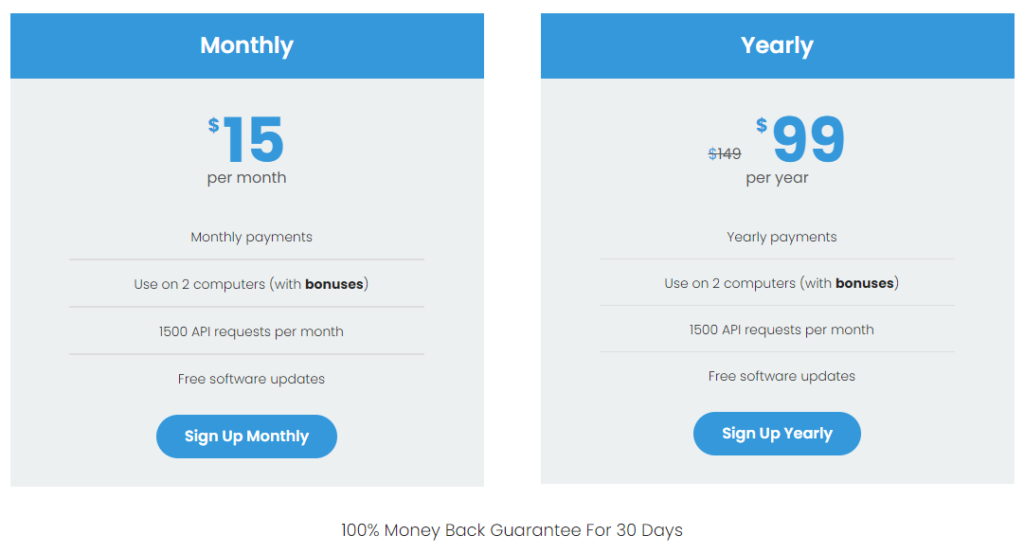 Monthly Plan

of $15/month.

Yearly Plan of $99/year.
Who should use and How to use Chimp Rewriter: 
Chimp Rewriter is good to be used by marketers, SEO professionals, authors, bloggers, and also students.  
To use this software, you need to download and install it on your computer. On opening it for the first time, you will have to give your email address and create a password for yourself. Then you are good to go.  
The first window that opens has an area where you need to type or copy/paste your original text and then in the lower box you will get the spin content of the paragraph.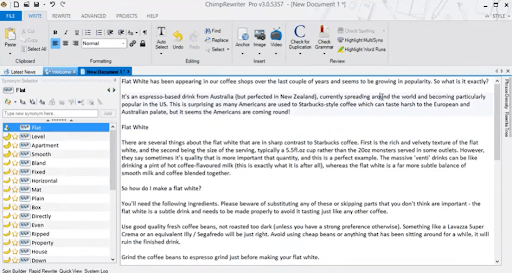 This will enable you to rewrite the text manually by setting various categories.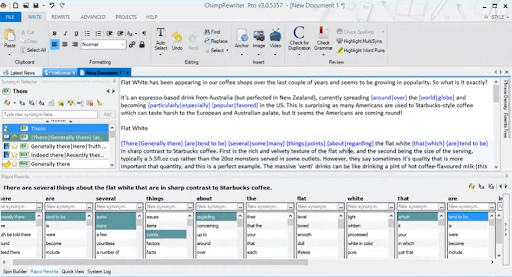 If you want to get auto rewritten content, then go to the rewrite tab and click 'OneClick Rewrite'. Doing so will give you a new version of the text in a few seconds.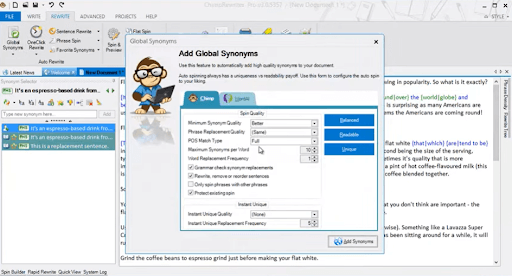 Chimprewriter customer feedback: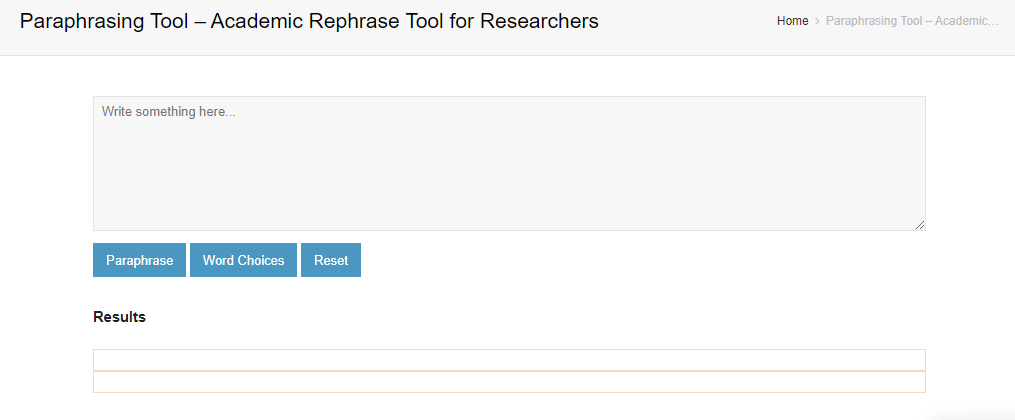 Publishing original content is crucial for building expertise and authority. This gets even more important when your content is used for academic purposes.
This is where the Ref-n-write tool can help you out, it is one of the best paraphrasing tools for academic writing that academic professionals can use for spinning a thesis.
With the help of this tool, you can rewrite your content on an individual sentence level or rephrase the whole paragraph in one go.
The legacy template feature is used to spin the content at sentence level whereas the paragraph-level spinning is done through the manual paraphrasing tool offered by Ref-n-write.
In both cases, the original content is replaced by substitute words that best suit the context of the sentence or paragraph while maintaining the meaning.
Unlike other sites like Quillbot, Ref-n-write also provide research-based tools "academic phrasebank" for supporting students and academic professionals in research. It will also help you in finding new ideas to write about.
For the integration level, you can use it by working on a Word doc by selecting the paragraph or sentence you want to get rewritten. The tool will also detect and clear out grammatical errors mentioned in the content.
Similar to Quillbot, Ref-n-write also offers free content spinning without charging a premium for the tool.
Features of Ref-n-write:
While rewriting the content the tool offers a Word choice feature that gives you alternative synonyms to choose from before rewriting your content. It helps you to pick the best synonyms based on your writing style.
The reset option provides you to restart your rewriting process, by just clicking on the reset button.
 The tool can be directly integrated with your writing tool such as a Word document, for rephrasing the content. All you need to do is select the paragraph or a sentence and the text will get rephrased automatically.
The inbuilt grammatical checker provides corrections for grammatical fixes within your content. It will highlight the suggestions for manual checks before making edits to the content.
Online reviews for Ref-n-write

Ref-n-write is completely free to use and does not offer any premium plans.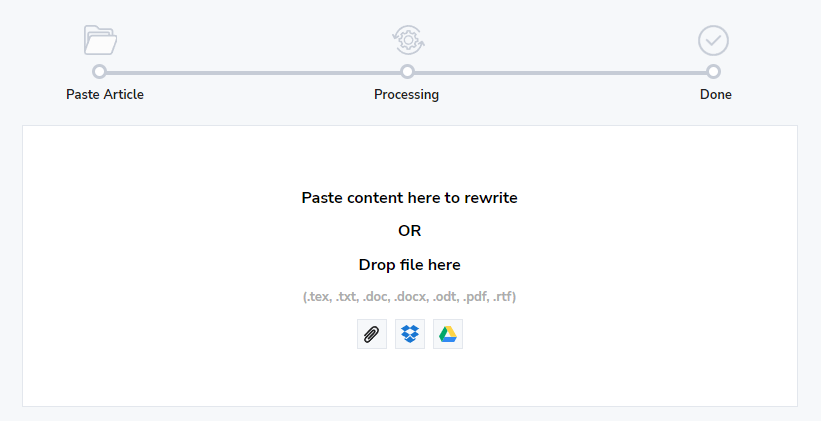 Leading rewriting tool Smallseotool also offer an automatic article rewriter that can create human-readable text. It offers various file uploading options including dropbox and google drive. The tool also support various doc file such as, .tex, .txt, .docx, .pdf, .rtf etc.    
Moreover, with the free version, you can rewrite up to 1000 words per spin while maintaining the meaning of your original text intact. 
With 7 lacks inbuilt synonyms, Smallseotools can completely restructure your sentences, phrases and wording. 
If not happy with your rewriting you can choose the option of rephrasing again with the next set of synonyms. You can use Smallseotools with 9 different languages for easy access.
Features of Smallseotools article rewriter:
You can upload your file in various formats including

.Pdf, Txt, .rft

along with dropbox and google drive.
The rewritten text can easily be checked with a free grammar checker for any content accuracy error.   
The spell checker can also help you monitor the error within the word used in your rephrased content. 
The tool also offers a Plagiarism checker to check the copy score of your content. 
The other add-on tools that can be used include Word counter, file converter, image compressor etc.   
Pricing Plans for Smallseotools article rewriter
Smallseotool works on a freemium model offering paid versions that are categorised under four plans on monthly basis. 
Basics 1:

Basics 2:

Basics 3:

Basics 4: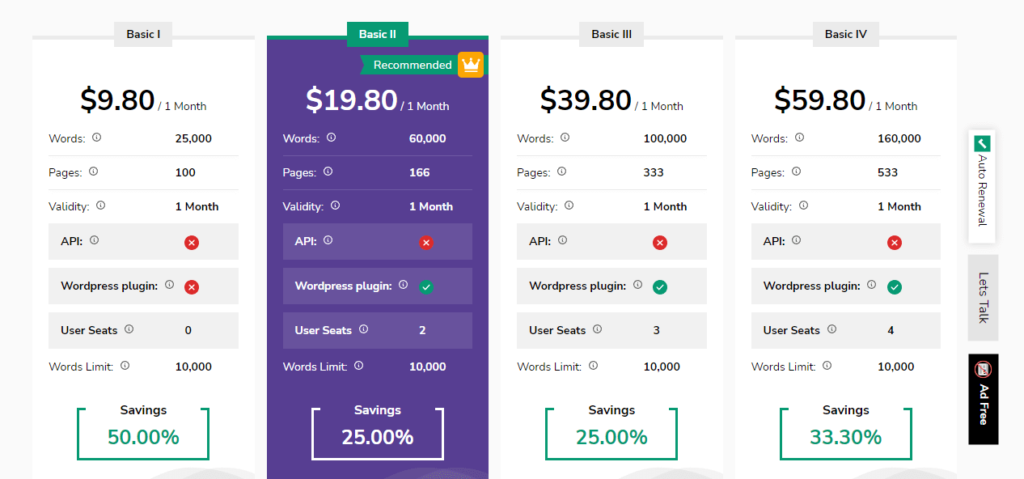 All the plans consist of different pricing and offer different features according to the plan opted.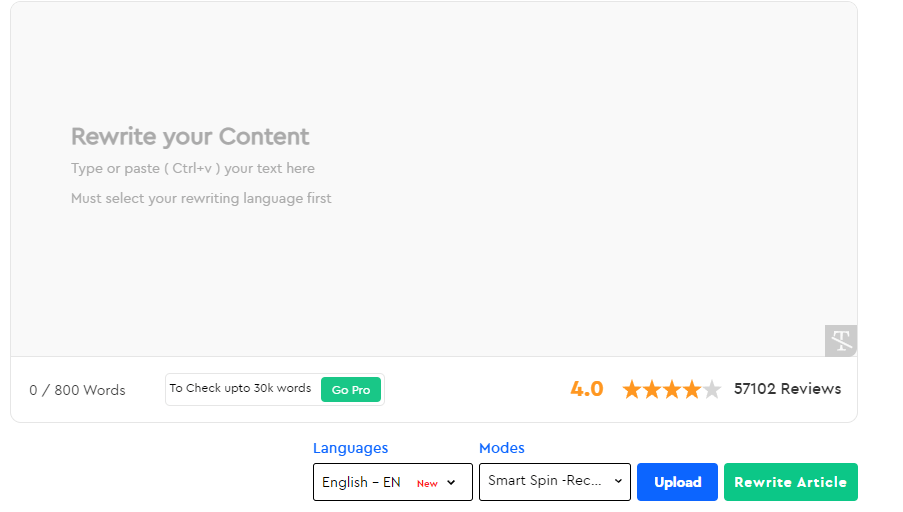 Embedded with advanced tech, Rewrite guru is a free article spinner for generating quality content without any duplication issues. The tool comes with a Freemium pricing model but you can spin up to 800 words at one go within a free mode. 
You also access the tool with 9 different languages and 9 advanced rewriting modes. 
Smart Spin- Within smart spin, the tool will work up on rewriting 70% to 75% of your content with the help of similar synonyms. 

Ultra Spin- This mode can work up on 90% of your content and replace words, and phrases with suitable synonyms.  

Replace Manually- As the name suggests the manual mode will provide you with synonym suggestions but you need to replace the words by selecting the best ones as per your choice. 

AI rewriter: This mode rewrites your content with a human-friendly tone and maintain the contextual meaning intact. 

AI rewriter- Smart Spin: This combines the functionality of Smart Spin with AI rewriter mode.  

AI rewriter- Ultra Spin: This combines the functionality of Ultra Spin with AI rewriter mode. 

AI rewriter- Replace Manually: This combines the functionality of Replace Manually with AI rewriter mode.  
Along with the above, the content also gets a plagiarism check to validate its uniqueness. The tool also offers a grammar checker to check the quality of your rephrased content.
Features of Rewrite Guru:
Rewrite guru offers 7 different modes that can rewrite your content within 7 different styles. 
Plagiarism and Grammer checker can be useful to check the authenticity and accuracy of the content. 
The spell checker will help you check the spelling and punctuation errors.

 
The rewritten words get highlighted with different colours and hovering over them will give you various alternatives option to choose from.
Pricing Plans for Rewrite Guru
Rewrite Guru has two pricing plans Basic and Pro that can be subscribed to under different pricing. 
Free

Monthly 

Quarterly 

Annual 
 The above modes differ in terms of word count, validity and premium features offered.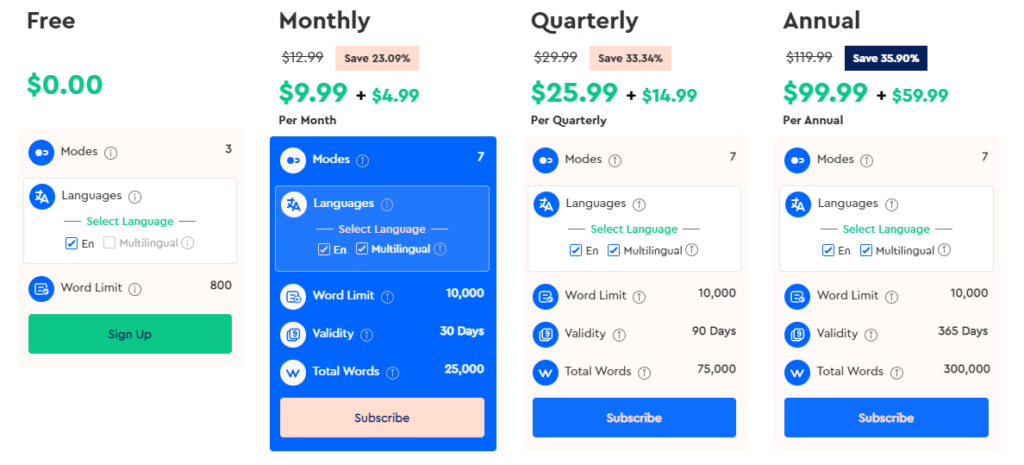 The Best Spinner is another software like Quillbot with one of the fastest paraphrasing mechanisms for creating quality rewritten content. The tool can rephrase the original content without changing its contextual meaning. This results in engaging content that is plagiarism free and ready to be used. 
The best spinner comes with four spinner version 
Spinner 1 

Spinner 2

Spinner 3

Spinner 4
All four versions will give you different rewriting results for your original text. You can easily select and change it by using the drop-down option given. All the version of best spinner works on substituting the words and phrases from original content with simple synonyms. 
Therefore the rewritten version of the content can be used for ranking on search engines by optimizing them through SEO. 
The best part about The Best Spinner is it can be used easily without any hesitation. The tool interface is user-friendly with 4000 characters at one go, the rewritten text can be easily copied from the dashboard. 
Features of The Best Spinner:
Best Spin

ner offers 4 exclusive spinners (1,2,3,4) that can generate different rewriting content for the same original text. 
The re

written text can be easily copied by clicking on the

"Copy to clipboard"

button. 
Best Spi

nner can be accessed in three different languages this include, English, Hindi, and Indonesian
The too

l allows easy side-by-side comparison of the original text and the rewritten text. This can help in evaluating the quality of the rephrased content.
Pricing for Best Spinner:
The Best Spinner doesn't have any free trial but offers very reasonable pricing plans with 30-day money returning policy. All the plan has somewhat similar features to offer, only the limit to using audio conversion and translation tools varies.
Basic Plan: $67 per year.

Standard Plan: $127 per year.

PRO Plan: $247 per year.

Plagiarism Detector Paraphrasing tool is a web-based rewriting tool that creates high-quality unique content. The advanced spinning algorithm understands the content on the sentence level and rewrites it by using hand-picked synonyms. 
The tool continuously works on its algorithms in relation to natural language processing to keep the rewritten content as human-friendly as possible. 
The algorithms work on creating completely unique content by providing multiple variations of rephrased sentences. You can even input your own synonym according to your need. 
This gives you the opportunity to choose the best-rewritten text that matches the style of your writing. You can rewrite a minimum of 50 words and a maximum of 2000 words under free mode. 
In addition to this for checking the duplicity of the content, you can use the free plagiarism checker offered by the tool.  
Features of Plagiarism Detector paraphrasing tool:
The plagiarism detector paraphrasing tool can be accessed in 13 languages, this also includes Portuguese, Italiano, Malay, Hindi etc. 
For removing duplicate content, the tool also offers a Plagiarism checker, that can check up to 1000 words in the free version and 25000 words in the paid version. You can also upload your URL to check the copy score of the content. 
The tool recently came up with a new feature called Reverse Image search, which lets you find similar images and their sources on the web. 
Drak and Night mode keeps your workflow smooth and gives you flexibility in rewriting your content. 
The rewritten content can be cross-checked through the free Grammer checker, ensuring grammatically corrected content without any errors. 
Pricing plan for Plagiarism Detector paraphrasing tool: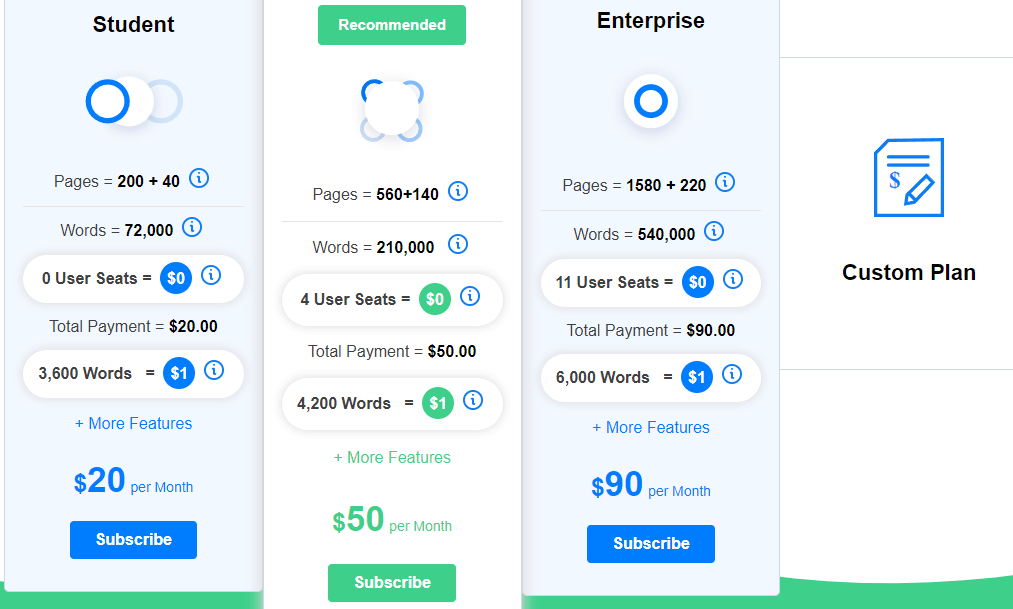 The plagiarism Detector paraphrasing tool offers a customizable pricing plan apart from the three plans offered. The custom pricing is based on the number of words selected for rewriting. The customized words start from 30000 and can go up to 540000.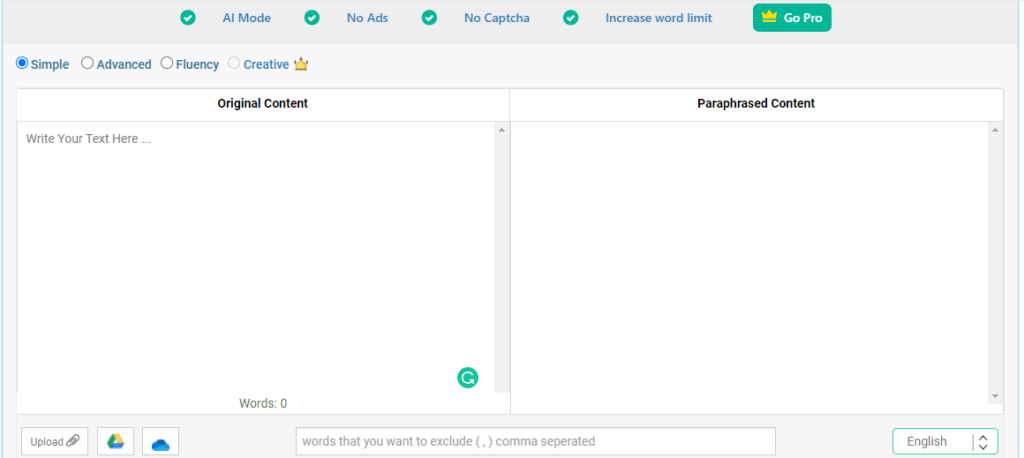 It is one of the fastest paraphrasing tools for producing plagiarism-free rewritten content. This website like Quillbot understands the original content from sentence to word level and spins it by adding the best synonyms. 
Prepostseo is built around state-of-the-art technology that helps in keeping the rewritten text just like humans written by keeping the meaning intact. 
The tool offers four types of spinning modes that include: 
Simple

: The simple mode rewords your content by adding synonyms within your original text. You can spin unlimited text in simple mode. 

Advance

: Through the advanced mode you can add your own words to rephrase your content. It will also feature the substitute option generated by the tool side by side. 

Fluency

: The fluency mode will rephrase your content yet check the grammatical error, within your content. You can paraphrase up to 5000 characters within fluency mode. 

Creative

: The creative mode enhances the quality of your content, and generates unique plagiarism-free content, with up to 5000 characters count. 
Along with the rewriting modes, you can use the tool in 19 languages with easy upload file functionality. Moreover, if you want some words to be remained unchanged then you can use the comma-separated feature. 
Features of Prepostseo Paraphrasing Tool:
The AI mode can create SEO-friendly rewritten content by keeping a check for keyword density. This type of content can help you rank for organic search on search engines. 
The tool offers a file upload feature instead of copy-pasting the original text into the rewriting box. You can also upload your file directly from your google drive. 
Exclude word feature will retain the words from your original content before spinning your text. You can trigger this command by giving a comma-separated instruction for the words you want to retain. 
Prepostseo supports 17 languages apart from English which includes Spanish, German, Dutch, Russian, Japanese etc. 
You can also validate your rewritten content with a plagiarism checker that you can use for Free. Just upload your file and the tool will scan the content for duplicity. With the premium version, you check up to 1500 words 
The free grammar checker will enhance the quality of your write-up by eliminating grammatical and punctuation errors from the rewritten text. 
Pricing Plan for Prepostseo Paraphrasing Tool

There are three plans offered under paid subscription which includes:
Company: $45/ month

Standard: $20/ month

Basic: $10/ month
Subscribing to the paid plans will also remove ads and Captcha from the rewriting dashboard which will further enhance your rewriting experience.


As the name suggests Paraphraser article rewriter is a tool that can be used for creating blogs, essays, social media copy etc. 
The tool is capable of analyzing your original content before rewording it. This helps in generating high-quality content that is plagiarism free and fresh to use. 
The rewording of the text is done by substituting the phrase and replacing them with simpler synonyms.  For better integration, the tool also offers API support to better streamline your rewriting process. 
In addition to this Paraphraser article rewriter also offer free grammar checker and plagiarism checker. Both additions help in creating accurate and unique content that can be used for web writing as well. 
You can access the tool in two languages that include English and Espanol with easy upload doc files.  
Features of Paraphraser Article rewriter:
Grammar checker 

Plagiarism checker

Text Summarizer 

Citation generator 

Support multiple languages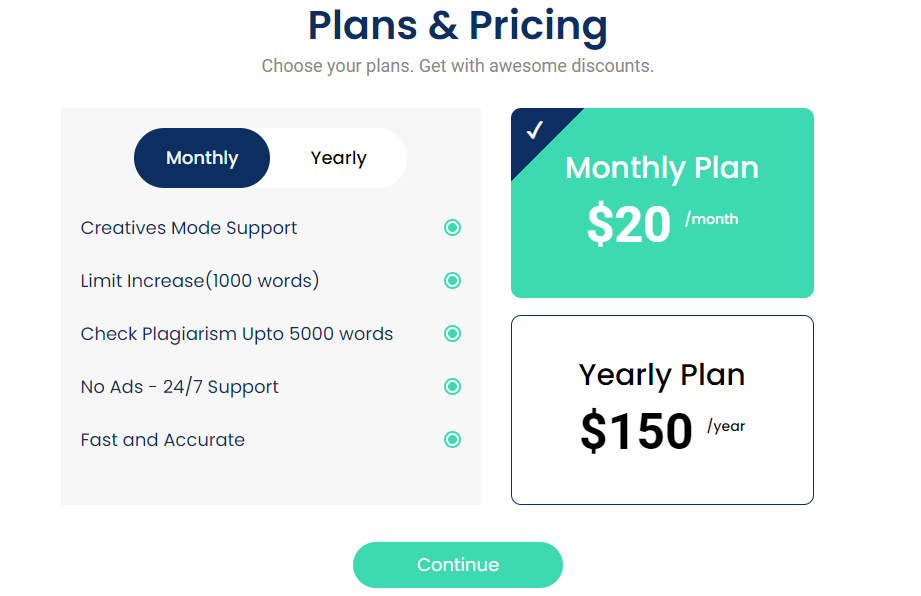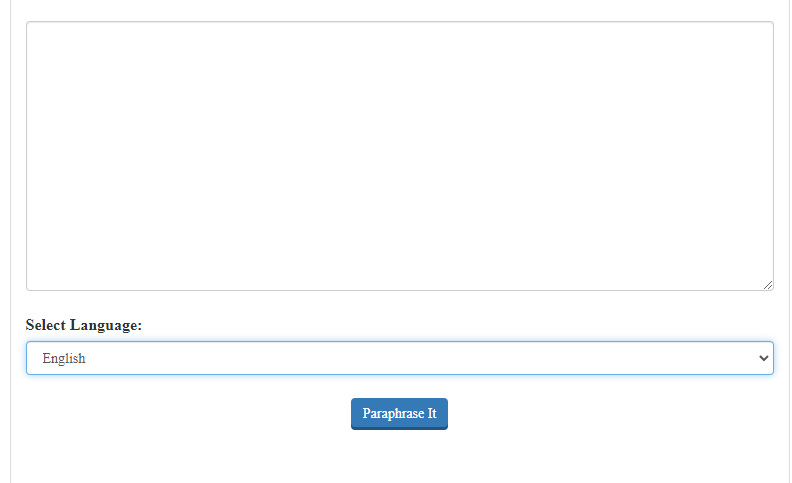 Seomagnifier Paraphrasing Tool is a multilingual paraphrasing tool supporting 9 languages. You can easily rewrite articles, essays and informative content and give them a fresh perspective. 
The tool can understand the contextual meaning of your original write-up and rephrase the sentences accordingly. The process of rephrasing is made through substituting the content with suitable synonyms. 
You can get multiple suggestions for selecting the synonyms and can also suggest ones from your end. This process helps you to get the best spinning outcome. 
Paraphrasing article with Seomagnifier tool is quite user-friendly. All you need to do is copy and paste your content within the rewriting dashboard, select the language and hit the rephrased button. 
Within a few seconds, you will have plagiarism-free rewritten content that you can also download in the form of a file. In addition to this, the tool also offers free plagiarism checker through which you can validate your spin text for checking duplicity. 
Features of Seomagnifier:
The tool support 7 multiple languages for functioning. 

Provides manual word-adding functionality. 

Provides Grammer checker. 

Plagiarism checker 

Keyword rank checker 

Backlink checker.

Rewrite articles can be downloaded directly, into TXT format.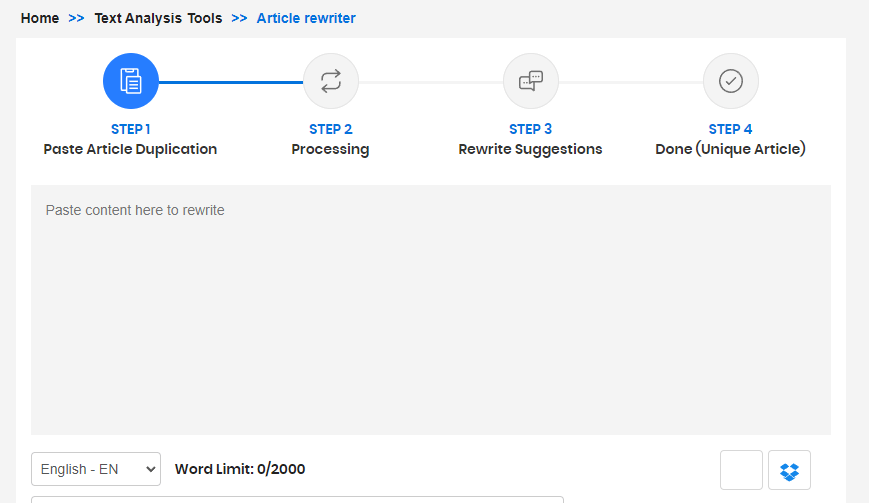 If you are looking for a free Quillbot alternative then searchenginereport article rewriter can be an effective option for you. It can be used in 16 languages with a file upload feature that eliminates manual copy-pasting of content. 
The tool can understand the contextual relationship between words and sentences. Which helps it to spin the content and creates quality rephrased output. 
To rephrase the content  Seachenginereport article spinner replaces the original text with simpler synonyms and creates a better version of your original copy. 
The interface of the tool is very user-friendly and lets you rewrite up to 2000 words per spin. You can also use exclude words functionality through which you can retain words from being rewritten. 
For better text accuracy you can check the grammar of your rewritten text with the help of a free grammar checker. Through this, you can enhance the quality of your write-up.
 In addition, there are other free tools content writing tools offered by Searchenginereport which include, Plagiarism checker, Spell-checker, word counter etc. 
Features of Searchenginereport article rewriter:
Plagiarism checker.

Multiple reword options. 

Reverse image search.

Exclude contextually related words from rewriting. 

Support four multiple languages.

File upload option. 

Grammar checker.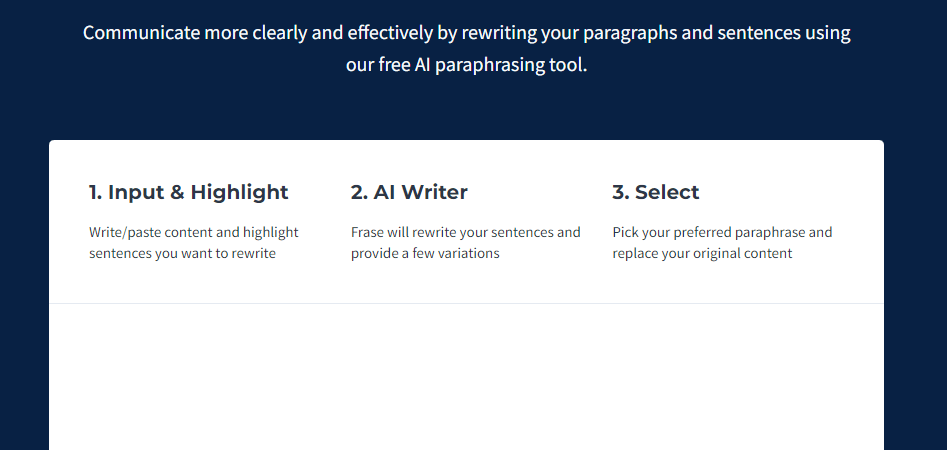 Frase.io also offers a free AI paraphrasing tool that can take your rewriting process to next level. 
Through advanced Artificial Intelligence Frase can restructure your paragraphs and sentences for better clarity.  
It is to be noted that Frase is an AI copywriting tool that can create new content (also known as AI content) for your website, social media, and blogging.
 All you need to do is input some keywords and subjects that describe your content need. And within the snap of a time, you will have original AI content that is completely unique and does not require any rewriting. 
Moreover Paraphrasing your existing content with Frase is also very user-friendly: 
For starting the process first you need to copy and paste the content within the rephrased box. 

The AI algorithm will automatically give you rephrased sentences option to choose from.

In order to get a more formal tone within your rewritten text, you can switch over to the formal option given.  
The tool can also help you rephrase sentences separately from the long form of text. This gives you the opportunity to structure your writing according to your needs and style of writing. 
Features of Frase.io paraphrasing tool:
Offers a formal mode feature that lets you set a professional tone for your rewritten text. 

The

Next Spin

feature rephrases the content uniquely, it can represent the same original content in shortened and broad forms. 

You can easily copy the rewritten content by clicking on the copy-to-clipboard icon. 
Frase.io article rewriter is completely free to use and does not offer any premium plans.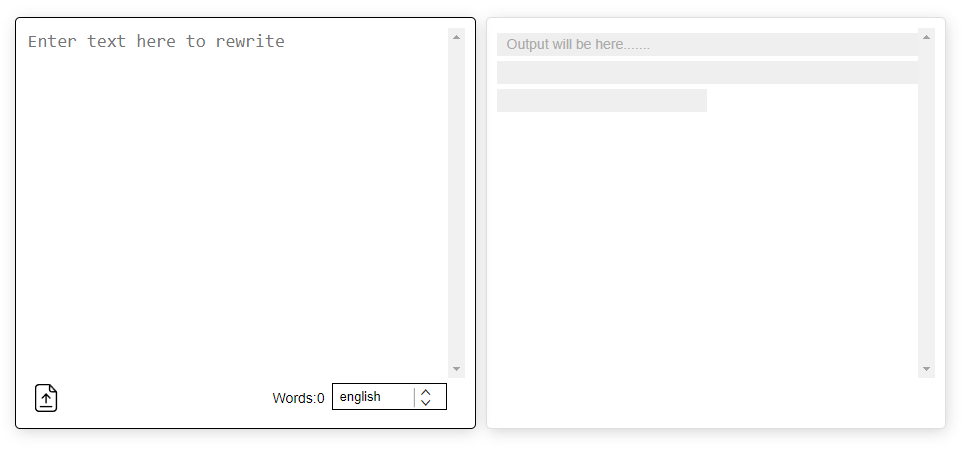 Editpad is another free website like Quillbot that can rewrite your content and make it unique and plagiarism free. 
For spinning your article the tool first scans your entire write-up and makes structural changes within your sentences by replacing the words with simpler synonyms. 
The algorithm used in this process by Editpad is called a sentence changer which is capable of suggesting accurate synonyms and maintaining the contextual meaning same. 
Moreover, the rewritten text is highlighted within the editor's panel and can edit up to 1000 words. You can also operate the tool in 9 different languages with easy to upload file feature. 
In addition to this Editpad also offer a plagiarism checker through which you can check the copy score of your rewritten text to avoid duplicacy.  
Features of Editpad article rewriter:
Compare to other sites similar to Quillbot this

tool can be accessed in 9 multiple languages.

Direct file upload feature to eliminate direct copy-pasting. 

Offer free plagiarism checker, to validate the copy score of rewritten text. 

The grammar checker offers corrections for making the content accurate and error-free. 

Offer a wide range of other free tools including a text summarizer, Text generator, Readability checker etc. 
Editpad is completely free to use and does not offer any premium plans.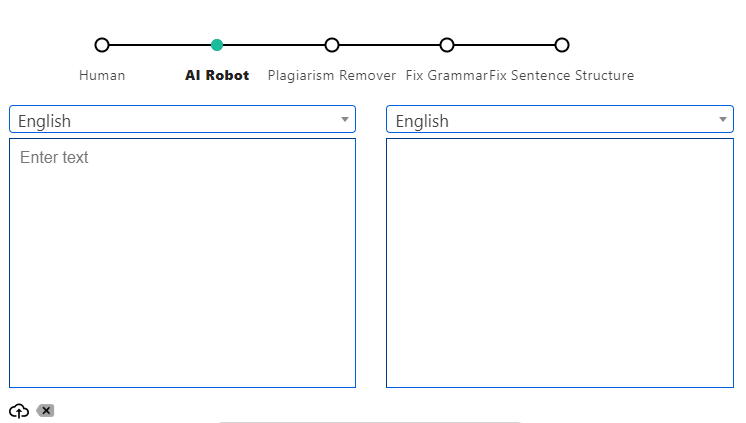 AIarticleSpinner is a free Quillbot competitor that can rewrite your content in just two simple steps. Upload the file of your content copy within the rewriting dashboard, and hit the paraphrase button.  You will have a rewritten text in no time that you can use for your web presence. 
Moreover, as compared to any other tool similar to Quillbot, AIarticleSpinner can be used in 21 multiple languages. This also includes Portuguese (Brazil), Russian, Spanish, Tagalog, Tamil, Turkish, Vietnam etc. 
The tool also supports translate and rewrite functionality through which you can translate any other native languages and spin the content simultaneously.  
In addition, you can also use Plagiarism remover, Grammar checker and Sentence structure. For enhancing the quality of your write-up. 
Features of AIArticleSpinner.co:
Offers translate and rephrased features simultaneously. 

A direct Doc upload feature.

Multilingual tools support more than 15 languages, including Hindi, Russian, Spanish etc. 

Inbuilt plagiarism and grammar checker to enhance the quality of your rewritten content. 

Offer additional tools such as Text summarizer, Reassy rewriter etc.   
AIArticleSpinner.co is completely free to use and does not offer any premium plans.

With easy to use interface Seowagon article writer is your go-to option for rewriting content for your blogs, website and social media presence. 
It offers a side-by-side comparison with your original text and rewritten text for better clarity. The tool consists of more than 500000 synonyms which can easily substitute words and phrases from your original text. 
For better output, you get options to choose from multiple suggestions for rewriting the same words so that you can select the best version that matches your content style. 
The free plagiarism checker will also let you check the rewritten text so that you don't use duplicate content which results in plagiarism. 
Features of Seowagon Article rewriter:
Offer easy copy-pasting feature for rewriting text. 

The download option gives you easy access to restore the rewritten file. 

The grammar checker is available for maintaining the accuracy of rewritten text. 

Offers free plagiarism checker for validating the copy score. 

Seowagon also offers many additional tools such as a Word Counter, backlink checker, keyword position checker, etc.
Seowagon Article rewriter is completely free to use and does not offer any premium plans. 
Which Quillbot alternative should you go with? 
After going through all the Quillbot-like sites, you might be in confusion about the best pick.
So here is what we would suggest:
if you are a complete beginner then Spin Rewriter can be a better choice for you. It is in business for more than 11 years and has both article rewriting and paraphrasing features to offer.  
The only disadvantage of Spin Rewriter is that it is not free. So, if you prefer a free QuillBot alternative with no character limitations, I would suggest Spinbot. The quality of the spun articles may not be the best. 
 But nearly all AI copywriting tools are not up to the mark and you need manual editing. 
Both of the recommended tools are best for creating readable content as well as they come in economical pricing plans.
Frequently Ask Questions
Q1. Can I use QuillBot for free?
Ans. Yes, Quillbot can be used for free. The tool offers a free plan through which you can rephrase up to 125 words at a time. Standard and Fluency are the two-mode accessible in the free version. For extending the work limit you need to upgrade your plan which starts at $9 per month.
Q2. Can Turnitin detect QuillBot?
Ans. Turnitin cannot detect Quillbot. This is because Quillbot rephrases the content by using synonyms and alternative text rather than plagiarizing the content. That is why the Turnitin algorithm can not detect paraphrasing content that is spun by tools capable of changing the wording of the original text.
Q3. Which is better QuillBot or Spinbot?
Ans. Based on the comparison test we conducted, Quillbot is better the Spinbot, in terms of functionality, accuracy in spun content, and readability of text. We also checked the copy score after paraphrasing a small paragraph on Grammarly. We found that text rephrased from Quillbot came out with no copy score as compared to text rephrased from Spinbot.
Related Readings: Spinbot Vs Quillbot: The Best Paraphrasing Tool (A Direct Comparison)
Q4. Is Quillbot good for paraphrasing?
Ans. Quillbot is one of the best tools for paraphrasing with advanced functionality and multiple modes. Quillbot article rewriter can rewrite text, sentences, and paragraphs without plagiarizing the original text using state-of-the-art AI. The tool's user-friendly interface and useful chrome/doc extension make it easier for rewriting content, especially for college and university students & professionals.
Q5. Is Grammarly better than Quillbot?
Ans. Grammarly is a superior tool when it comes to proofreading the content by checking grammatical errors and sentence structure. Unlike Quillbot which is an article rewriter software more focused on rewriting content by using alternative text and synonyms. Both the tools offer a free version for exploring the tool but Grammarly is more advance in terms of improving your copywriting.
Q6. Free Quillbot alternatives?
Ans. Below is the list of free Quillbot alternatives 
Parapheasre.io- With up to 500 words in addition to fluency and standard rephrase mode in a free plan. 
Smallseotool- This tool offers 2000 words to be rephrased for free with copy-paste or drag option. 
Prepostseo- You can use Prepostseo without word count limitation for free with 3 paraphrasing modes.
Seo magnifier- It completely free paraphrasing tool with the option to rephrase text into 7 different languages. 
Rephraseinfo- With a 500-word count limit and 13 transition language options it is one of the most powerful AI-based sentence rephraser. 
Duplichecker-Along with rewriting the article this tool also offers a grammar checker and image-to-text option. 
Editpad- With no limit to word count, you can also check the plagiarism score of the content.
Q7. Best Free Paraphrasing Tool?
Ans. Free paraphrasing tools online for 2022 include:
Standuoteassy

Rewriteguru

Ivypanda

Frase.io 

Softwaretestinghelp 

papersowl
Q8. Can Quillbot be detected?
Ans. Quillbot can not be detected as it simply spins the content and makes a new copy of the original version that is completely plagiarism-free.
Q9. Is using Quillbot cheating?
Ans. Using Quillbot for paraphrasing content is not cheating. This is because the tool does not copy the text from the web.