Are you struggling to come up with effective ways to generate content ideas for your blog or website?
Well, not anymore, because In this blog post, we're going to introduce you to the 17 best content idea generator tools that will help you break out of that writer's block and spark your creativity.
Whether you're a seasoned blogger or just starting out, these tools for content ideas are sure to provide you with plenty of ideas that you can use to create engaging and informative content. So, let's dive in and explore these amazing tools!
What is a content idea generator?
A content idea generator is a powerful tool that enables you to generate fresh content ideas related to your given keywords and subject. All you need to do is enter the subject on which you want to create content, and the tool will generate different content titles and angles from which you can start writing.
To give you the best results, these content strategy generator tools scour the web for trending topics across various platforms such as Google, YouTube, social media, and other online data sources.
With these content topics at your disposal, you can easily create new and engaging content that resonates with your target audience, helping you establish thought leadership, drive traffic and grow your business.
What is a content idea?
Content ideation is a crucial process for businesses that want to communicate with their target audience through content marketing. By searching, brainstorming, and identifying relevant topics, organizations can develop effective communication strategies that cater to their consumers' pain points.
To come up with content ideas, businesses can analyze their competitors, use content idea tools, examine consumer behavior and social signals, conduct team brainstorming sessions, and keep an eye on market trends.
It's also essential to keep the target audience and their position in the marketing funnel in mind throughout the content ideation process.
With the increasing cost of producing content, it's more important than ever to ensure that the topics generated through the content ideation process are relevant and engaging to the target audience. 
17 Best Content Idea Generator Tools
Hubspot blog topic generator

Alsoasked.com

 Buzsumo question analyzer

Semrush topic research tool

Quora & Reddit

QuestionDB

JCsocial media

Mrss.com

Boostlikes

Storylab

Klock.work

Social Studio

Wondershare Filmora

Rytr

Weshare.net

Capitalizemytitle

Tubeast.com

Vidiq.com (Daily Ideas)
Content idea generator for websites
1. Hubspot blog topic generator: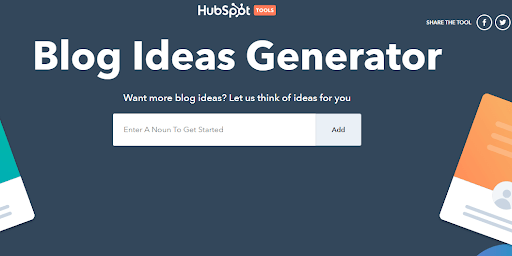 Generating new ideas for your next article has never been easier with HubSpot's blog idea generator. Simply enter a few keywords related to your niche, and the tool will generate a range of blog topics for you to write about. 
For example, if you are planning to write an article on Etsy, type in 'selling on Etsy', and the tool will generate relevant topic ideas such as 'an ultimate guide to selling on Etsy', 'how to sell on etsy', or 'what are the benefits of selling on Etsy', and more.
These topics not only benefit your business's content marketing strategy but also engage your target audience. The tool allows you to include up to five keywords/terms related to your niche or the product and service you sell. It will then generate five topics for you to write on. 
If you're not satisfied with the results, you can click the "try again" button to get new ideas. With this blog topic idea generator, there's no limit to the number of topics you can generate. You can easily set your content calendar for the whole week.
2. Alsoasked.com: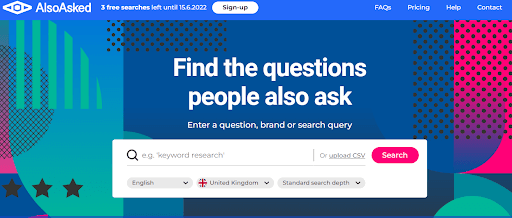 Have you ever stumbled upon the 'People also ask' box on Google's SERP page while searching for something? Well, Alsoasked functions similarly, but with an added advantage – it provides real-time questions related to the keywords you have typed in.
Now, you may be wondering, how can this tool assist you in discovering new content ideas.
Simply put, it fetches all the related questions that your audience is searching for. And you can use this information to create articles for your website that are in demand.

The best part is that Alsoasked goes beyond just providing real-time questions based on your location. It also matches the intent of the query you have typed in, making your research even more precise. Moreover, this functionality can also help you generate website content ideas if your site is targeting a specific country. 
Getting started is easy – enter your keyword, select your location, and hit the search button. A tree diagram will then be generated, displaying all the questions and sub-questions you can create content on. With this tool, you'll never run out of fresh content ideas.
3.  Buzsumo question analyzer:

If you're looking for a content marketing idea generator that can help you create engaging content for your target audience, then Buzzsumo is a fantastic tool to consider.
Buzzsumo works by scraping various forums and eCommerce sites, including Quora, Reddit, Amazon, and more, to find questions and concerns related to the keywords you have entered. This enables you to create content that resonates with your audience and addresses their specific needs.
To get started, simply open the dashboard of the question analyzer and choose one of the three options available: 
By keyword

By domain

By subreddit
The tool will then scrape all the questions related to the keyword you have entered. You can further refine your results by filtering them by date range, type of site, or specific domain.
The sidebar also provides various filtering options to narrow down your search even further, including forums, E-commerce sites, Q&A, Subreddit, and specific geo-regions.
The best part that we discovered while using Buzzsumo is that the questions you discover are highly specific to your target audience, allowing you to create content that is not only engaging but also resourceful and in-depth. 
You can use these questions to augment your existing content or as inspiration for finding content ideas that address your audience's needs.
In short, Buzzsumo is a powerful tool for generating content marketing ideas that can help you stay ahead of the competition and build a loyal following among your target audience.
4. Semrush topic research tool:

Semrush topic research tool is a comprehensive content ideation platform that can help you generate a wide range of content ideas based on your target audience's needs and interests. Simply by entering your keyword, you can access a wealth of information on headlines, questions, and related searches.
The headlines are sorted based on their engagement level for your target audience. Initially, you will get three headlines, but you can expand your results to the top ten headlines for your search query.
Similarly, the questions displayed related to your query can be filtered by using interrogative words such as what, how, why, is, or are, etc. Depending on the query you entered, the number of questions under each filter can vary, but they can still provide you with many ideas for content generation.
If you want to explore more sub-topics related to the seed keyword you entered, you can check out the related searches section. Here, you will find a list of similar topics related to your main keyword to expand your topic research further.
Apart from the keyword idea generator, Semrush also offers personalization options at every stage of your topic research. You can sort through topics based on engagement level, the number of backlinks, popularity, difficulty, search volume, and topic efficiency.
In summary, the Semrush topic research tool is an excellent platform for generating detailed and targeted content ideas that can help you create content that resonates with your target audience and drives engagement.
5. Quora & Reddit:
Quora.com and Reddit are two platforms where you can gain valuable insights into your target audience's interests and needs through user-generated content (UGC). By searching for topics related to your niche, you can access a wealth of questions and concerns that people have about your subject.
Quora, for example, can help you identify the questions your audience wants answers to. You can use these questions as topics to write answers to and generate content that resonates with your audience.
Similarly, Reddit can also be a great source of content ideas. You can search for relevant subreddits (r/reddit) related to your niche, and the platform will show you what users are discussing.
Using Quora and Reddit as a topic generators for blogs can be a goldmine for finding topics that your audience wants to read about. By leveraging UGC, you can create content that addresses your target audience's interests and needs, ultimately driving engagement and traffic to your website.
In summary, Quora and Reddit are powerful tools that can help you generate content ideas by tapping into the interests and concerns of your target audience through UGC. By creating content that addresses your audience's needs, you can establish your authority in your niche and drive traffic to your website
6. QuestionDB:


QuestionDB is a simple yet effective content ideation tool that can help you find semantically related questions to write about. All you need to do is enter the keywords related to your topic, and the tool will generate a list of relevant questions.

The tool also provides insights into the seed keyword search volume as well as the difficulty score. You can use the following insights for filtering the list of questions thus creating an SEO-optimized blog post for your website.
One of the best features of QuestionDB is that it allows you to download the generated questions for further analysis. This can save you a lot of time and effort in creating content that resonates with your audience.
So, If you're struggling to come up with new ideas for your content, QuestionDB is a great keyword question generator to add to your arsenal. It can help you uncover topics that your audience is interested in and generate ideas for blog posts, articles, and other types of content.
Content idea generator for social media
1. JCsocial media: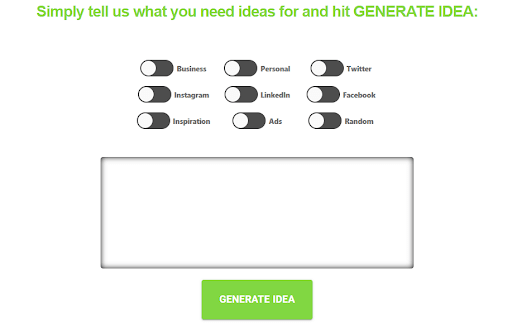 If you're struggling to come up with fresh social media content, try using the JCsocial social media post idea generator. This tool can help you generate content ideas for Facebook, Instagram, Twitter, and LinkedIn, just like we do.
To use the tool, simply select the social media platform you want to create content for and hit the generate button. The tool will present you with various ideas and angles that you can use to engage with your audience on social media. 
Additionally, you can use the inspiration toggle to find unique and fresh ideas for your content approach. The tool also provides content ideas for various use cases, such as business, personal use, and social media ads.
2. Mrss.com

The "Mrss" tool is a straightforward content generator for social media that provides various social media content ideas. All you have to do is click the button "what should I post on social media" and the tool will start presenting you with ideas for your next content.
While you don't have to follow the exact result provided by the tool, it is still a great tool to take inspiration from when you're struggling to come up with content ideas for your social media platforms.
3. Boostlikes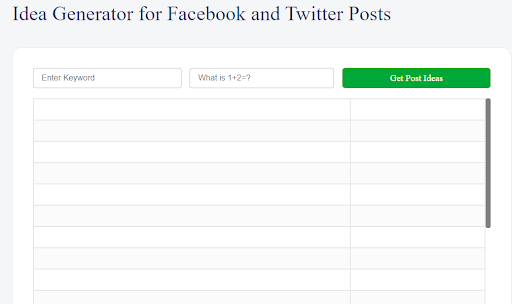 Boostlikes is a platform that is well-known for selling Facebook likes and followers. However, it also has a free social media post idea generator for Facebook and Twitter that can help you generate content ideas.
To use the tool, simply type in your keyword or a related topic, and click on "get post ideas." The tool will then search for trending headlines related to your keyword or topic and present them to you as post ideas.
These headlines can also be used as topics for your next blog post. Plus, the tool is completely free to use.
4. Storylab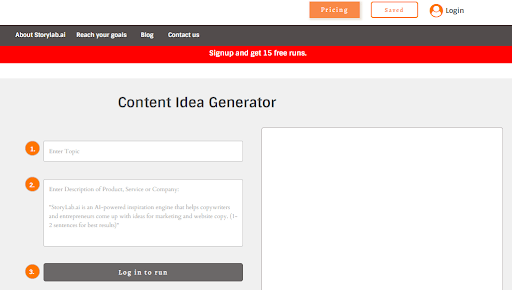 Storylab is an AI-powered content idea generator for your social media content calendar. It helps you come up with inspirational ideas based on your product and service, and you can personalize your results by providing extra information.
To use Storylab, simply enter your seed keyword and a brief description of your product or service. Storylab offers a freemium model, which includes 15 free searches upon logging in.
You can also upgrade to a paid plan, which includes two options: 100 searches for $7/month, or unlimited searches for $27/month.
In addition to content ideas for social media, Storylab also offers other content generators such as blog titles, social media ads, and email subject lines.
Content idea generator for Instagram
1. Klock.work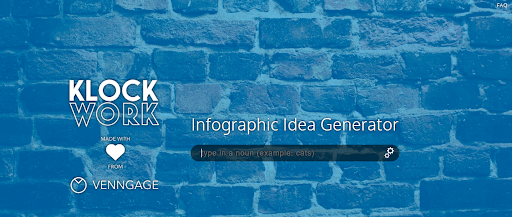 Klock is a popular tool for generating content ideas for Instagram. Not only does it provide ideas, but it also organizes them by category.
To get started, simply enter a keyword (noun) and hit search. For example, if you enter "content marketing," Klock will generate the following list of ideas along with their intended purpose.



As you can see, the tool has given me content ideas and the intent behind the search. This is helpful for determining which content to use based on your target audience.
Klock categorizes content ideas into the following intents:
Informational

Geographical

Process

Timeline

Statistical

Comparison
This information is crucial for developing an effective content marketing strategy for Instagram. The best part? Klock is completely free to use.
2. Social Studio
The Social Studio is an all-in-one Instagram content creation tool that provides content ideas, a post editor, and post-scheduling options.
With the post editor, you can easily create and edit posts to meet your specific needs. You can also use the scheduling feature to set a time for your posts to be published.
When it comes to content ideas, The Social Studio is an AI-powered tool that generates content ideas specifically for Instagram content marketing. Simply enter your keywords and the tool will provide auto-suggestions to help refine your search if necessary.
The tool's algorithm sources data from the web to generate fresh and unique content ideas. What's more, the resulting ideas seem to be written by humans, which is a unique advantage of this tool.
Content idea generator for YouTube
1. Wondershare Filmora:

Wondershare Filmora is a user-friendly video editor created for content creators, especially those on YouTube. It offers a wide range of features for easy and professional content production. 
Filmora's AI features include a unique idea generator tailored for YouTube creators. By providing your channel's theme, target audience, or content style, Filmora AI generates fresh and engaging video ideas. 
Here's how to use the AI copywriting feature to generate YouTube video ideas:
Open Filmora and create a new project.

Open AI Copywriting within your Filmora project.

Select the topic you'd like to write about, such as "YouTube Video Ideas." Enter your desired video topic in the input box and click "Generate" to generate YouTube video ideas.
You can customize the ideas generated by Filmora AI Copywriting by adding specific keywords, tones, and styles to align with your desired outcome and audience. This tool can assist you in creating YouTube video titles and descriptions. Additionally, you have the option to choose the "Advanced Option," which provides you with 5 idea results to choose from.
Whether you're a beginner or an experienced YouTuber, Wondershare Filmora enhances engagement, attracts subscribers, and streamlines the creative process. With Filmora's AI features, making outstanding YouTube content is now more accessible than ever.
2. Rytr: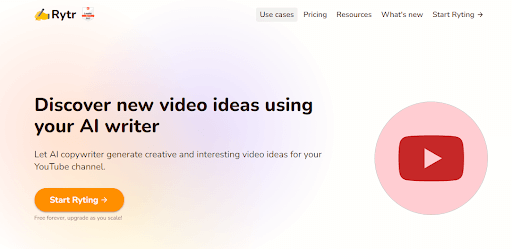 Rytr is a powerful AI assistant copywriting tool that not only helps you create content using AI, but also generates content ideas for YouTube. With Rytr, you can generate YouTube content ideas in just four simple steps:
Choose the language for your content

Select the tone you want to convey

Choose the use case for a video idea

Enter your keywords and phrases to generate ideas
Once you've completed these steps, you'll see a list of ideas for your next YouTube video. What's more, Rytr provides a wide range of options for filtering your results. For example, there are over 10 language options and 20 tone options to help you give a personal touch to your content.
If you're not satisfied with the first set of ideas, you can easily go back and generate more. Rytr is designed to assist you throughout the entire content creation process, from selecting ideas to writing the content itself.
Related reading
3. Weshare.net

Weshare is a comprehensive resource hub that provides a wide range of tools and ideas for content production, specifically for YouTube. They offer YouTube video guides and a pre-prepared list of 200+ YouTube content ideas to inspire your next video.
One unique feature of Weshare is its video search tool. Instead of providing a list of content ideas, the tool displays several other YouTube videos related to your entered keyword. This allows you to see what your audience is already looking for and follow the trend.
In addition to content ideas, Weshare also recommends other valuable tools to enhance your content production. These include:
Jasper for analytics

Tuebbudy for social media management

Canva for graphic design

Audio jungle for music and sound effects

Vidiq for YouTube optimization.
4. Capitalizemytitle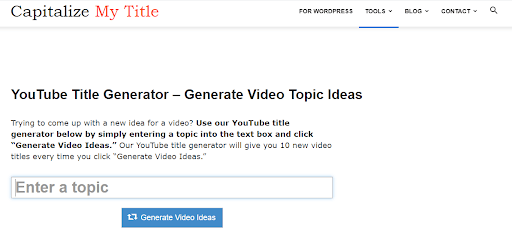 CapitalizeMyTitle is a popular tool that is primarily known for its YouTube title generator. However, it is also a very useful YouTube video idea generator.
 All you need to do is enter a relevant keyword in the search box and click on the 'generate video ideas' button. The tool will instantly present you with ten unique ideas for your next YouTube video. If you are not satisfied with the ideas, you can click the button again, and ten new ideas will appear.
Moreover, in addition to generating video ideas, CapitalizeMyTitle can also help you create engaging YouTube titles that can increase your CTR (click-through rate). As the title is the first thing that viewers see, having an attractive and compelling title is crucial for the success of your video.
5. Tubeast.com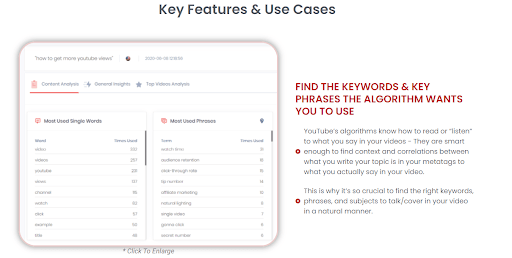 Tubeast is an all-in-one topic research tool that can help you transform your YouTube content production. With features ranging from topic research to analyzing video insights, Tubeast can assist you in finding key phrases that can increase your views and rank higher on YouTube.
Tubeast provides content ideas in three formats, including:
Content analysis: This feature helps you discover related terms and topics that your audience is searching for. By incorporating these terms, you can create customer-centric content that resonates with your viewers.
General insights: This feature offers insights into competing videos, title tags, and the number of views. These insights help you analyze how you can improve your content production.
Top video analysis: This feature provides powerful insights into the top-ranked videos related to your keywords and topics. You can gain a deeper understanding of your audience's preferences and make informed decisions when choosing your next video topic.
6. Vidiq.com (Daily Ideas)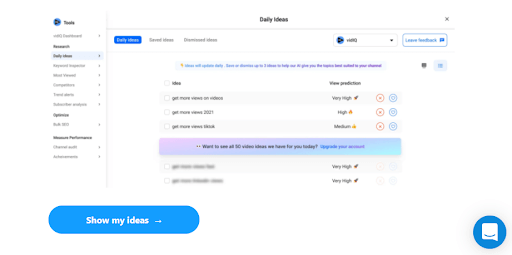 Vidiq Daily Idea is an AI-based machine learning tool that, like other AI-powered YouTube idea generators, works on a predictive model. The tool is designed to provide personalized, up-to-date, and trendy content ideas.
To generate content ideas, you simply input your subject in the form of keywords, and Vidiq Daily Idea will search the web, existing content, and current trending videos related to your subject. The tool then provides you with ideas based on what has already been successful for similar topics.
With Vidiq Daily Idea, you can create engaging content that is in demand by your viewers. The tool works on a mechanism of view predictions, which it showcases in three formats: 
View predictions: Very High

View predictions: High 

View predictions:  Medium 
You can filter out your ideas based on the prediction model; however, the number of ideas you can view depends on the plan you choose, as this tool operates on the freemium model.
How to generate content ideas without using any content suggestion tool
Scanning blog comments: Blog comments are the most underrated medium to look at content topics. Head over to Google and type the keyword you are looking to create content around. Look for the blog with the highest blog comments and scan through what people are demanding. 
Amazon auto-suggest: Type your keyphrase in the Amazon search box and look for the autosuggestion. 
Facebook ad library: If a competitor is sponsoring some kind of content it indicates its value for it. 
Google Trends: Google Trends will help you make decisions based on trends around your keywords. It will also assist in the geographical location that is more interested in your particular topic.
TikTok videos: Head over to TikTok and look for trending videos. These videos are usually filtered based on the highest views and social engagement.

You can create and edit those videos using the

TikTok video editor

to make them more engaging.
Types of content you can produce
Generating content ideas through tools and uncommon ways listed above can get you to pass the first phase of content marketing. However deciding what type of content you can draft through these ideas can help you in your implementation phase. 
Blog post: Informative content has always been awarded by consumers. As an organization, it helps you deliver problem-solving content in front of your target audience. People are more inclined toward content that touches their pain points rather than being sold. There are many blog post idea generators that you can use, and take advantage of organic ranking on various search engines.
Podcast: Podcasts are great mediums to interact with your target audience. You can use podcasts to provide unfiltered information to your audience. People listening to podcasts are highly associated with the topic, driving conversion for your business. 
E-books: You might have seen E-books as an in-depth guide for a particular topic. The E-book allows you to create valuable content assets through which you can generate leads for your business. You must have often seen the free e-book download option on many sites.
Top content creation tools 
After finding the content idea and deciding the type of content you want to produce. It's time for content generation tools to help you create this content.
Writing assistance tools
1) Grammarly: If you are into writing space you must have heard about Grammarly. It's a writing assistance tool with advanced features to improve your writing. The tool AI algorithm can adjust your content creation according to your writing goal.
Which can be divided into four categories, Audience, Formality, Domain, and Intent. This helps the tool to provide better suggestions according to the overall goal setting. Moreover, Grammarly recommends suggestions in three forms  Correctness, Clarity, and Engagement. 
This can help you to rectify your content and make it more compelling. Grammatical errors, word choice, punctuation fixes, and unclear sentences can be improved immediately. The tools work on a freemium model and also offer a plagiarism checker to validate the originality of the text. 
2) Hemingway app: A free tool that makes your content reader-friendly and clear. The purpose of the tool is to highlight the complex and lengthy sentences throughout your content and make them concise and clear. The tool also works on rephrasing words with better alternatives that are more compelling, and easy to read. 
You can also format your long-form content with specific sub-headings and annotations with the help of the edit pad option given. For better evaluation, you are also given a score on your write-up in terms of readability. 
Video recording and creation tool
1) Loom: If you want to record and create video content then Loom can be your go-to option. It helps you to record your screen and camera for productive video messaging. The tool is beginner-friendly and can be used on multiple devices including desktops, mobile, etc. 
You can also use their Chrome extension for quick video creation for explaining your important task. On top of this, you can easily share your recording with your team by just sharing your recorded link.
 2) Bitable: An online video creation tool that helps you create engaging video content with a simple drag-and-drop function. Bitable offers pre-made templates with stock footage and photos to get you started easily. You can also upload your own videos and use text-color animation to enhance your branding. You are open to choosing from various video types depending on your goal to create engaging video content. 
Content Rewriting tools 
1) Quillbot: Quillbot is an AI-based paraphrasing tool that allows you to rewrite sentences and texts without losing their meaning and context. The tool offers 7 modes to rephrase sentences which you can use depending on your selected plan. The free plan comes with 2 modes (Standard and Fluency) with up to 125 paraphrase word limit. 
Along with this, you get a 3-day money-back guarantee. In addition to all the above QuillBot also offer a grammar checker, summarizer, co-writer, citation generator, and recently added plagiarism checker which is hard to find in companies similar to Quillbot
2) WordAI: As the name suggests WordAI is an Artificial intelligence rewriter that creates high-quality unique content. Its machine learning algorithm is capable of interpreting the original text and returning the spin content in human written style. WordAi also takes care of optimizing the content with LSI keywords, better readability, content structuring, and creating unique engaging content. And all of this is done in just three steps. 
Graphis and visual designing tools
1) Canava: With so many free options to choose from, Canava is a design tool for creating digital media content. This includes Infographics, motion posters, digital flyers, banners, social media content, videos, and much more. You can use Canava for creating all types of digital content with an easy drag-and-drop option. Plus it is completely free and beginner friendly. 
2) Giphy: For all your gif animation, Giphy is your go-to option. You can create compelling Gifs for multiple devices including, desktop, mobile, and tables to power up your content creation game. You can choose your Gifs from various categories offered to align with your content.  
Webinar creation tools
1) Livewebinar: It's a cloud-based supported platform that helps you host live webinars, with a screen-sharing option. Livewebinar comes with various engagement options such as poll support, live chat option, broadcasting webinars on social media, brand customization, etc. It is supported by all browsers and allows you to host or join meetings from any device, even from smart TVs.
2) Webinar Ninja: With advanced integration support, Webinar Ninja is one of the best Webinar marketing tools. It helps you to broadcast live webinars, automate your recording and create a series of webinars with multilingual support.
You can easily integrate it with your CRM and email database for better conversion and response. Moreover, with multiple-chat support, you can make your webinar more interactive with your audience. There are many other advantageous features such as a built-in landing page, handouts, built-in email, etc. 
Keyword ideas generator
Ahrefs free keywords generator tool 

Keyword generator by Semrush 

Free keyword tool by Wordstream 

Keyword Everywhere 

UbberSuggest 

Keyword Shitter 

Moz keywords Explorer 

Mangools keywords research tool
Frequently Asked Questions
Q1. Which tool is used for content ideas?
Ans. Alsoasked tool is used to come up with content ideas. The tool scrapes out real-time people also ask (PAA) questions and segments them according to their relevancy. These questions can be used as a content topic to write content on.
Q2. How do I get content titles?
Ans. Conduct a competitor analysis. Since your competitors are already competing for the same audience, you know you can target the same titles by following the trend. In addition, look for platforms where you can find questions related to your subject. Tools, like Answer the Public and forums, can be great places to find content titles.
Q3. How to get social media content ideas?
Ans. Some quick ways to win your customers over social media include:
Run to contest

Host a challenge contest

Ask pooling questions

Grab the trading news

Showcase user-generated content

Aks for customer advice 

Release upcoming updates

 
Q4. What type of content is best for social media?
Ans. The best type of content that you can share on your social media includes:
Cornerstone blog post 

Infographics and Gifs 

Case studies 

Outcome-based content

Customer feedback 

The podcast and other external links

Contest polls 

Behind-the-scenes posts
Q5.  How do I generate content for my blogs?
Generating blog post starts with understanding your product and services. 

Understanding your target audience. 

Running competitor analysis.

Identify terms used by your consumer to find your product and services. 

 Identify writing topics by using an article topic generator and keyword research tools.

Select the content format.

Constructing online presence through CMS.

Publishing content.
Q6. What is the difference between a content idea generator and a keyword research tool? 
Ans. A content idea generator will provide you with the topics and headlines to create content. On the other hand, a keyword research tool will help you find the terms used for finding your product and services.
Q7. Best AI content idea generator?
Ans. Top AI-based content idea generator includes: 
Jasper.ai 

Neuroflash 

Zyro 

Copy.ai

Storylab.ai

Usetopic 

Portent