What is AI copywriting software?
In simple terms, AI content writing software is a tool that can generate content for you in different formats. 
All you need to do is give them the keywords and phrases and these AI tools will offer you human-like written content. 
The content copies generated can be in the form of blogs, sales pitches, SEO-led content, social media copy, product description, and much more. 
(We have gone through each form in depth in the content below)
And if you have any questions on the quality of the content produced. Then let me tell you that these AI writing tools use technologies like GPT3, Artificial intelligence, and machine learning algorithms. 
That can create plagiarism-free, grammatically correct, and human-engaging content. Isn't this insane? 
Feature of copywriting software that you should be looking at
Different copywriting tools serve the same goal of making content writing easy and efficient. This is possible with some required set of features: 
-Readable content generator – Automated content generated should give a feel of human writing yet must not take much time. The intent of the content should be reader targeting. 
-Headline generator – Headline generator tool should be able to create a noticeable SEO-friendly header that draws traffic and enhances the ranking of the content. 
-Plagiarism checker – It enables the user to scan the originality of the content online. 
-Grammar & Spelling checker – The removal of spelling mistakes and invalid grammar from the generated content is a must before publication. 
-Split testing – It gives a better ranking of content out of the different versions of the content by comparing them for online performance. 
-Community support – Gives the information on the top-ranking content of your competitor sites. This enables you to know about their followed practices and later you can also follow those, if and when you feel the need. 
-Project management and collaboration – It gives a common workplace for different persons like the content writer, content editor, content manager, etc. for working on a single piece of content.
Other features to be considered are keyword research, data analysis, etc.
The criteria that I took into consideration while assessing various AI tools are: 
Easy to use and navigate through the site for various features. 

The pace of content generation. 

The generated content is of good quality or needs considerable human editing. 

Very good reviews from the users. 

Value for money of the AI tool. 
Let's now go through all the AI writing tools:
1) Jarvis


Jarvis is currently called Jasper was once also known as Conversion AI. It first came into existence in the year 2020. Since then, Jasper's client list has gone up to more than 50,000 users.
Jarvis is a pioneer GPT3 (state-of-the-art technology) copywriting tool. The goal of Jarvis is to ease the copywriter facing writer's block, long working time, and poor conversion rates.  
To start working you need to choose the skill, tone, and a number of words with the small data about the product/brand. And multiple plagiarism-free versions are produced in a very short time.
The Boss Mode offers its users the ability to work with commands. The single-lined command has the capability to produce full-fledged AI content. 
Log in, and you will get to see the templates you want to use. You will have to generate a title of the content, which can be an informative article or a commercial article. 
From the templates, select any (Long-form content) assistance and describe what the article is all about.
Jarvis offers more than 50 types of artificially intelligent copywriting skills under which the content can be generated. A few of the best categories for best copy AI writing are: 
Social Network

Blog Posts

Product Description  

GPT3 copywriting model 

Google Advertisements. 

Email marketing 


We can direct Jarvis to set the tone of the article/content just by mentioning one word (funny, casual, professional, bold, sarcastic, etc.) or providing a description of the type of content we need for our article in the "content brief section". 
Features: 
Advanced AI article generator:

This third-generation language guessing framework uses deep learning and creates human-like content. 
Unique content:

Jasper is able to produce plagiarism-free content each and every time without fail. 
Tone adjustment:

Flexibility of adjusting the tone of the article according to our business requirements enhances the credibility of the content. 
Grammatically correct Language:

Its in-built grammar checker removes one and all grammatical errors from the content.
Supports multiple languages:

This copywriting tool is compatible with more than 25 languages. The most common languages are French, Spanish, German, Portuguese, English, etc.
Easy task delegation:

This AI copywriting tool enables lots of team members to work on the same account and create unlimited project folders. It makes the task distribution amongst the team an easy task. 
Pros: 
Unique SEO copywriting in most languages. 

Content according to the desired tone. 

Supports live chats

100% money-back guarantee

Sale copywriting with teamwork and management 
Cons: 
Missing human touch

Sometimes text is plagiarized

Bit expensive 

Sometimes grammar is not up to the mark
Pricing: 
Jarvis offers a 5-day free trial in its two plans: 
Starter: $29 per month: offers 20,000 words per month

Boss mode: $59 per month: offers 100,000 words per month
The Starter plan is good for short-form copies like product descriptions, headlines, etc. If your requirements involve blog posts, video scripts, etc that are a part of long-form content then Boss Mode is for you. 
Who can use it?
The established people who work in a team. Agencies, eCommerce businesses, marketers, bloggers, and freelancers who need to produce a bulk volume of content can use Jarvis. 
Our verdict on Jarvis: 
We say it is best in the artificial intelligence copywriting world as the features offered by Jarvis are capable of meeting the pace of today's content marketing. 
One of the best features Jarvis has is the option of saving the templates for easy use in the future. Also, the Facebook group is a useful add-on. 
User Feedback: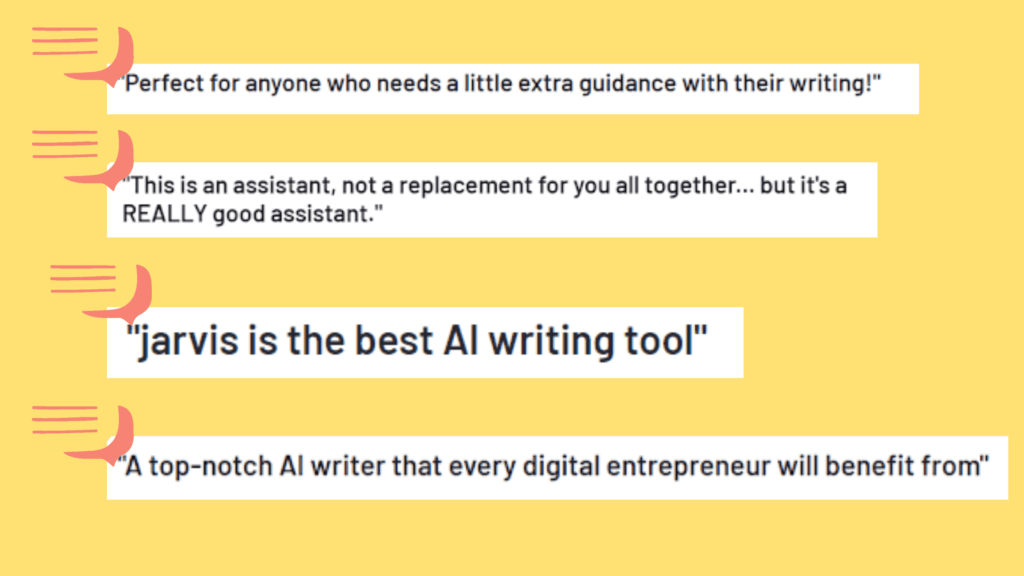 2) Predis.ai

Predis.ai offers a wide range of social media content generation capabilities. You can effortlessly create diverse content types such as posts, reels, videos, captions, memes, and hashtags in a matter of seconds. Simply input a short text, and Predis.ai's AI-powered system will generate templated posts with ready-to-use captions and hashtags.
There are multiple avenues to create content using Predis.ai. You can provide text input, share your business details, or even utilize a blog post as a source. E-commerce store owners can benefit from seamless integration with major platforms like Shopify, enabling quick content generation with just a click. Furthermore, the content can be easily customized using an intuitive creative editor.
In addition, Predis.ai integrates with all major social media platforms, including TikTok, Facebook, Instagram, LinkedIn, Twitter, YouTube, Pinterest, and Google Business. With a simple drag-and-drop function on the calendar, you can effortlessly schedule your content across multiple channels.
But that's not all Predis.ai offers AI-powered competitor analysis, providing valuable insights into your competitors' social media performance. Discover their content strategy, effective hashtags, optimal timings, posting frequency, and more. Furthermore, Predis.ai boasts a built-in AI chat feature, allowing you to seek guidance and ask any questions related to social media marketing. With its combined features of ChatGPT, Canva, and Hootsuite, Predis.ai offers a comprehensive solution for your social media content and marketing needs.
Features of Predis.ai: 
Social media content generation: Use AI to generate reels, videos, posts, memes, captions, and hashtags.
AI social media assistant chat: Chat with the AI and ask anything related to social media management.
Content scheduler: Create content and publish or schedule in a click
AI competitor analysis: Check how your competition is doing on social media, their strategies, content tactics, timings, etc
Pros: 
Save time in content ideation and generation 

Improve your social media marketing 

All-rounder tool, multiple content types, and inputs. 

Has a Free plan. 
Cons: 
Sometimes the posts are not that great, but you can change the template with a click. 

Minor editing is required to polish the content. 
Pricing: 
Free – 15 posts/month 

Solo – $29 – 120 posts/month 

Starter – $59 – Unlimited posts 

Agency – $139 – Unlimited posts
Who is it for:
Predis.ai is ideal for small businesses that don't have much time to invest in content creation. Freelance social media managers, and agencies that want to automate content generation for their clients. E-commerce store owners who want to automate their social media management.
Our verdict: 
Predis.ai is a decent social media content generation tool. With some editing, you can create and schedule a week's worth of content in just an hour. The Free plan is enough for accounts that are relatively new.
3) Copy.AI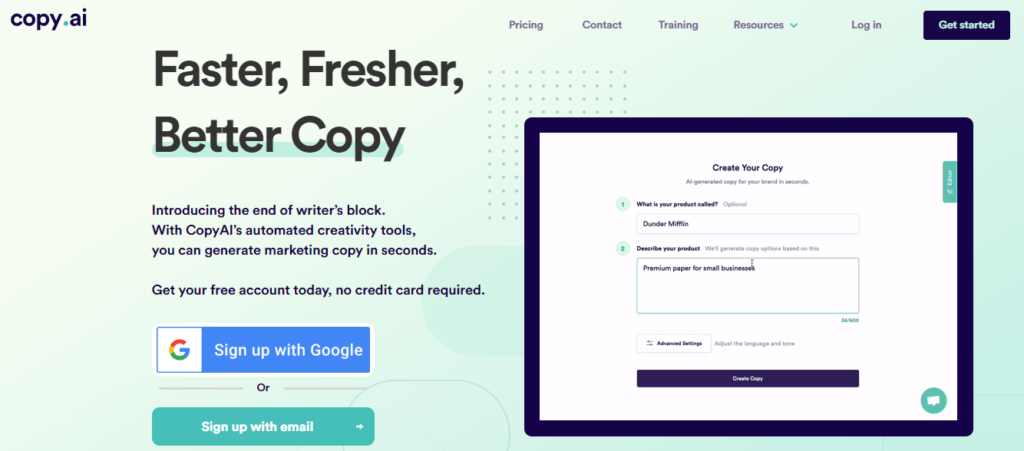 CopyAI is another GPT3 technology-enabled AI copywriting tool that was launched in 2020. It enables the users to overcome many difficult situations at times like writer's block, and create unique and high-ranking content in a very short period of time. 
CopyAI is a writing assistance tool that produces a whole article from a few sentences only. The content is made audience targeted also. It creates a series of sentences that it thinks will be most convincing to the discriminator.
Though Copy AI is a technical tool, still is very easy to use. Hence, has grown to more than 100,000 users.


This automated copywriting tool is powerful for content marketers and SEOs looking to save time, increase productivity and reach more people. The modes useful in doing this are: 
Digital Ad Content 

Social Media Copywriting 

Website Content 

eCommerce Content

Blog Content

Sale Copywriting
The way a piece of data is written or expressed can be described by its tone which can be formal, informal, casual, conversational, professional, friendly, etc. 
Features of CopyAI: 
Uses updated AI:

GPT3 technology is used in this copywriting tool which creates high-quality human-like content. 
Chrome extension:

The chrome extension is a refreshing feature, making it even easier to generate content straight from the web pages just by installing it to the browser. 
Easy to use:

You need not be tech-savvy to work on CopyAI. 
Pros:
The free plan is available

Writes a good-quality content 

Multiple copy generator 

Offers additional copywriting tools

User-friendly interface
Cons:
Grammatical errors can be seen

Unable to assign a keyword in the content 
Pricing:
Free plan: It works for the testing of the software. 
Pro plan: $49 per month is good for small enterprises. 
The team plan can be customized that is billed yearly.  
Who can use it?
Providing the free plan has made it available to smaller users like local business owners, social media managers, bloggers, freelancer content writers, etc. 
The paid plan is good for use by small and big businesses, eCommerce stores, and marketing agencies. 
Our verdict on CopyAI: 
CopyAI is a very popular writing assistant software. The features that stood out for me are Shopify Plugin and the chrome extension. 
User feedback: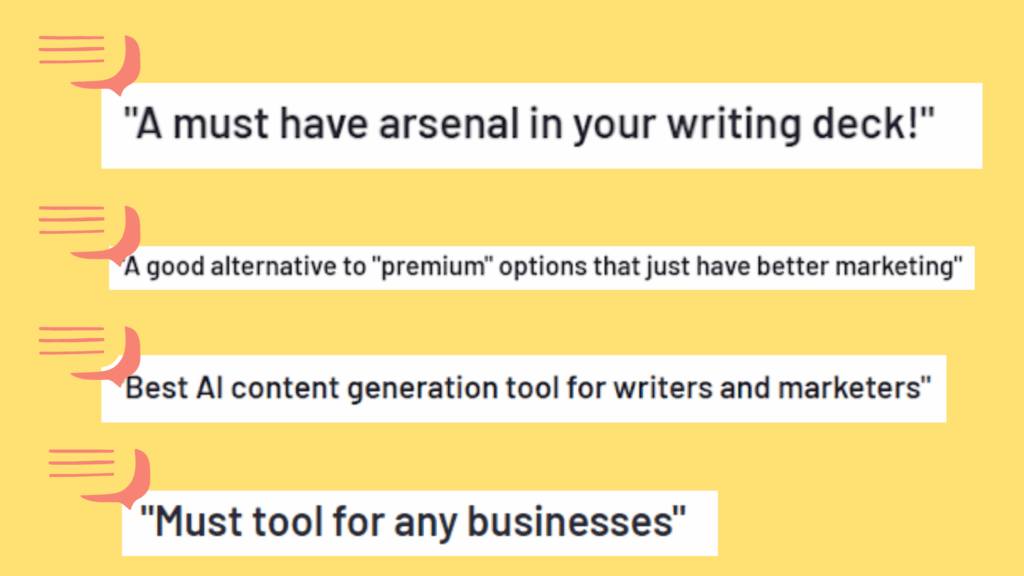 4) Frase.IO

The Frase IO is an ai content software that generates long-form content with important information highlighted in the content.
It is also an SEO copywriting tool, and help agencies and businesses, increase the traffic on a website by writing high-ranking content for the search engines. The content is based on the questions asked by the target audience. 
A variety of templates are there for creating outlines with artificial intelligence and content analysis.
Frase Answers, a handy tool, allows the creation of a searchable widget for a website. And the AI bot delivers specific content as an answer to the user asking questions directly from your website. 
Modes of Frase IO are: 
Article Summarizer – It is able to summarize an article and extract important sentences from it automatically.

Questions and Answer – Its ability to generate answers to questions automatically is based on the information from a document or a website. 

Document Clustering – Documents can be grouped based on their contents.
Frase IO makes content and copywriting more efficient and less time-consuming. The visitors visiting your site can easily find what they are looking for, hence, a better experience.
Frase IO Features: 
Content guidelines:

You can use

this content generator

to create guidelines for any type of content in seconds. 
SEO copywriting:

You can use this feature to get an overview of how well your blog articles are optimized for search engines. 
Content Analytics:

This feature offers a detailed analysis of the performance of any piece of content on your website or blog. 
Pros:
You can quickly create an optimized content outline in just a few seconds.

Makes searching and browsing through websites faster.

You get detailed content analysis for ranking purposes.

Frase IO allows you to compare your content with competitors' content.

You can paraphrase and rewrite sentences.
Cons:
Only limited to SEO copywriting and marketing.
Pricing: 
Frase IO offers 15% off on an annual plan subscription. Three plans it is offering are: 
Basic plan: $44.99 per month but the annual plan comes with $39.99 per month, suitable for people just getting started with SEO copywriting. 
Team plan: $114.99 per month (annually to be paid according to $ 99.99 per month), suitable for teams and agencies. 
Enterprise plan: It is a customizable plan catering to big companies. 
Who can use Frase IO
: 
Frase IO tool can be used by individuals, as well as by companies. This SEO copywriting tool is perfect for marketers looking to drive traffic, but it is also ideal for customer support teams who want to improve the customer experience.
Our verdict on Frase IO: 
Frase IO is a useful tool for anyone looking to improve their SEO. It can be used to discover content ideas, create new content, and optimize your existing content.
User feedback: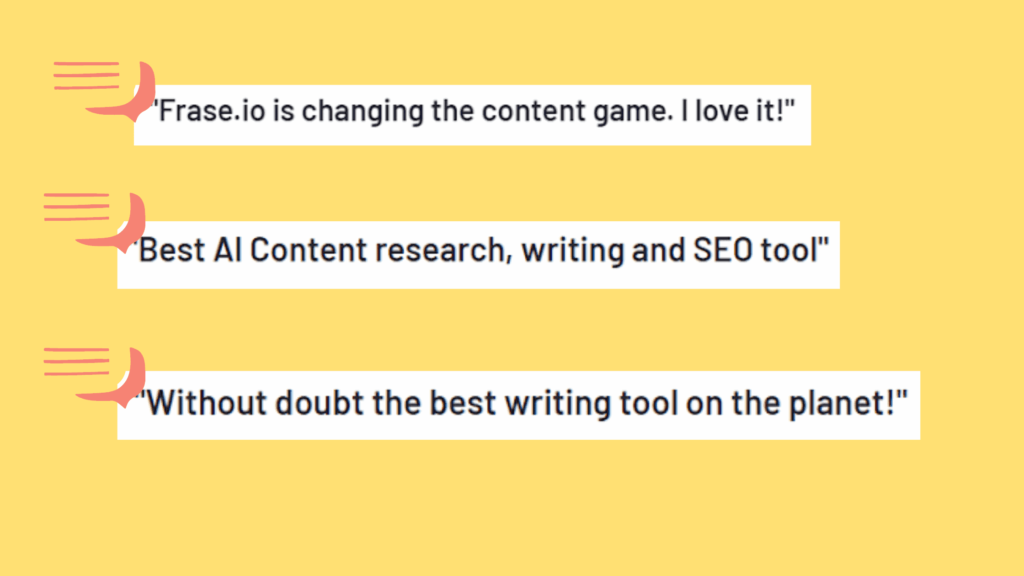 5) Copysmith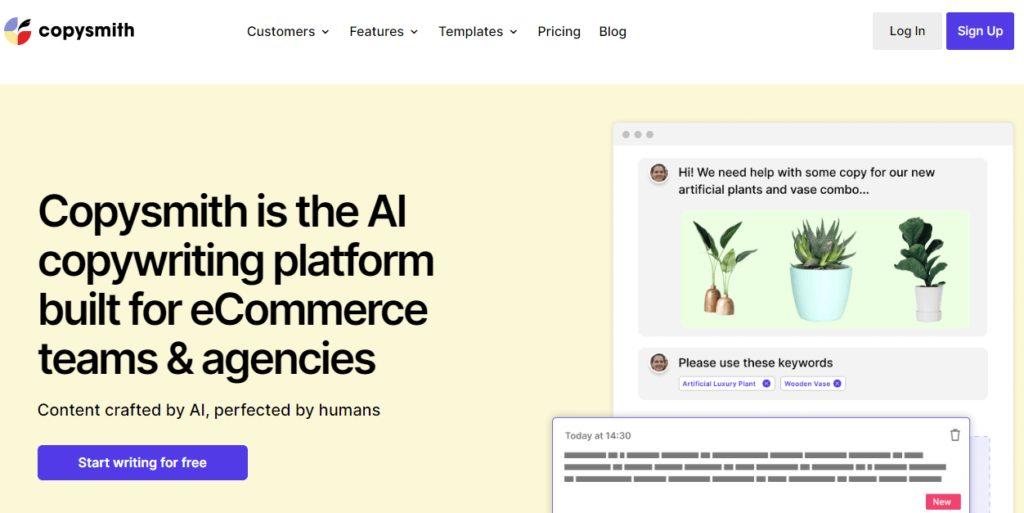 Copysmith is an AI tool that allows easy content creation for blog posts and product descriptions for eCommerce marketing.
This tool's AI writing also enables headline-making for paid advertising on Google Ads and Facebook Ads, as well as A/B testing for different variations. 
But what makes Copysmith stand out among other AI writing tools?
Copysmith works by using a sophisticated AI article generator algorithm that reads hundreds of thousands of samples of content to understand the context and then generates high-quality content based on the input provided. 
More than 30 template options have made the task very easy. Fill the provided fields with keywords and short descriptions of the product or service. And in no time best copy is at your disposal with great readability with human-like writing. 
The blog post generator works magically, you just have to feed it with a small amount of information and it will deliver you a full blog post. 
Also, content editing has never been so easy, and for this, the credit goes to its rephrase function. It offers you multiple options to choose from, for writing the same sentence.  
Copysmith comes on a higher side of pricing but its 7-day free trial provides a preview of the best copy of the content required to create an effective marketing campaign. 
Copysmith can write in various modes: 
Ad copies for social media platforms 

Product description for eCommerce websites 

Captions for social media posts 

Blog posts and articles, with rewrite options.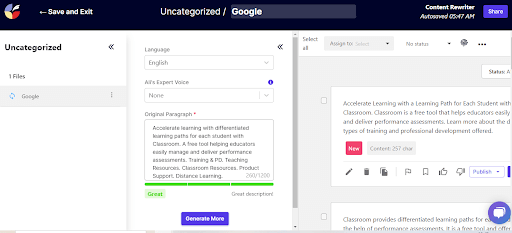 Features of Copysmith: 
It offers a wide variety of features that make it easier for you to generate content and copywriting effectively. Here are some of the features:
Content Management

–It offers you the means to save your content in different folders.
AI Content Creation

– The primary function of this tool is to create human-sounding web content instantly, without any manual work. 
Web Content Generator

–

The primary function of this tool is to create plagiarism-free readable web content instantly.

 
Pros: 
Better quality content at scale

Can use one template multiple times 

Write hundreds of articles using different keywords and contexts without having to worry about plagiarism or keyword stuffing

Cheaper plans
Cons: 
Unused credits are wasted. 

Being a new content generator in the market has got room for improvement.
Pricing: 
Starter plan: at $19 per month, allows users to all the available templates, integrations, and the free-form smart editor. 
Professional plan: $59 per month gives access to in-app support also.
Enterprise plan: customizable pricing gives unlimited content copywriting and control. 
Who Can Use Copysmith?
The platform can be used by anyone, but it is most useful for people who need a large volume of content in a short time, such as businesses with a large number of product descriptions or agencies working on multiple client projects. Bloggers, freelance writers, and authors also look into it. 
Our verdict on Copysmith: 
With the help of Copysmith, which is also a SaaS application, you can gain access to proven high-converting headlines and product descriptions to boost the performance of your listings. 
User Feedback: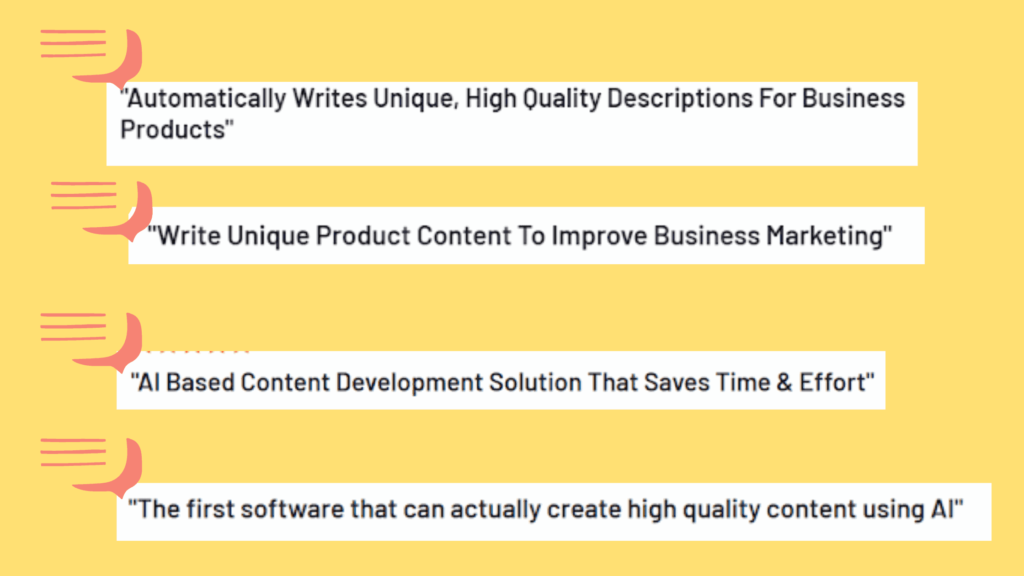 6) Writersonic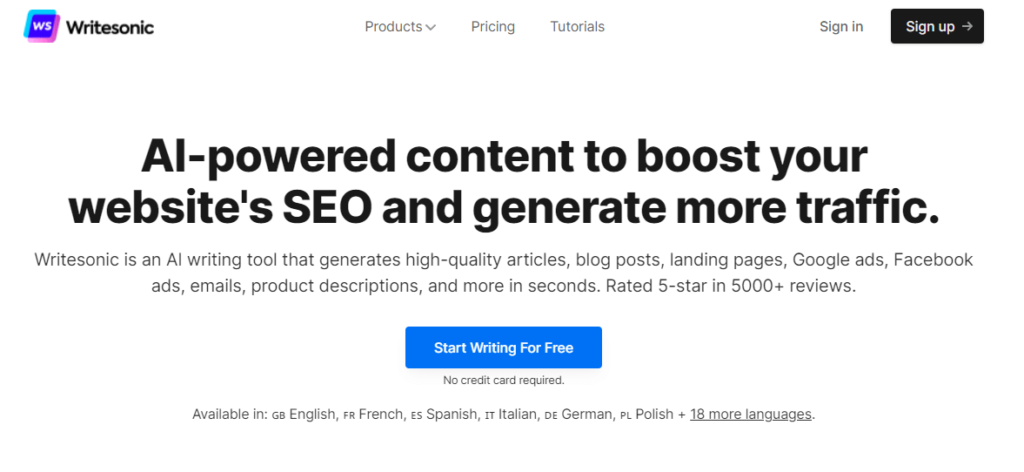 Writesonic is another artificial intelligence-based copywriting tool that has made its place in the market. It's a brainchild of AppSumo. 
It uses machine learning, natural language processing (NLP), and artificial intelligence to analyze the topic and generate human-like, readable, and unique content.
The best part about this tool is that it can generate content for almost 20 different niches. And, a free trial is for use as long as you want.
Writesonic can generate content in over 40 copy types. Mainly, these modes of AI copywriting are: 
SEO copywriting for a website

– Landing pages, sales pages, headlines, SEO meta descriptions, and a section for features & their benefits can be written. 

Social media post

– It can also create social media posts in seconds. Personalize the posts with specific hashtags and takes care of audience behavior.

Advertising campaigns

– It comes with a dedicated module for advertising campaigns that help users draft high-converting ads in seconds.

Sale copywriting

–Writesonic helps you in creating a sales page without spending too much money on human writers. 
Writesonic content is not only professional and informative but also factually accurate and friendly. 
Main Features of Writesonic: 
Real-time collaboration:

Multiple users can simultaneously edit the same document or manuscript, with changes appearing in real-time.
Revision history:

All past versions of documents are saved and can be viewed at any time. Users can also revert to past versions of the document if they want to undo changes.
Publishing capabilities:

WriteSonic allows users to publish documents they've created to WordPress blogs, Medium publications, and other publishing platforms.
Smart search:

It is a feature that allows the searching of notes in a very easy way.
Drag-drop and file uploading:

It allows image and audio file uploading very easily just by dragging and dropping. 
Rich text editor

: Its text editor supports bold, italic, underline, and strikethrough styles. 
Scene manager tool:

It enables scenes creation. 
Pros: 
Clean, simple, and distraction-free user interface

Powerful outlining tools to help you organize your thoughts and ideas

Export to formats such as DOCX, PDF, ODT, TXT, or HTML

Bookmarks important sections of the text for easy access later on.
Cons: 
No third-party app integration, in-app collaboration, plagiarism checker, and bulk copywriting.

Credits are used even for small changes

Not the best product description provided. 
Pricing: 
The plans mentioned below offer access to all features with varying credit limits: 
Basic plan: $15 per month offers 100 credits.

Professional plan: $45 per month offers unlimited credits. 

Startup plan: $95 per month offers unlimited credits along with priority support. 

Agency plan: $195 per month offers unlimited credits along with priority support. 
Google Ads cost one credit as it comes under short-form content whereas a single landing page costs five credits. 
Who Can Use Writesonic?
Its features are great for bloggers, authors, freelancers, affiliate marketers, and eCommerce businesses. 
Our verdict about Writesonic:
Writesonic is a very secure and robust website that allows you to sell products online, especially if you're looking to start your own eCommerce business. It's also free to use, which makes it a standout option among competitors in copywriting.
User Feedbacks: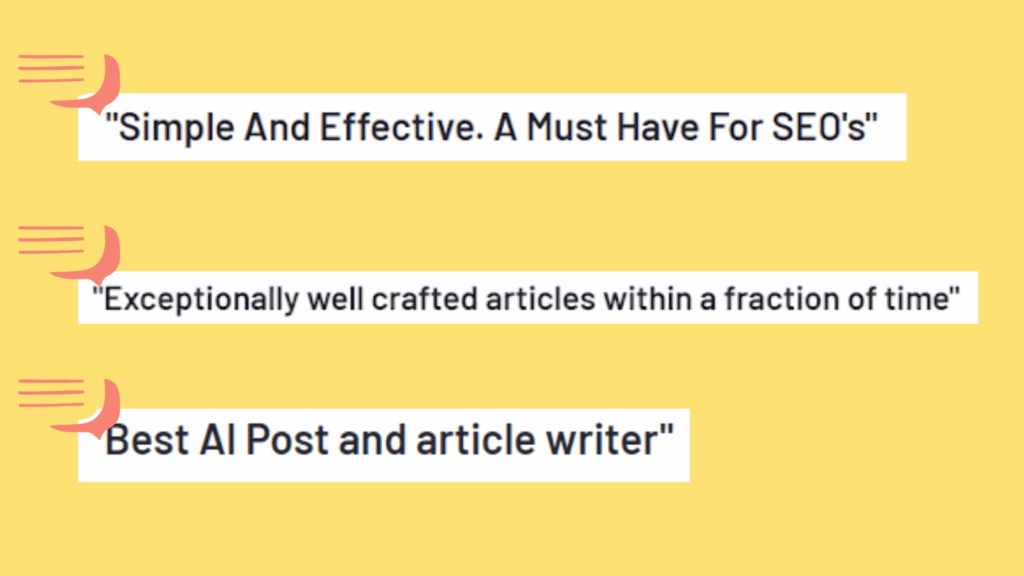 Which copywriting tool should you go with?
Choosing the best content writing software is a challenging question to answer. Because it really depends on the need and the overall content marketing strategy of a business.
We would divide our recommendation into three verticals-
If your organization needs to focus on organic visibility (SEO) then Frase.io can turn out to be a good investment. Because the tool is designed to produce SEO-led content for ranking higher on search engines. Its question-based model helps to answer the user's query hence making problem-solving content.
If you are an organization that needs to pump up its content marketing by producing bulk content. Then Jarvis can be a better option.
With this tool, artificial intelligence tech you can produce detail-oriented content with just a minimum amount of input. Plus its ready-made template can be a good starting point for organizations looking for a quick start.
Agency and individuals that focus on social media marketing for them copy.ai and copysmith can turn out to be a great pick. Both the tools are advanced enough at creating digital ad copy and sales pitches.
Benefits of using AI content writing tools? 
Bulk content creation: With the help of automated copywriting software you can create frequent content in larger quantities. That means you don't have to worry about meeting the deadlines for content creation. 
Helps with content brainstorming: Ready-to-use templates & outlines can help you with idea generation. Eliminating writer blocks and giving a push start for content creation. 
Create writing assistance: AI writing tools can create multiple drafts of a content copy. Starting with sales copy, website copy, e-commerce content, product description, and various other business communication in no time.   
Cost-effective medium: With cheaper monthly plans along with free trials copywriting tools are affordable to work with. Especially if you work with content writers with hourly and per word bases. 
Create accurate plus quality content: Creating grammatically correct and professionally sound sentence structure enhances user experience. AI copywriters can produce engaging content, free of grammatical and spelling errors.  
It's true that AI writing tools have immense benefits but there is one thing to note this technology is still far behind humans. The tech used by these tools is new and is still in developing mode. Here are some words on GPT-3 by OpenAI co-founder Sam Altman
The GPT-3 hype is way too much. It's impressive (thanks for the nice compliments!) but it still has serious weaknesses and sometimes makes very silly mistakes. AI is going to change the world, but GPT-3 is just a very early glimpse. We have a lot still to figure out.

— Sam Altman (@sama) July 19, 2020
How does AI Copywriting software work?
A lot of you would be wondering how these ai content generators can produce human-like content. Well the answer is with the help of NLP (Natural Language Processing)
Based on the input you provide such as keywords, phrases and content required. The NLP articulates the data from the web matching your given inputs. And represent fresh content to use that is unique and error-free. 
The content output is dependent on the type of content you are aiming to produce. It can be a blog post or a digital ad copy, the tools inbuilt in artificial intelligence and machine learning tech can set the tone of the copy accordingly.
AI Copywriting vs. Natural Copywriting
AI copywriting refers to content generated with the help of AI tools. These tools are capable enough to generate the best copy, which is easy to read and understand.
You can automate the process for the type of content required. For example, you can look for landing page copy, social media copy, and eCommerce content and can also set the tone it demands… 
Setting the tone of the copy engraves human touch and makes the content read like a natural copy. 
With no donut AI copywriting tools are cost-effective solutions that can enhance the speed and quality of the content. 
Natural copywriting involves human-led creation for drafting content rather than using any article writing tools.  
The voice of content speaks to the audience directly; as it is drafted after understanding the marketing communication of the business. 
AI copywriting can not replace human-led content because as a writer we are more aware of the emotional appeal of the content. AI text tools are still far behind in understanding consumer behavior which lends to conversion by a written copy. 
What makes great copywriting?
One of the basic principles of creating a great copy is understanding the audience for whom the content is created. We all have experienced reading content that does not resonate with our expectations. 
Answer the question your target audience is looking for. No one likes to read a wall of text instead we all are looking for a solution to our questions. A copywriter needs to provide the need to know information first rather than nice to know information. 
Easy Understanding a text without using attractive jargon is the simple key to grabbing people's attention. People don't like to read what they cannot understand. And the best way to overcome this situation is to write how you speak. 
To reach your content people need to click on your copy. So making an enticing headline is very important. Analyzing your competitor will help you come up with a fresh marketing angle. 
If you want to read more about great copywriting, you can go through Mirasee detailed guide on copywriting.
Tools For Researching Your Topic?
There are many tools out there for researching topics for your content. Some of them are free to use and have paid versions as well. Here I will let you know the free one which you can use to change your content game
Google autocomplete-
People always underestimate google's functionality for a topic generation. Google autocomplete can give you different aspects to cover once you input two or three keywords in the search bar. 
People also ask- 
In SERP google generally displays questions that are commonly asked by people. You can use them to articulate your blog or write copy. 
Searches related to-  
This section of google can give various other keyword ideas that you can use to create content. Once you click on any of the keywords it will show you more searchers at the end of the page. 
Quora answers-
User-generated content is a gold mine for finding new ideas for content. Just head over to quora and type some phrases onto the search bar. Next, you will find people asking questions that you can use for your content.
Some other freemium tools you can use are Reddit, Answer the public, Also Ask. 
What are the tools required for content marketing? 
Some of the best tools for content marketing are: 
HubSpot: A customer relationship management tool with advantage marketing automation features. 
 Ahrefs: One of the top SEO tools designed to perform all sets of SEO activity, such as keyword research, technical audit, analyze your competition, etc. 
Buzzsumo: One of the best content analysis tools with the ability to suggest trendy topics and provide content performance metrics. 
Adobe: Best known for creating customizable infographics in different sizes with thousands of premade templates to choose from. 
Semrush: All-in-one SEO tool with must-needed features like content gap, keyword research, competitor analysis, content idea generator, etc. 
Grammarly: Top content writing tool that helps you to enhance your content with a better tone, and proper sentence structuring, without any grammatical errors. 
Canvas: An advanced graphic designing tool for creating infographics, banners, and digital flyers with the help of thousands of premade templates to choose from. 
Apart from the list mentioned above, there are many other content marketing tools out there that can help you create better quality content with a great user experience.
Frequently Ask Questions
Q1. Are AI copywriters good?
Ans. AI copywriting tools are good enough for producing content with speed and accuracy. They are inbuilt with artificial intelligence copywriting technology which is capable of producing human-like content. 
Q2. How much does AI writing software cost?
Ans. Depending on the tool and the plan you opt for the cost can range from $15 to $50 per month. However many AI Copywriting assistant tools offer free trials that you can use to access the output.
Q3. Is AI writing free?
Ans. Yes up to an extent AI writing can be free for content creation. For example, you can use a free trial and create content using the AI tool Jarvis for free. But this is only limited to a week.  
Q4. What can I use AI copywriting software for?
Ans. AI writing software can be used for creating website copy, landing page content, social media content, product descriptions, e-commerce, and much more. You can also use readymade templates and outlines to start with. 
Related reading: Spinbot Alternative & Similar Site To Overcome Plagiarism