Delivering effective presentations is a vital component of successful business communication. Whether you are presenting to your team, clients, or stakeholders, choosing the right topic can make all the difference in the success of your presentation.
However, with so many potential topics to cover, it can be challenging to know where to start. In this blog post, we will provide you with 15 presentation topics for business communication that are relevant and engaging for a variety of audiences.
What is a business presentation in business communication?
A business presentation is a formal presentation given to a group of people in a business setting. Business presentations are commonly used to inform stakeholders, investors, employees, or customers about various aspects of a business such as company performance, products or services, and marketing strategies.
It is often delivered using visual aids such as slides, charts, and graphs to enhance the clarity and effectiveness of the message. Business presentations can take many forms, such as sales presentations, product demonstrations, project proposals, financial reports, or company overviews. They can be delivered in person, through video conferencing, or even in written form. 
A successful business presentation should be well-structured, clear, and engaging, with a clear focus on the audience's needs and interests.
18 Best Topics for business communication presentation 
1/ The Importance of Emotional Intelligence in Business Communication
Emotional intelligence, or the ability to recognize and manage one's emotions, is a critical factor in effective communication. Having this ability is crucial for developing robust connections, handling disputes, and guiding groups effectively. This topic will explore the principles of emotional intelligence, as well as techniques for improving emotional intelligence in the workplace. Additionally, it can highlight the essentiality of emotional intelligence in business communication and how professionals can develop this skill.
2/ The Role of Nonverbal Communication in Business Communication
In a professional environment, nonverbal cues like gestures, facial expressions, and vocal intonation can carry significant weight in determining how messages are perceived. In this topic, you could explore the various types of nonverbal communication and how professionals can improve their ability to read and use these cues.
Related Reading: What are the pros and cons of non-verbal communication
3/ Workplace Health and Wellness In Business Environment
Promoting workplace health and wellness is becoming increasingly important for businesses, as research shows that healthy employees are more productive, engaged, and less likely to take sick leave. In addition, a workplace that prioritizes health and wellness can attract and retain top talent, which can give the business a competitive edge.
One of the key topics to cover in a presentation on workplace health and wellness is stress management. Stress is a major contributor to employee burnout, which can lead to decreased productivity. Additionally, other topics that can be covered include workplace ergonomics, and creating a culture of wellness.
4/ The Art of Persuasion in Business Communication
Persuasion is a valuable skill in the business world, whether you are trying to sell a product, convince a colleague to support your idea, or negotiate a deal. Persuasion involves understanding the needs and motivations of your audience and tailoring your message to their interests. This topic will explore the principles of persuasion and provide tips for crafting persuasive messages.
5/ Writing for Business-How to Create Effective Business Documents
Business writing requires a unique set of skills and techniques that differ from other forms of writing. In this topic, you could explore the elements of effective business writing, such as tone, structure, and formatting, and provide examples of best practices.
6/ Writing Effective Business Emails
An email is a critical tool for business communication, but many people struggle with crafting clear and effective messages. Effective business emails are professional, concise, and to the point, and they convey important information in a way that is easy to understand. This topic will provide tips and best practices for writing professional, concise, and effective business emails.
7/ Business Communication Ethics
To communicate effectively, it is not enough to simply convey your message. You must also take into account ethical principles such as integrity, transparency, and consideration for others. This topic will explore the ethical principles of business communication, as well as techniques for avoiding ethical pitfalls and building trust and credibility with stakeholders.
8/ How to Give and Receive Constructive Feedback
Constructive feedback is the feedback that is framed in a positive, helpful way, with the goal of helping the recipient improve. Feedback is essential for growth and development in the workplace. But it can be difficult to give and receive constructive feedback. This topic will cover the best practices for giving and receiving feedback, including how to frame feedback in a constructive and productive way along with the feedback communication process.
9/ Cross-Cultural Communication in Global Business
As businesses become more global, professionals must learn to navigate communication barriers in business that arise in multicultural settings. In this topic, you could explore the unique challenges of cross-cultural communication in a global business context and provide strategies for improving communication effectiveness.
10/ How to Manage Conflict in the Workplace
Although conflict is a normal occurrence in any workplace, managing it in an efficient manner can be quite difficult. Effective conflict management involves understanding the underlying causes of conflict, identifying potential solutions, and working with others to find a resolution that is mutually beneficial. This topic will cover strategies for identifying and addressing conflict, as well as techniques for resolving disputes and building stronger relationships.
11/ Building Strong Business Relationships
Strong relationships are the foundation of any successful business. Whether you are working with customers, employees, or partners, building trust and rapport is critical for long-term success. This topic will explore the key principles of relationship-building, including communication, trust, and mutual benefit.
12/ Using Data Visualization to Communicate Business Insights
Data visualization is a powerful tool for communicating complex business insights in a clear and compelling way. This topic will explore the principles of data visualization, including choosing the right charts and graphs, using color and typography effectively, and avoiding common visualization pitfalls.
13/ Managing Virtual Communication Challenges
Virtual communication can present unique challenges, including technical difficulties, lack of face-to-face interaction, and time zone differences. This topic will cover techniques for managing virtual communication challenges, including using virtual collaboration tools, establishing clear communication protocols, and building rapport with remote team members.
14/ The Art of Negotiation in Business
Negotiation is an essential skill for achieving successful outcomes in business, from closing deals to resolving conflicts. This topic will explore the principles of negotiation, including preparing for negotiations, identifying common negotiation tactics, and building win-win solutions.
15/ The Impact of Technology on Business Communication
Technology is changing the way we communicate in business, from email to social media to virtual collaboration tools like instant messaging or online presentation makers. This topic will explore the impact of technology on business communication, including the benefits and challenges of different communication channels and the future of business communication.
16/ The Role of Communication in Change Management
Effective communication is essential for managing change in the workplace, from introducing new products or services to implementing organizational changes. This topic will explore the principles of change management communication, including identifying key stakeholders, creating messaging guidelines, and managing resistance to change.
17/ Communicating with Confidence-Building Assertiveness in Business Communication
Assertiveness is an essential skill for effective communication in the workplace, from managing conflicts to presenting ideas effectively. This topic will explore the principles of assertiveness, including identifying communication styles, using "I" statements effectively, and managing challenging conversations.
18/ Communicating During Times of Crisis
When a crisis occurs, effective communication is essential to manage the situation and mitigate any potential damage. In this topic, you could explore the elements of effective crisis communication, including transparency, empathy, and quick response time.
Usefull Insight:

We chose these topics because they cover a wide range of communication skills and are relevant to today's business environment. Each topic provides practical strategies for improving communication and achieving business success. Additionally, these topics are evergreen and can be adapted to a variety of industries and organizations.
General business topics for presentation
General business topics cover a broad range of subjects related to the world of business, including management, marketing, finance, economics, and entrepreneurship. These topics are essential for understanding how businesses operate and how they can be successful in their respective industries. Examples of general business topics include:  
General business topics for presentation 
Supply chain management and logistics
Human resources management and talent development
International trade and globalization
Leadership and management development
Business communication skills topics for presentation 
Business communication skills topics refer to the skills and techniques necessary to effectively communicate within a business environment. These skills involve the ability to effectively and persuasively convey information, ideas, and messages in a business setting. Here are some examples of topics related to business communication skills:
Sales Communication: Techniques for Persuasive and Effective Sales Communication
Business Etiquette: Best Practices for Professional Behavior in the Workplace
Networking: Building Professional Relationships through Effective Communication
Effective Presentation Skills: Techniques for Engaging and Persuading Audiences
Business Storytelling: Using Narrative to Communicate Business Messages Effectively
Must Read: Top 10 business communication skills
Management topics for presentation 
Management topics for presentation focus on the principles and practices of effective management in a business setting. They cover a wide range of topics, including leadership, team building, decision-making, organizational behavior, and performance management. Some examples of management topics for presentation include:
Innovation Management: Strategies for Fostering Innovation in Organizations.
Strategic Planning: Developing a Comprehensive Strategic Plan for Your Organization.
Performance Management: Strategies for Managing Employee Performance and Engagement.
Project Management: Best Practices for Successfully Managing Projects.
Business communication topics for college students
Social Media and Business Communication: Best Practices for Using Social Media to Build Relationships and Brand Awareness.
Leadership Communication: Strategies for Effective Leadership Communication.
Virtual Communication: Best Practices for Communicating Effectively in a Remote Work Environment.
Presentation topics for professional communication 
Effective public speaking for business and career success.
Delivering effective feedback to colleagues and team members.
Navigating difficult conversations in the workplace.
Cultivating a positive company culture through effective communication.
5-minute business presentation topics
How to create a successful business plan
Creative methods for marketing and advertising.
How to improve customer retention through effective customer service
Tips for successful project management
What is a good business presentation? 
A good business presentation should be clear, concise, and engaging. It should effectively convey the main message or idea, and be structured in a logical and easy-to-follow manner. Here are some key elements that contribute to a good business presentation:

1/ Clear and concise message: A good business presentation should have a clear and concise message that is easy for the audience to understand. The presentation should stay focused on its main topic and avoid unnecessary details.
2/ Audience-focused: For a business presentation to be effective, it should be customized to suit the requirements and concerns of the audience. The presenter should use language and examples that are relevant to the audience and take into consideration their level of knowledge and understanding.
3/ Confident and professional delivery: A good business presentation should be delivered with confidence and professionalism. The presenter should maintain eye contact with the audience, use appropriate body language, and speak clearly and audibly.
4/ Engaging and visually appealing: A good business presentation should be visually appealing and use multimedia elements such as images, videos, and graphs to help convey information and keep the audience engaged.
What is the importance of business communication presentation and style
Business communication presentation and style are important because they can greatly impact the effectiveness of communication in a business setting. Here are some reasons why:
Clarity:

An effective presentation and communication style can help ensure that the message is clearly understood by the audience.
Professionalism:

A professional presentation and communication style can help to establish credibility and build trust with the audience. 
Persuasion:

A well-designed and well-delivered presentation can be a powerful tool for persuading an audience to take a particular course of action or to support a particular idea or proposal.
Branding:

A consistent presentation and communication style can help to reinforce a business's brand identity and messaging. 
What are the 5 types of business presentations? 
The five commonly used business presentations are, sales presentations, financial presentations, training presentations, project proposal presentations, and company overview presentations. The type of presentation chosen will depend on the specific goals and objectives of the presenter and their audience.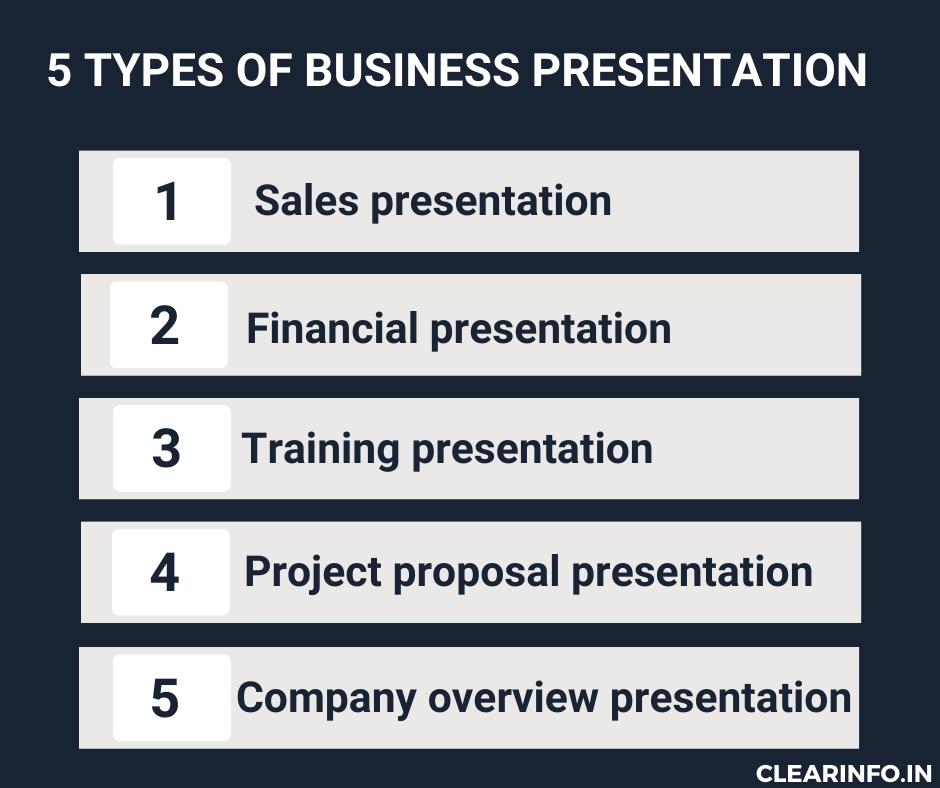 1/ Sales presentation: Sales presentation is used to convince prospective customers to buy a particular product or service. It usually includes information about the benefits of the product or service, the pricing, and any other relevant details.
2/ Financial presentation: This form of presentation is utilized to communicate financial data with stakeholders, such as investors. It may include financial statements, projections, and analysis of financial performance.
3/ Training presentation: A training presentation is designed to teach employees a new skill or provide them with important information. These presentations may include interactive elements such as quizzes or hands-on exercises.
4/ Project proposal presentation: This type of presentation is used to pitch a project or idea to stakeholders, such as investors or management. It typically includes information about the project's goals, timeline, budget, and potential benefits.
5/ Company overview presentation: This type of presentation provides an overview of the company's history, mission, values, and current operations. It may be used for onboarding new employees or introducing the company to potential partners or customers. 
What are the uses of ppt in business communication? 
Business communication is a crucial aspect of any business, and presentations are a key tool for conveying important information, ideas, and messages to an audience. It helps businesses communicate more effectively, both internally and externally, and it is an essential part of modern business communication. 
One of the primary uses of PPT is to create and deliver presentations that convey information to an audience. PPT allows presenters to create visually appealing slides with images, graphics, and text that help to reinforce key points and keep the audience engaged.
Organizations also facilitate collaboration through PPT as it can be used among team members for creating collaborative presentations where multiple team members can contribute content and ideas.  At the same time, management can also simplify complex ideas and pass clear instructions that can easily be understood by the employees.
Additionally, PPT can be used to enhance branding by creating presentations that are consistent with a company's branding guidelines, including the use of logos, colors, and fonts.
Advantages and disadvantages of presentation in business communication
Advantages of presentation in  business communication
Clear and Concise Communication: Presentations are an effective way of conveying complex information to a large group of people. The use of visual aids, such as graphs and charts, can help to clarify complex data and concepts.
Showcase expertise: Presentations allow business professionals to showcase their expertise on a particular topic. This can help to build credibility and establish the presenter as an authority in their field.
Foster teamwork: Presentations can be a great way to foster teamwork among a group of individuals. It provides an opportunity for team members to collaborate on the presentation and work together towards a common goal.
Professionalism: Presentations can enhance the professionalism of business communication. It shows that you have put effort and thought into your message, which can reflect positively on your business.
Disadvantages of presentation in  business communication
Technical difficulties: Presentations often rely on technology, such as projectors or audio systems, which can sometimes fail. Technical difficulties can disrupt the flow of the presentation and cause frustration for both the presenter and the audience.
Time-consuming: Preparing and delivering a presentation can be time-consuming. It may require a significant amount of research, planning, and practice to ensure that the presentation is effective.
Frequently Asked Questions 
Q1) What are the topics of business communication? 
Ans: Some of the most common topics of business communication include business plans and strategies, sales and customer service, financial reports and analysis, corporate social responsibility, and crisis communication. The choice of topic largely depends on the context of the communication and the goals of the organization.
Q2) How to do presentations in business communication?
Ans: To create an effective presentation in business communication, you should:
Define your objective and audience

Plan your content and structure

Choose appropriate visuals and media

Practice your delivery and timing

Engage your audience with interactive elements

End with a strong call to action or conclusion
Q3) How do I start a business presentation? 
Ans: A good way to start a business presentation is by introducing yourself and your role in the company, stating the purpose and objective of the presentation, providing a brief overview of the content and structure, and previewing any key points or takeaways. 
Q4) What is the good rule of a business presentation? 
Ans: There are several good rules to follow when giving a business presentation. Starting with keeping the presentation simple and clear, maintaining eye contact, sticking to the time limit of the presentation, and reinforcing a strong call-to-action or conclusion at the end of the presentation.