In this blog, you will be learning about CRM and the top 16 CRM books which you should be reading in 2022 and beyond. These books will help you implement the best CRM strategy in your business and enhance your customer relationship. Let's start!!
What is CRM
CRM stands for customer relationship management. It is a business-to-customer relationship-building platform. CRM Combines business intelligence and advanced tech for better business communication and relationship management.
Organizations can use CRM to improvise their customer touchpoints and collect crucial data. These data points can be used to identify the pain points of customers and analyze their buying behaviour. 
CRM is a fully customizable tech solution for enhancing customer service and relationship building. And the best part is you don't have to be a tech stalwart to master CRM, we have listed down some of the best books on customer service that will guide you in your CRM implementation process.

16 Best Books on Customer Relationship Management

The fourth edition of this book is written by Francis Buttle and Stan Maklan with an in-depth CRM explanation. It starts by describing CRM with its benefits, execution, and use cases. Following with the practical example that is associated with the organization's departments and people who are directly in contact with customers. 
The book also elaborates on the concept of CRM types such as Strategic CRM, Operational CRM, and Analytical CRM, and aligns them with the customer's journey. The new edition is also enriched by the evolution of CRM theory with an updated illustration of its implications.  
Just like any other books on CRM this addition is also suitable for students and industry professionals as it covers the concept from basics to industry level.
Book Review
"Completely updated, this remains absolutely the best exposition of customer relationship management. Can't think of a better guide to increasing your performance and profits. This book belongs on the desk of every company that is serious about CRM. The wealth of information and insight is astonishing."

Professor Philip Kotler, S. C. Johnson Distinguished Professor of International Marketing, Kellogg School of Management, Northwestern University, USA

Cracking into the list of most influential books of the year, with record-selling copies. This book is the first choice for relationship building and understanding human thoughts. Although it is not directly inclined with CRM technology.
But will guide you through 11 learning phrases that can help you develop a solid personality and strong relationship with your peers and subordinates. 
The writer of the book Dale Carnegie was a well-known writer and has given a huge contribution to creating a valuable resource in the field of corporate mentorship, publish speaking, interpersonal skills, and salesmanship. 
 This CRM textbook has all it takes for you to become a leading person in your industry with greater influence.

Written by John Wiley and foreword by Phil Kotler this CRM book is a prime example of keeping the customer the centre point of your business and planning a long-term strategy. 
The book covers the practical implementation of the IDIC model with examples and genuine case studies to enhance your critical dynamics and discover revenue-generating customers. 
One of the best parts about the latest third edition is that it contains insights from well-known experts such as Phil Kotler for a broader perspective. 
This allows the reader to grab a deeper understanding of customer relation theory with its core principle toward the organization. The book also provides a blueprint for creating loyal customers with more satisfaction to meet the financial goal of a business. 

Data Mining Techniques in CRM is a well-known customer service management book for readers who wants to understand the technical aspects of data mining from a business point of view. The book covers the concept of data mining and its methodology from the basics to an in-depth level. 
The book is written by industry stalwarts, Konstantinos K. Tsiptsis, and Antonios Chorianopoulos giving their expertise in customer segmentation concerning data mining with their use cases for different industries. The book also covers the current data mining techniques used for customer segmentation for creating a better go-to-market strategy. 
This customer relationship management book is a must-read for business executives, department managers handling customer relations, and even start-up founders as it is written in the simplest form with visual representation.
Book Review
"Many marketers hear that data mining is a valuable tool, but may not know where to start or how to apply it to their business. This book bridges the gap between the technology and its use in high-value marketing applications."

Colin Shearer, Senior Vice President Strategic Analytics, SPSS, an IBM Company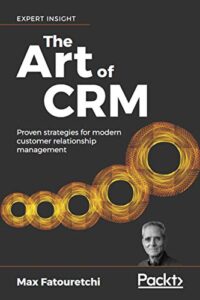 One of the best CRM books comes from an author with 20 years of experience in CRM implementation. Max Fatouretchi, founder of Academy4CRM. He has designed CRM solutions for more than 200 companies with his actionable techniques.
This CRM book can play a vital role in winning customers for your business. From teaching the concept of customer relationship management to finding your perfect customer. The art of CRM is your go-to guide for understanding CRM with practical case studies and processes. 
This book also excels at integrating machine learning and artificial intelligence for designing successful CRM solutions. Which helps in developing a robust Customer management system for 360* client view in your business. 
Max Fatouretchi has also added concepts related to GDPR & Regulatory Compliance And CRM differentiators for deep understanding.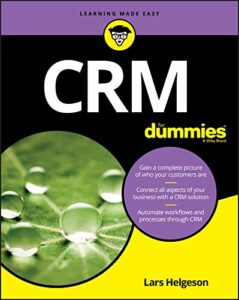 A book by Lars Helgeson has conceptualized the importance of CRM for various organizational departments. 
CRM for Dummies will not only guide you through the concept of CRM but this book will also help you in identifying the right CRM system for your business. With the right set of features, implementation process, and resources. 
In the detailed chapters of the book, you will find strategies and frameworks to enhance team performance, define your buyer persona and optimize the lead magnet process for better conversion. 
Just like other books on relationship management, CRM for Dummies also emphasizes automating your business process for better customer relationship building and integrating sales, marketing, finance, and various organization departments.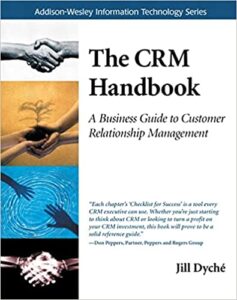 Written by Jill Dyche, one of the top customer service books that combine the knowledge of technical aspects and business fundamentals to be the simplest CRM guide. 
The book provides a comprehensive viewpoint on customer focus strategy and its implication for the organization. Jill, advises business owners and managers to make client relationships a priority to become competitive within the industry. 
You will also find a simple explanation of complicated CRM buzzwords with their contextual meaning. For a more practical approach, the book also covers case studies of various companies that have integrated CRM the right way for better results. 
So, If you are a beginner who has never used CRM or a business owner who is looking to get an answer for your failure rate, then CRM Handbook is the right textbook for you. 
This book will help you to redesign your planning process with a range of CRM applications and their use cases.
Book Review
"Want to avoid being one of the estimated 70 percent of companies who have tried implementing standalone CRM systems and failed? Confused by what your IT suppliers are telling you about 'CRM'? Then you need to read this book! Jill provides acomprehensive, practical, and easy to understand view of CRM and shows you how to successfully implement an enterprise customer-focused solution."

Director, North America Information Strategy, Coca-Cola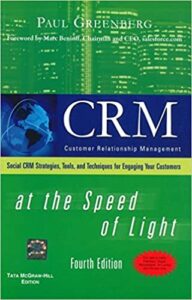 It is one of the best CRM books written by Paul Greenberg, an executive vice president of the CRM Association. Within the book, Paul demonstrated the scope of CRM beyond an operational tool for a business. 
The book clarifies that customer relationship management technologies can be a great source of medium to start communicating with your target audience and better understand their needs and wants. 
This CRM guide also represents the shift of CRM tools from being just an operational tools to a customer-centric platform. Allowing businesses to get more closure to their customer base, and gain valuable feedback to redesign their goods and services for better satisfaction rates. 
Moreover, as you move ahead to the second part of this book, you will find Paul giving importance to CRM as an operational tool. Because it is still able to capture and fuel important data from various organizational departments such as sales, HR, marketing, operations, etc. 
In the later part of the book, you will also find selection criteria for choosing the best CRM for your organization that can align with your organization's goals and strategies.  
Book Review
"Paul Greenberg shares his unparalleled expertise on the dramatic evolution from CRM 1.0 to CRM 2.0 with unique insightful examples. It is a must read for anyone looking to transform the potential of CRM into long-lasting competitive advantage in a rapidly changing business environment."

Jujhar Singh, Senior Vice President, SAP CRM Product Management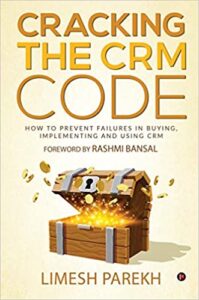 Written by Limesh Parekh and foreword by Rashmi Bansal, Cracking the CRM Code is a well-known book on client relationship management. The book's main focus is on exploring deep customer insight through consumer behaviour analysis and their CRM buying process. 
It will also teach you how you can successfully implement a CRM system in your organization and create an impactful CRM strategy to grow your business.  Moreover, there are many practical examples given to tackle the struggle with CRM if you are a beginner and have never worked with CRM tools before. 
This CRM textbook is a goldmine for business and start-up founders struggling to get sales and customer acquisition.

A CRM analytical book by Omer Lizotte that represent how to use valuable customer data collected with a CRM system. 
This book will especially benefit business owners facing difficulties reading their customer data and drawing a meaningful conclusion. The book also denotes how these data can be used by various organization departments including marketing, sales, and customer service for better results. 
For a more practical approach, the author of the book Omer Lizotte has given ten important metrics to track the success of, retention rate, customer lifetime value, and customer satisfaction of your business. 
With real case studies and examples, it will be easier for you to grab the concept of the book and take your business to next level using your consumer analytics.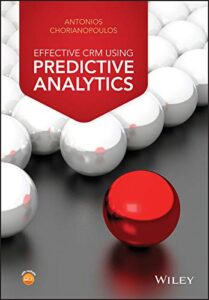 A practical guide to implementing data mining techniques with a CRM system. It covers the concept of solving complex business problems through data mining and using data in making business decisions. 
For a better understanding of the theory, the book has been divided into three-phase 
Methodological roadmap 

Data mining algorithms

Real-world case studies 
The methodological roadmap phase covers the technical and business aspects. Guiding the reader through the concept of cross-selling, up-sell, business acquisition, customer retention, and customer segmentation strategies. 
The second phase explains the data mining algorithms in detail without using technical jargon and words. It includes the importance of combining data mining with business processes to generate exceptional returns.  
The last phase includes practical case studies and industry-backed examples for live implementation. It also includes the usage of data mining tools such as IBM SPSS Modeler, RapidMiner, and Data Mining for Excel. 
The book is written by Antonios Chorianopoulos, having 15 years of experience in analytics CRM and data mining. He has tested his theories in various industries including telecommunication, banking and financing, and marketing (including client relationship management).
Book Reviews
"Data science should become less scientific and more practical – and this is what this book strives for. It gives marketing experts the necessary background to apply predictive analytics in CRM and improve business outcomes with techniques like cross-selling and customer segmentation."

Dr. Ingo Mierswa, Founder & CTO of RapidMiner
"Effective CRM using Predictive Analytics demonstrates how organizations can become customer centric, while driving profitable revenue.?? The book is a great introduction to the predictive analytics technology that provides deep customer insight and data driven recommended actions. It is full of practical examples describing a variety of use cases, what data is required and what models are deployed."

Vivian Braun, WW Predictive Customer Intelligence Marketing Lead, IBM Analytics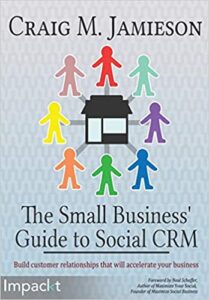 Craig M. Jamieson's guide to social CRM is an effective CRM publication that focuses on building loyalty toward the business. The book answers the question of how to retain existing customers and attract new ones with social CRM strategies. 
The book also emphasizes building platforms that would help organizations to expand their customer base by analyzing consumer behaviour. The later phase of the book also talks about how to choose the best CRM system, with practices for implementing them in your organization. 
With practical tips to increase your business revenue by improving the efficiency of your marketing, sales, and customer service departments. This customer relationship management textbook has all it takes to move your business toward the growth phase.

A 96-page document written by Brian Salter, and Naomi Langford-Wood has reflected the importance of integrating customer relationship management within each level of organization strategy. 
The book shapes the concept of planning a long-term strategy for repeat customer purchases to increase your business revenue instead of short-term wins. 
It is one of the detailed-oriented CRM study materials we have covered in this list. It is packed with valuable information from business and communication specialists who have together co-author 16 business books. 

In a book that comes from diverse experience as Salesforce MVP and founder of the Salesforce Certification Study Group, Ms Deepa Patil has given a framework for long-term success. It is one of the best-selling customer service books written by an Indian author.
Ms Patil has given importance to integrating CRM practices with day-to-day business operations with the help of CRM admins. Focusing on implementing the tech theories for better business output. 
Her practical framework will also help CRM representatives and managers to level up their skill sets and increase their value. The book also contains case studies and examples of CRM representatives who have achieved success by using the right CRM framework and skill set.
In the later chapter, you will also find resources and tools to advance your career and becomes a true client representative.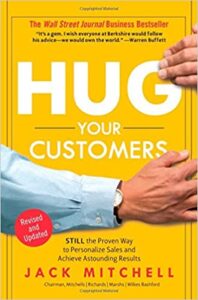 If you want to create an entry barrier for other businesses through excellent customer service. Then you should read Hug Your Customers, it is rated as one of the top books on customer service. And written by Jack Mitchell who has used these strategies to gain the highest gross margins in his business. 
The book not only emphasizes understanding consumer needs but also strategizes on giving a delightful customer experience. 
Jack's customer hugging framework involves 
Remember the name of your customer. 

Making a post-purchase call for better satisfaction.

Have a separate space for relaxation within your office/business space. 

Making note of customers' personal belongings, such as kids' names, dogs' names, etc. 
The above simple techniques and framework can allow business owners to lower their marketing costs, improve customer loyalty and generate more business with higher profit margins.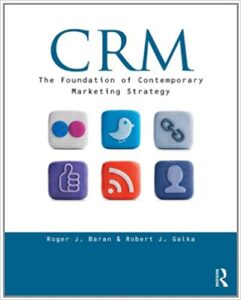 A definite guide to customer relationship management is a comprehensive book that provokes the importance of customer relationships within overall organization strategy. 
It represents CRM integration as a useful marketing strategy to create differentiation and a competitive edge within the market.
Outlining the influence of big data, mobile technology, and social networking on CRM with illustrative examples and useful infographics.  
In the later stage of the book, you will find in-depth discussions on Customer relationships in comparison with marketing functions and their impact on business performance.  You can also get detailed information on the current aspect of the CRM systems and their implications processes.  
 The book has been written by Roger J. Baran and Robert J. Galk from DePaul University, USA.
Book Reviews
Baran and Galka have written a CRM text that accomplishes what we need. They organize and describe what we know, integrate the knowledge and point to where it will be going, then tie it all in an easy-to-read, appealing package. CRM is not going away and good books on it are hard to find, but this is one of them.

Richard Feinberg, Purdue University, USA
An excellent book that is both very informative and also interesting to read. It covers the whole cycle, from having the correct marketing strategy that fits the organisation and its workforce to the technological requirements for successful CRM. It should be on every B2B marketing director's bookshelf.

Julie McKeown, Aberystwyth University, UK
Which CRM Book Should You Choose?
Choosing one book is a tough job especially when we have listed the sixteen best customer service books of all time. However analyzing your business requirement, and business functions can help you pick the right book. 
Researching and gathering information about the author whose theories align with your business goals further refine your selection.
Moreover, there are many CRM publications out there (apart from the 16 we have listed) that can help you dominate the level of customer service in your industry.
Most Frequently Ask Questions
Q1. Best CRM software in 2022?
Zoho CRM- One of the leading CRM platforms among small to medium-sized enterprises. Zoho CRM provides robust features such as a customizable dashboard, project management, and AI-based assistance.
This CRM software can widely be used within the organization by its easy-to-use interface. Another plus point offered by Zoho CRM is their free stater plan and affordable upgrades. You can use Zoho CRM for free for up to three users.
Hubspot CRM- No matter how small or big an enterprise you belong to. You must have heard about Hubspot as one of the best CRM software in the CRM industry. With less complexity and accurate tracking, you can collect every crucial aspect of your customer interaction in relation to your business.
Beginning from sales management to live interaction with your customer and finally reporting the data, it combines everything. The company also offer free CRM having enough feature to get you started. 
Salesforce- One of the biggest tech giants has been the go-to choice for businesses looking after CRM software. The company offers a wide range of options for organizations belonging to different industries.
The best part about salesforce CRM is you can customize it according to your department's needs. The platform also helps in streamlining lead management, sales automation, and customer support. 
Pipedrive- If your sole purpose for implementing CRM is to increase the lead conversion rate, then Pipedrive can be the best CRM solution for your business goal.
Pipedrive CRM comes with inbuilt automation for capturing leads, creating a sales funnel, and tracking every customer's touchpoint. The company also offers integration to enhance usability. 
Monday.com-   Monday CRM solution is one of the most user-friendly CRM platforms with easy consumption data points. It offers a highly customizable dashboard with descriptive diagrams and charts for a better understanding of data.
Monday CRM can integrate with your sales pipeline from start to end process. Giving valuable insights to improve business performance.
Q2. What are the different types of CRM?
Collaborative CRM- also known as strategic CRM works on combining information related to customer communication and interaction. This information can further be presented in the form of a data report for further decision-making.
Representatives from the various departments can access the data and strategize their planning accordingly. There are two major elements involved in collaborative CRM, interaction management and channel management. 
Operational CRM- works to improve the operational efficiency of the organization. Implementing operational CRM can take off extra work from your marketing and sales departments.
Storing customer data insights to make useful predictions, identifying potential trends for better conversion, and automating other sales and marketing tasks. Helping the sales and marketing departments to make the right decisions at the right time without wasting time on long processes.
Analytical CRM- Capturing customers' data and making useful predictions is one of the key roles of analytical CRM. Analytical CRM reads, interprets, and validates the data which can be used to understand customer behaviour, changing trends, and market dynamics.
Allowing businesses to make decisions based on facts and figures to increase the conversation rate and reduce the sales linkages.
Q3. What is the difference between CRM and CMS?
Ans. Customer Relationship Management (CRM) collects and stores information about customers for an organization. The information can be in the form of a name, email address, goal completed, website visits, transactions, etc. CRM is also useful for channel management tracking every interaction between an organization and its customers. 
On the other hand, a Content Management System (CMS) is a dynamic platform for managing your online presence. That means if you have a website then there are higher chances that you are using a CMS. For example, WordPress is a CMS platform through which you were able to create and manage your website. There are many CMS out there but WordPress is one of the well-known. 
Q4. What are the components of CRM?
Ans. Some of the major components of CRM are as follows:
Marketing automation-

Understanding consumer behaviour and traits that help in marking better marketing communication in front of the target audience.

Workflow automation-

Helps in streamlining business processes, automates time taking work, and creates a balance working environment which results in better productivity.

Lead management-

Capturing customer data points, and segmenting the prospect for better conversions. 

Sales automation-

Analyzing and predicting sales performance based on past and present business activities. 

Customer service-

Understanding and solving consumer pain points, creating processes for better customer support. 

Analytics-

Storing, managing, and analyzing consumer data for crucial decision-making. 
Q5. Benefits and Drawbacks of CRM?
Ans. Advantages Of CRM 
CRM helps in maintaining, and managing customer records and presting them in a simplified format. 
Creates better mapping of a buyer persona which helps organizations to get deeper insights into their target market. Organizations can use this information to create better content, communication, products, and services. 
Implementing CRM can result in better cost management. Information and data can be digitalized saving employees and managing costs. Furthermore, CRM reduces the chances of failure rate as the decision is based on data and facts. 
Improve customer retention and generates brand loyalty. Businesses can make use of CRM to understand customer pain points and requirements. This helps them to make better communication for satisfying consumers. 
Implementing CRM allows small to big size enterprises to increase sales and revenue. 
Disadvantages of CRM 
The number one drawback of implementing CRM is pricing. Many CRM is costlier to implement which increases the overall marketing budget of an organization. 
Many a time employees are not easily able to adopt new technology. Training and development are required which is time-consuming and costly. 
Data security and theft are always an issue with an automation system. Small to big-scale businesses need to update the system time on time to make working smooth and hassle-free.