Managing a school is no easy task. Thanks to digitalization, we do not have to do everything manually. And If you are a part of the school community you would be glad to read this statement from me.
To be honest, maintaining the data of every student is a tough job. Especially when all the schools are trying to improve their academic performance (hopefully). Paperwork and fact-checking have always been extra work on our shoulders.
But as they say technology hill's everything for every Industry. The Student Record Management System is another technological game-changer for the education industry.
I mean take a look at this data from Statista in 2019, 739 million students enrolled in primary education worldwide.
Now that seems like a lot of data entries and paperwork. Wondering how the school system is able to manage this impossible task? That is where the Student record management system comes in.
But?
What is a student record management system?
Student record management system is also known as a student information system is an automated system for storing and handling students' data. It is an organized system that stores individual records such as student grades, attendance records, library management, and parental information.
 It is an information storage platform for each student existing in a school. On top of that, all this information is digitally stored in an organized format for future use. I wonder how my records are going to show up.
Benefits of a student record management system?
1. Efficient to manage data
 Each pile of information about a student is saved within the system. Whether he is a new member, old student, or passed out alumni. The system tracks the record of every student and gives you the required information whenever needed. Moreover, this information system can also be centralized and integrated with all the other information systems.

2. Digitized process  
The student database management system works on digital data processing. This means every record is saved on a digital platform limiting the physical work made by any identity. This is a crucial aspect since it saves a lot of time, hassle and allows faster processing.
3. Academic progress reporting 
There is a good saying, anything which cannot be measured cannot be improved. Keeping this in mind, this online record management system can easily analyze the progress of students. Which results in personalized reports and comparative analytics data. This gives an in-depth analysis of student performance and areas of improvement.
4. Data security 
According to the University of Maryland, a cyberattack occurs every 39 seconds. This means just how efficient data analysis is with online platforms, but the fact is it is also riskier. 
Keeping data in safe hands is every organization's top priority. You need a system with frequent updates, backup options, and anti-malware protection. But schools with advanced record systems get advanced data security features to protect data.
5. Online attendance system
Keeping track of every student is essential for monitoring. These automated systems allow schools to record the presence of individual students. This information can be used while creating a student performance report.
Feature of a student record management system?
1. Effective Flow of Communication
The system can help build a robust channel of communication between all stakeholders. This includes students, teachers, authorities, and top management. Important information is being shared among these stakeholders through SIS.
2. Finance & Account management 
The system can notify and track transactions of fees between students and the institute. It can also track records of financial expenses incurred by the school. This helps schools in better account management and bookkeeping.
3. Admission Records
Admission planning and student recruitment are conducted every year. Through SIS schools can automate this process and conduct their recruitment without any flaw.
4. Managing stakeholder interest
The system can also track a record of staff and teachers' availability. Every month financial constraints are also measured.     
5. Reports building 
To measure the progress of the school. Data needs to be present in the most simplest and understandable format. Through SIS institutes can assess KPI's and plan their next strategies.  
What is the purpose of a student record management system?
The need for technology for streamlining processes is a must for every organization. These systems help in improving efficiency and handling huge data sets which cannot be handled manually. Collective student information is a way to academic progress and meets the needs of schools.
 16 Best Student Record Management Systems?
1. Fedena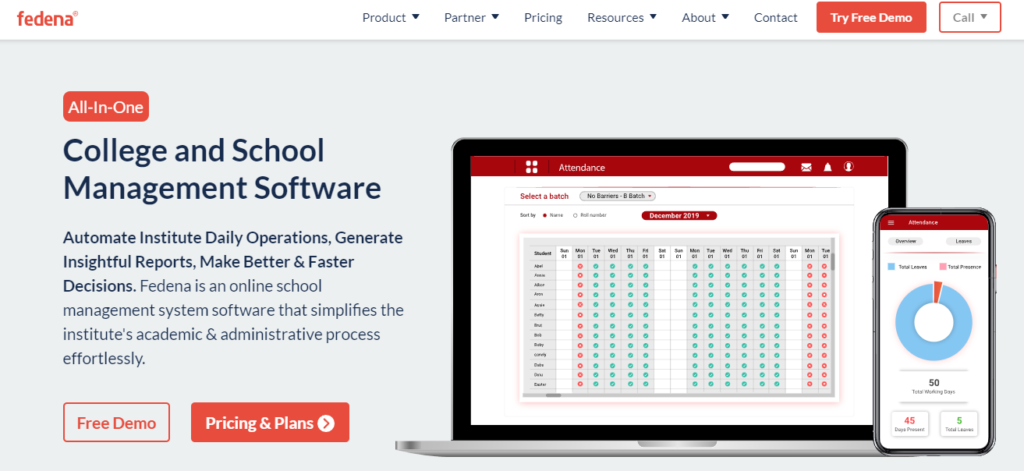 Fedena is a multifunctional student management system with diverse operations. The system has 100+ modules with strong day and night customer support. Aiming to provide intuitive data reports and advance tracking. 
With its multipurpose solutions, institutes can access this online platform for conferences, equalizing financial constraints, and for insightful data reports. On top of this, the company tries to make the software user-focused for a more productive outcome.
Features- 
Excellent 24/7 customer support. 

Sharp reporting with bulk data management. 

Easy to use interface. 
2. Classter SIS

Classter SIS is a comprehensive student information system designed for educational institutions, from kindergartens to universities. It is a cloud-based platform that allows schools to manage their academic and administrative tasks efficiently.
Classter SIS offers a wide range of features such as enrollment, attendance, grade book, scheduling, student performance analysis, and communication tools. The platform also enables schools to generate reports, automate workflows, and streamline their operations.
Classter SIS is highly customizable, providing institutions with the ability to tailor the platform to their specific needs. The platform is easy to use, accessible from anywhere with an internet connection, and offers reliable support to its users.
Features
Administrative Reporting

Customizable Attendance Monitoring

Records Management and Reporting

Online Admissions

Financial Management
3. Classe365

If you are looking for a system that can meet your institute's needs in all verticals. Then Classe365 might be the right choice for all your school's operations.  With companies, dynamic solutions such as student enrolling, CRM lead generation, data analytics, and diverse integration. Students and school management can aim for bigger achievements. 
Feature 
Online admission enrolling. 

CRM solutions such as lead management, lead nurturing, and follow-ups.

Financial auditing, data analytics, and reporting. 

Top integration support with globally recognized tools and brands. 
4. Gradelink SIS

Gradelink SIS aims at improving the efficiency and productivity of schools' tech systems. With its robust connectivity and monitoring system, grade link is one of the easiest systems to integrate with. Many top institutes have seen a drastic cut down in their administrative cost. 
Teachers, students, and parents can track data and progress on a single platform which makes it more dynamic and easy to use. Parents can check their child's academic progress followed by schools that can store and analyze valuable data.
Features 
One-to-one customer support for better understanding and needs met. 

Administrative repost handling. 

Detailed attendance monitoring with customization. 

Management records and accounts reporting.

Data analysis and report building.
5. iGradePlus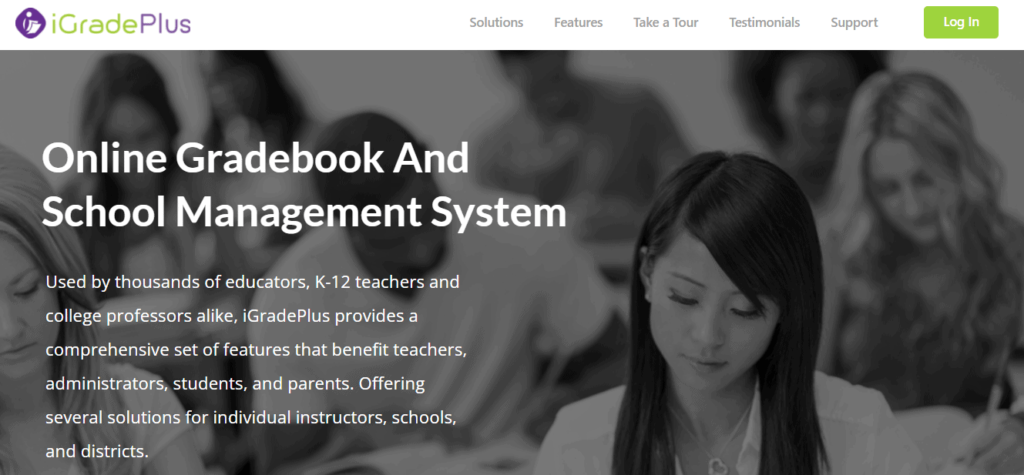 iGradePlus is on top of the list when it comes to user experience. With its all-time access to reporting, parents can watch the growth of their children. Plus it offers a lot of useful resources for teachers. iGrade differentiates itself by offering customizable features and top-notch support.
 The system also offers to streamline communication with data protection via SSL (secure socket layer). Frontline communication includes email support, descriptive blogs, sound notifications, and connectivity web portals.
Features
Custom reporting and advanced analytics. 

Administrative and staff management.

Attendance tracking. 

Communication streamline tools.

Document management. 
6. FeKara

If market-driven information management software is out of your budget then Fekara can be your best choice. As it is a Free school management software for managing all core activities. 
A user can use this platform from any device, with a common unified database system. The system also offers individual profiles for students, teachers, and parents. Creating a smooth flow of communication among all three stakeholders.
Feature- 
Student and parent portal. 

Records and reporting. 

Mobile App for operating. 

Data protection Security.

Customer-centric support system. 
7. Alma

Alma is a data-driven Student information system focused on providing rich data for better decision-making. The solution provides strong data protection and easy-to-use tools. With calculative data-driven reports, the school management can make better-informed decisions on students' performance. 
Moreover, multilingual language and device support make this software more advanced as compared to its peers. The tool is also able to build superior connectivity among teachers, students, and parents.
Features 
User-focused interface. 

Supportive communication among stakeholders.

Student and parent portal. 

Standard tracking. 

Report card building. 
8. SchoolTool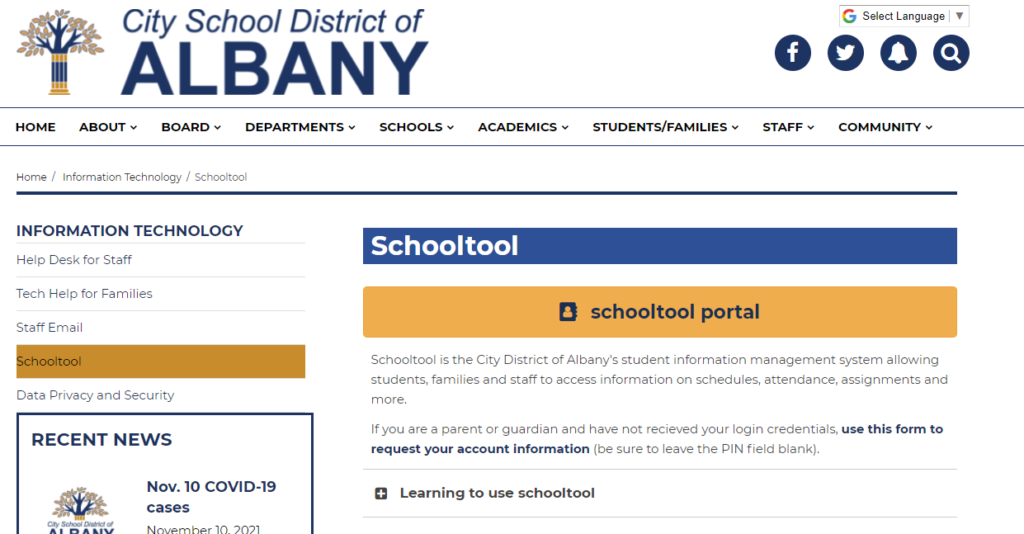 The school tool is a great example of an effective communication system. The software provides advanced user-profiles and common database functions. Allowing smooth communication between every department within the school. Management can track the record of attendance, assignment, accounting measures, and other important schooling details.
Features
Academic performance reporting.

Attendance reporting and resource booking. 

Single user sign-up facility.

Financial record management. 
9. GoSchooler

This tool has streamlined all the operations within one platform. Providing many communication mediums such as SMS, email, notice, and notification. Making it easier for teachers, students, and parents for efficient communication and better connectivity. This cloud-based platform also aims at aligning goals with school administration needs.
Features 
Managing live classes.

Online student enrolling system. 

Recording student attendance and information. 

Mobile app management.

Facilitating financial constraints. 
10. Edmatix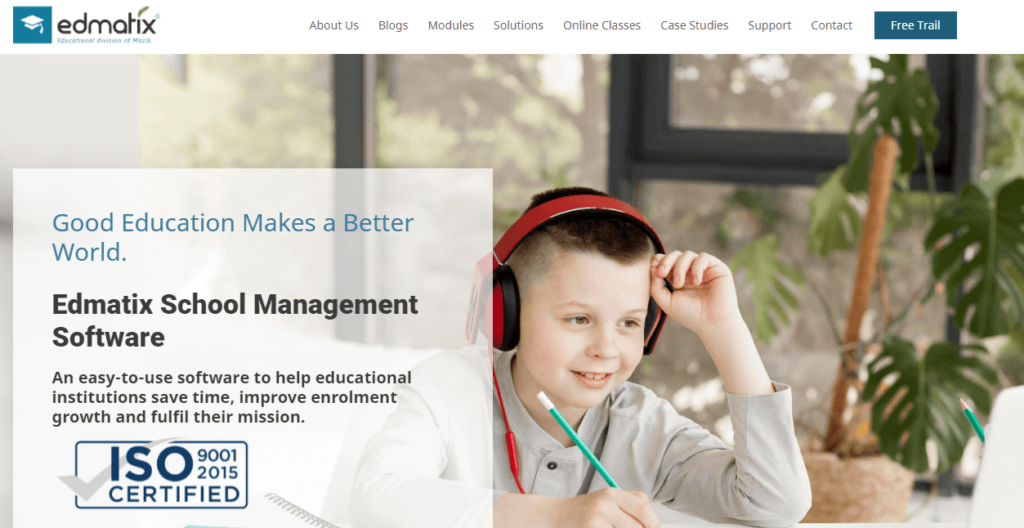 An AI-powered student information system provides complete support to schools operations. Offering services to all levels of education including schools, colleges, and universities. The tool single database management system allows institutes to manage student admission process, fees management, library management, reporting, and recording essential data.
Feature- 
Comes with Cloud ERP support.

Single database management for data entry.

A front office and fleet management.

Secure login with track book updates.
11. My student progress

As the name suggests this platform works well with all student management work. Starting from maintaining student records, grades system, attendance monitoring, creating academic reports and data entries. Built to focus on private OK-12 schools aiming to achieve their goal efficiently and effectively.
Feature 
20 modules+ modules. 

Online e-commerce support.

On-time student attendance and academic reporting.

Unified communication portal for direct communication.
12. Chanakya ERP

This software is built to meet the needs of the education body. With its easy-to-use interface, school associates can use this software without any prior tech knowledge. Chanakya ERP works on upgrading its system with the latest modules and safety features. Another reason to be the most reliable, easy-to-use, and mighty school management software.
Feature- 
Classes management with subject allotment. 

Examination management and reporting. 

Admission process management.

Transportation and expenses management.

Human resource management through individual user profiles.
13. ScholarSYS

ScholarSYS is the most secure school record management system in the market. With its automatic backup and auditing framework, it has become one of the demanded information systems in the education industry. The software works on the academic progress of students with its world-class integrations and productivity tools.
Features-
Customizable menu option for greater flexibility. 

Automated teacher-student operation.

Schools administrators management.

Accounting and fess management.

Attendance and admission management. 



14. GiBBON

Be the solver of the problem you face. This suits Gibbon best as this tool is developed by smart teachers. Gibbon can be the solution for any size of school with or without any financial resources. This is a free student information system with a unified web-based platform for better communication. The solution also collects personalized student information for helping teachers to evaluate student performance.
Feature- 
Multilingual content with global accessibility.

Free to use by any institution.

Easy to use unified access to all school management.
15. TS School

This tool is one of the top choices for any institute looking for a student record system. Because it offers training support plus regular updates as per the requirements. On top of this, the tool offers a standard edition for completely free. 
The software comes with an easy-to-use feature allowing the institutes to handle and manage data. A robust 41 module academic support including 51 languages offers full customization options.
Features 
Fully integrated training support. 

Updated data import facility from any source

Report designing and reporting 

Push Notification communication support
16. SKYward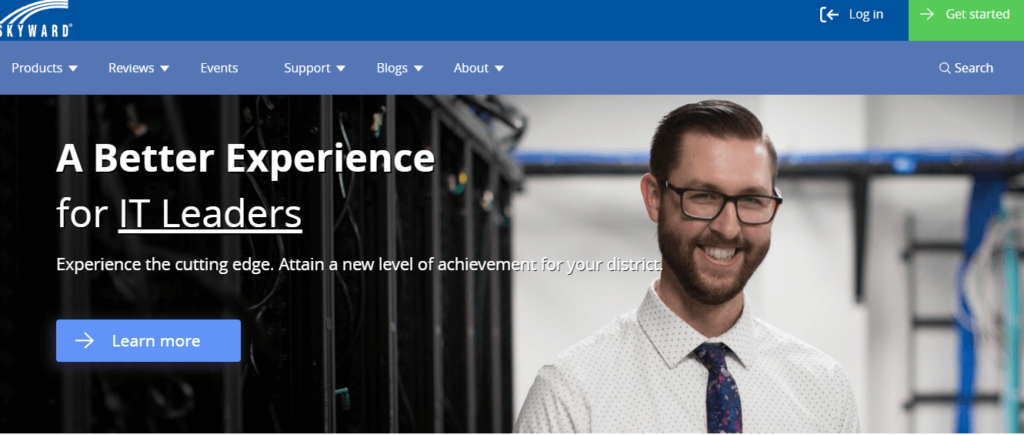 SKYward SIS system built for institution-level for K-12 with a robust support system. Along with the Student information system the tool also provides other solutions. This includes Enterprise resource planning, Municipality resource management, and other useful integration. The company also provides professional training courses for better academic progress.
Feature- 
Office administration supports management. 

Attendance tracking and reporting system 

Mobile application for flexible usages

Student and classroom services
17. Administration Plus


It is a cloud-based and completely integrated Student information system for PK-12 students. The tool emphasizes interactive web portals for better communication between students, teachers, and parents.
With its easy-to-use interface, school management can collect all the information at one go without switching from module to module. Moreover, the software provides off-site backup and strong integration support with TeacherPlus and  ParentPlus web portal, for building a robust infusion for all tasks.
Feature
Gradebook feature for preparing academic reports 

Mobile app accessibility 

Attendance and database management for accurate record-keeping 

Matching and recording financial constraints 

Parentplus and student plus portals for better connectivity and monitoring
Final thoughts folks 
There are many Student record management systems available in the market. Some of them are free, some are paid.  And we have presented both free and paid best systems in this article for you. Saying that a student information system is a must might be a vague statement. But if you want your institute to be efficient in its operations. Today might be the right time to shift on these high-tech platforms.